The Häagen-Dazs Company Shops has unveiled an elevated new prototype at a remodeled unit in Bronxville, N.Y. Designed by Interbrand Design Forum, the prototype aims to create a premium appearance consistent with Häagen-Dazs' retail brand and provide a guest experience that's distinctive from the typical ice cream/fro-yo shop.
"Häagen-Dazs came to us with the challenge of elevating the shop experience to the level of the ice cream," says Tom Kowalski, vice president of design at Interbrand. "We went through a process of store audits and found opportunities to upgrade both the look and feel and to create better connections between guests and servers."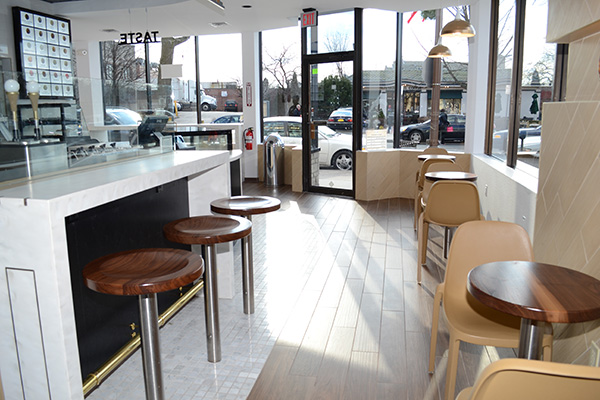 Finishes and furnishings reflect authenticity and craftsmanship and convey a modern yet classic appearance. These include solid wood counter stool seats and table tops, wood-grained porcelain wall tiles, tin ceiling finishes and manufactured marble counters with brass inlays. "The look had to immediately say that you've arrived someplace special. But we also changed the guest experience in fundamental ways," adds Justin Chafe, marketing manager for Häagen-Dazs.
To that end, the team created a "taste, create, enjoy" traffic pattern. The traditional dipping cases were moved from the front counter area to the back wall. A large, graphic "flavor board" at a tasting station displays products and allows guests to sample them before getting in line to place their orders. Before doing so, they also pass a display case merchandising premium products, such as ice cream cakes and bars, which can be customized to order. After purchasing their food, guests move on to the end to receive their choices, or grab a seat at a "sundae theater" counter to watch staff prepare their orders.
"We wanted to add some drama to the experience, as well as to make it easier for guests to browse and sample products without the pressure of a line behind them," Kowalski notes.
Häagen-Dazs plans to open approximately 10 new shops with the new design and to remodel an additional 10 stores in 2015.