According to Technavio, the U.S. doughnut market is estimated to grow at a compound annual growth rate of 2.65% between 2022 and 2027. Popularized decades ago by Dunkin', chains are growing by bringing excitement to this category, with sleek store designs, quality beverage programs, unusual product offerings and ambitious expansion plans.
Concepts like Top Pot Doughnuts & Coffee in Seattle and Saint Honoré Doughnuts & Beignets in Las Vegas — whose artisanal doughnuts in flavors like creme brulee retail for $6 each, are driving the ubiquity of these circular sugary delights across America.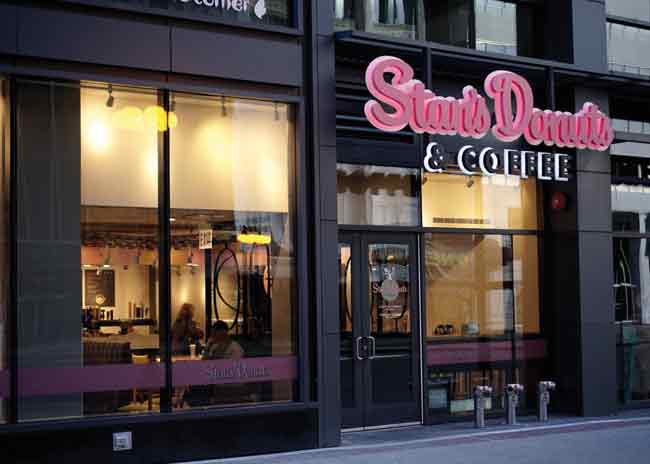 Stan's, a California transplant, has 16 stores in Chicago plus 8 licensed operations inside Mariano's grocery stores.
Stan's Donuts
Chicago
Stan's Donuts was an institution in Hollywood, where it opened in 1963, but in 2014 Owner Stan Berman sold his concept to Chicago-based Rich Labriola, now "chief doughboy."
Stan's has 16 stores in Chicago, plus 8 more licensed operations inside Mariano's grocery stores. Labriola was steadily opening two to three units a year until the arrival of COVID-19. Now he's getting back to that number plus additional Mariano's stores. Labriola says 30 total stores is his goal, with around half in Mariano's, "then we'll reassess," he says.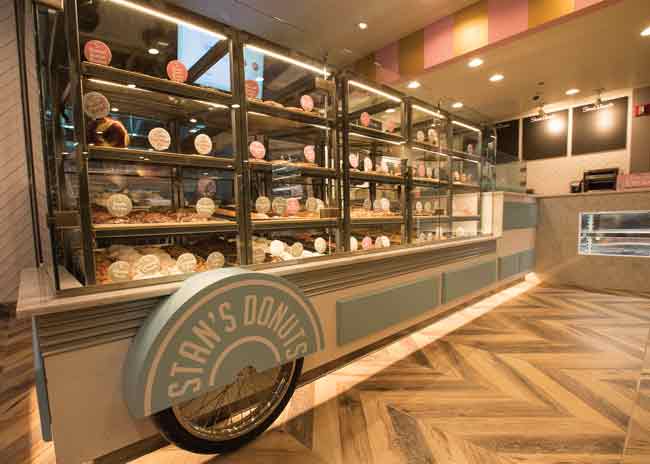 Stan's stores are typically 1,800 to 2,000 square feet, with endcaps preferred so the units can accommodate a drive-thru. Labriola targeted high traffic areas for Stan's, "spread out just far enough from each other. You don't want to have any erosion, but you also want to be convenient if you want to be a coffee place." He looks mostly for upscale neighborhoods, he says, and his check average is over $10.
The stores are either freestanding or have a drive-thru. Drive-thru accounts for around 30% of sales "because donuts are an emotional experience; people want to see them, especially the first time they come in," says Labriola. Because dine-in business is strong, each location has 25 to 35 seats. "We promote lingering," says Labriola. However, most people take them to go. About 5% to 10% of business is through third-party delivery services.
Stores are typically 1,800 to 2,000 square feet "because we want valuable real estate and drive-thrus, so it has to be an endcap or freestanding," Labriola says. Most stores are built from the ground up, but Labriola does like finding second-generation spots, though they aren't common in that size.
Stan's prides itself on both its coffee and its doughnuts. "Beverage is very important; it's a differentiator for us," says Labriola, and he's also heeding trends and getting into cold beverages. Coffee sales are 25% to 30% of the total revenue.
Stan's doughnut dough is made in a commissary and doughnuts are delivered to stores twice a day. Stores receive doughnuts ready-cooked, but some have fryers.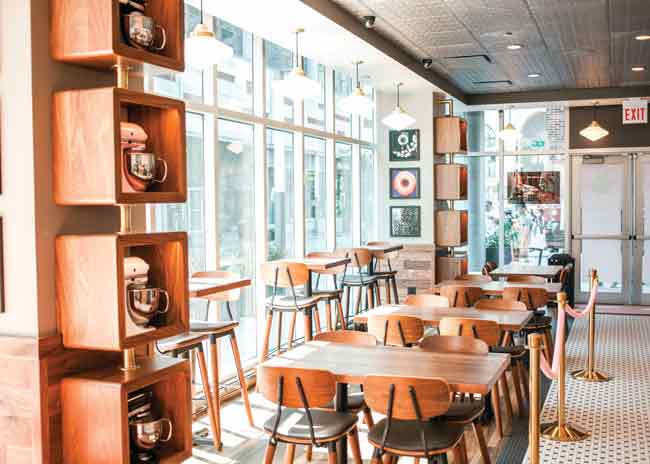 Stan's has an upscale vibe for a doughnut shop, but the owner targets upscale neighborhoods and notes the check average is above $10. Currently, all Stan's locations are corporate stores, though franchising is a future possibility. "We have to create that business model first, and the supply chain," he points out. "Once the supply chain is created, franchising will come," says Labriola.
And when it gets to that point, Labriola says he'll open stores regionally first. "Then you keep drawing that circle around Chicago bigger and bigger." He plans to open only company stores within 150 miles of Chicago, then move into franchising.
Stan's Donuts today is different from the original Hollywood location. Stan Berman had a big personality and a small store, notes Labriola, "but our business model had to be different because Stan is not there wowing customers." So, Labriola decided to go with a more gourmet doughnut offering.
Stan's interior has evolved from its Hollywood days when the store was very basic with no seating. From our first store to our last, it's become slicker and more elevated in design. We want you to come in for the whole experience and feel wowed by it all," says Labriola.