With both operators and guests hungry to extend the outdoor dining season, rd+d asked Aaron Ruef, design director for NELSON Worldwide to offer his insights on how to activate year-round dining al fresco. With more than 20 years of design and client services, Ruef has led multiple client relationships for NELSON Worldwide including YUM! Brands, KFC and Pizza Hut, Subway, Velvet Taco, Holler & Dash and more. 
Control the elements.
Outdoor dining is always a sought-after feature in warm-weather destinations, but that doesn't mean establishments up north have to miss out on the al fresco experience. The key to successful year-round dining is connecting the total restaurant experience while mitigating the elements. Be deliberate and purposeful, and anticipate customers' needs in this more exposed environment. Make sure you're implementing key design features that control the elements while enhancing the experience. For those regions that receive a lot of precipitation that may mean incorporating artificial turf or decking with plenty of options for sudden rain and sun protection. For hotter, more humid destinations it means integrating fans for movement of air, possibly adding cool air misters, and creating unexpected shade opportunities. And for those cold-weather locales it might mean providing more permanent architectural solutions, but with plenty of natural light and perhaps operable windows for when the weather allows for open-air dining. Finally, the role of lighting is essential in these activations as a functional tool and one that extends the daypart opportunities for these highly flexible spaces.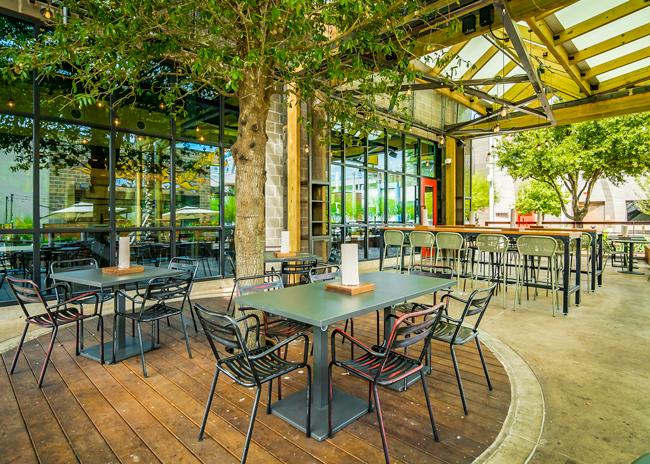 Image courtesy of Velvet Taco
Commit to the space.
The most critical mistake restaurant brands and operators make when creating an outdoor dining opportunity is treating the space like an afterthought. Outdoor dining environments must have a clear purpose and be positioned to complement the indoor experience. This need for commitment must extend to service strategy, menu offerings, amenity access and overall experience. Guests should feel like they will get the same elevated service and offerings both indoors and out. In addition, consider sightlines from primary access. Diners often flock to destinations with these types of dining experiences, so brands should showcase the space but also provide an approachable destination with landscaping and architectural screening devices to allow for optimal dining comfort. And, most importantly, the experience should have purpose — either a true extension of the indoor experience or a complimentary one that expands the restaurant's target audience or dayparts. For example, restaurants that bring in heavy daytime traffic targeted toward families can easily transition to a nighttime-friendly patio that can accommodate an even wider profile of patrons.
Provide functional activation.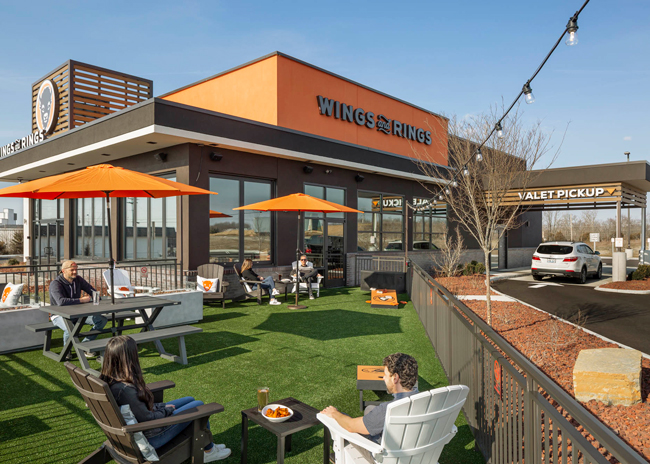 Image courtesy of Buffalo Wings & RingsIf you want guests to utilize your outdoor dining environments, don't forget to provide functional solutions that encourage dwell time and prioritize guest convenience. Providing reliable Wi-Fi, access to power outlets, flexible seating options, and spacious communal or lounge-style seating is a must. Also, consider entertainment paired with unique menu offerings that complement the experience. For example, if you're expecting a daytime crowd, think about providing lawn games with a more robust drink and menu offer while evening destinations could offer live music with cocktails and tasting menu options. Overall, the flexibility and scale of outdoor dining allows owners and operators a unique opportunity to provide differentiated experiences to draw upon a larger audience and truly maximize your square footage.
Location, location, location.
It's crucial the location of outdoor dining is carefully considered.  Consider everything from the direction of sunrise and sunset, access to service and adjacency of the parking lot. Diners seeking these destinations look for a variety of views, access to natural elements, and most of all, space. This doesn't mean urban locations can't offer great outdoor dining experiences — a carefully placed garage door, hide-away rooftop or interior courtyard environment, thoughtful placemaking, and strategic lighting and landscaping can help create a more successful activation of surprise and delight for any experience.