Few restaurant concepts' roots are as Mom and Pop as Panna's.
This chain traces its beginnings back more than 20 years, when Mauricio and Beatriz Meneses began selling Venezuelan street food from a convenience store food counter in South Florida.
Their success allowed them to open the first Panna location in Weston, Fla. in 2000. In the 20 years since, the company has slowly expanded both its offerings and its footprint.
Today, Panna has seven locations, all in the sunshine state, where it sells not just Venezuelan food, but food from across much of Latin America. Guests can get South American fare popular in Argentina, Colombia and Venezuela including empanadas; arepas, a corn-based pancake used to make sandwiches filled with carne asada, plantains, scrambled eggs and more; patacones, which are fried plantains with various toppings; the classic Cubano sandwich and other items.
The company also has a manufacturing and distribution arm that produces and sells food under its own name as well as to third parties.
Despite this success, though, Panna's expansion had never really been systematic, says Fernando Castillo, studio director of the Miami satellite office of api(+), an architectural and interior design firm based in Tampa, Fla.
While there was a common look and feel among these locations, the process of building a new restaurant was never fully set to paper. Having to recreate elements and identify vendors and contractors for each restaurant added time and effort to the chain's expansion, says Castillo.
"There was a concept that was in place, but how it was executed was very loosey-goosey. It would vary a little bit too much from job to job," he says.
Then, in early 2019, Panna encountered a first. While all its previous locations were second-generation restaurant spaces, the company decided to open a store in a brand-new development. With a nudge from api(+), Panna decided to turn this restaurant into a flagship/prototype. This space would not just serve as the template for future stores, it would allow the company to build a spec book covering materials, vendors and costs. This information, Castillo says, will allow the chain to grow more easily and quickly in the future, as well as identify areas where the company can reduce expenses.
Instead of hiding the high ceiling, Panna showcased this feature with a wood-style finish.
Logistical Support
Developing such a prototype was made easier due to api(+)'s existing relationship with Panna. The company wanted to maintain its existing look and api(+) knew the key elements that had to be included in the design.
"As you go, you learn that this didn't work out in the last store, or we had a problem with this particular element. When you design the first one, you hope for the best. But with this we had a couple under our belt. We could look at those and say the bathrooms over here worked, or this [display] didn't work because of theft. More than anything it was logistics and operations," says Castillo.
In this situation, Panna's logistical concerns were more significant than in previous restaurants. The second-generation spaces Panna previously moved into served as guardrails to design and operational choices, Castillo says. With the guardrails removed, elements like the flow of customer traffic, storage space, and even site questions like receiving deliveries and customer parking requirements loomed large.
To help with these bigger questions, api(+) has taken on this more holistic role in recent Panna designs. To offer this level of service, the firm relied on its experience with multiple restaurant brands to evaluate this and other sites, as well as, again, its work on past Panna locations.
"It's a good thing that we have a little bit of a track record with prior projects, so now we can actually have good conversations and be partners with them. Ultimately it is their decision, of course, but we're trying to be a good advisor in addition to helping them with their design and branding."
All are Welcome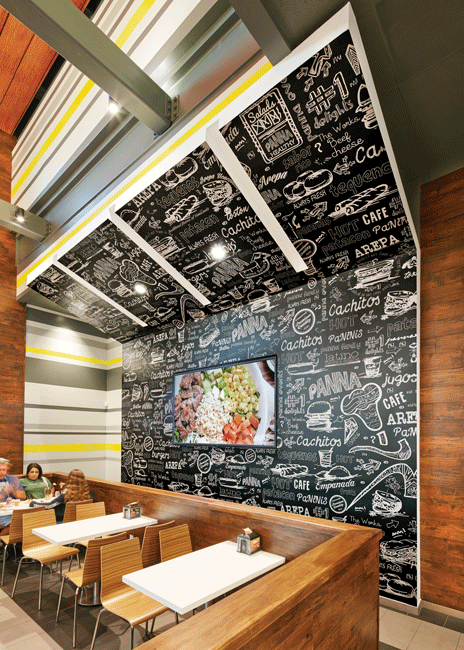 The graffiti chalkboard serves as a fun way the restaurant can educate guests on Latin American food.While this new store, located in Aventura, Fla., serves as the chain's prototype, there are some elements unique to the location. Many of these revolve around the restaurant's spot in its development, as well as its neighbors.
This location is directly in line with the entrance to its strip center, while the center itself is just across the street from Aventura Mall, one of the largest upscale malls in the Miami area.
These factors presented Panna with the opportunity to raise awareness of its brand simply by making the restaurant more visible and visually appealing.
Panna achieved this visibility by taking full advantage of its space. This new location has a high, swooping ceiling. To draw attention to the space, the designers installed windows at the top of the facade, above the logo. The light and color coming from the restaurant serve as a beacon, particularly at night, says Castillo.
This high ceiling becomes even more impressive when guests enter the space.
"Once you walk in, you look up right away," Castillo says. "The ceiling is close to 25 feet. Rather than gray it out like another restaurant in the complex did, we gave it the look of a wood plank ceiling. Because of weight and expense, we used a laser-printed aluminum sheet. It's very lightweight. It's 25 feet up in the air so no one is going to touch it, but it gives you the look of this large-scale wood plank ceiling. Then everything is uplit at night because we had those crossbeams."
The crossbeams presented a major challenge for the design. These structural elements actually sit at an angle — a fact that wasn't reflected in the building's schematics. To eliminate any feeling of the restaurant being off balance, Castillo had to pay extra attention to the restaurant's lighting design and its custom light fixtures, including their shapes and locations. In fact, Castillo had to work with the chain's lighting manufacturer to develop new, cylindrical fixtures that work well in a space with these unique features.
And, of course, there are the stripes on the lighting fixtures themselves. This design touch matches the restaurant's walls, which are painted with matching stripes in yellow and gray. The stripes, says Castillo, are meant to add energy and a sense of fun to the space, both of which are key to the Panna experience.
To enhance its energy, the restaurant features several angled design touches including dropped ceiling elements and divider walls. The restaurant's footprint, says Castillo, "is just a box. If we had gone [with only right angles] everything would have been very static, especially at night when there is more visibility from the outside. We wanted to use color, form, angle and height to bring excitement to a space where there wasn't too much before."
Also key to the Panna experience is a welcoming atmosphere. The restaurant operators want Panna to offer a warm, friendly environment. This is created partly through the flow of traffic, Castillo says. When guests walk through the restaurant's entry, they are directly in line with the POS station. This allows team members to greet new customers as they walk in the door.
The flow of traffic then takes guests around the perimeter of the dining area, with a queue defined by divider walls clad in a warm-toned engineered wood.
This path brings guests right by the concept's signature design element, a graffiti chalkboard. This piece contains lighthearted drawings, along with the names of Panna menu offerings. This element is more than just fun, says Castillo. It's also how the restaurant educates customers who may not be familiar with Latin American cuisine.
"They want to appeal to different cultures and demographics. When you look at it a little bit deeper, it shows you an illustration and an explanation of what a menu item is. That was the idea, to communicate and to educate."
Panna uses an upright refrigerated merchandiser to showcase frozen goods from its manufacturing arm. Other food displays are used to free up space in the kitchen.
More education takes place at the POS counter, where the chain has installed a number of electronic menu boards. These are used to advertise limited-time offerings, as well as to show food images that help guests understand what an arepa is, or what goes on a patacones.
The counter is also home to a number of displays for both grab-and-go and employee-served items. These include upright reach-in freezers offering boxed Panna food produced by the company's manufacturing arm; warmers for baked goods; a refrigerated merchandiser for bottled drinks and fresh-squeezed juices; and a pastry display holding various desserts.
While these displays play partly to the concept's street food roots, their rationale is more logistical, Castillo says. While Panna has a large kitchen, its menu is even larger. There simply isn't enough space to store and serve these items from the back of the house.
After placing their orders, guests are given a number placard for identification by table runners. They can proceed to the beverage station/salsa bar. Here the chain once again educates its patrons. The various salsas and sauces are held in pumps, with each sauce pictured and named on the wall just behind the bar.
"Before they just had those pump dispensers with a label. If you know that style of food, you know what to get. But because they want to attract people who don't know the food, they use a picture to let them know," says Castillo.
After guests hit up the salsa bar, they can enjoy the restaurant's dining area. Here the chain has some elevated features, including white quartz tables and zebrawood chairs. Another seating option is a red vinyl banquette. In addition to providing a higher-level experience, these materials are easy to clean and maintain.
"The place is very popular on Saturday afternoons with soccer kids. Moms bring the whole team there. Everything is hard surfaced and durable," says Castillo
Once guests are seated they enjoy an environment that has a Latin feel but is still welcoming to people from all cultures. Soccer may be playing on the restaurant's few television screens and music can be in Spanish or English.
"They really paid attention to make the customer feel more welcome and to be more open," says Castillo.
Panna's wall stripes were previously created with a wall covering. To reduce costs, the chain now has a painter recreate the same effect.
Guide to Growth
Building a welcoming and operationally successful restaurant wasn't the end of this project. As part of its work, api(+) also put together a spec book for the restaurant's various elements. The firm also created a master spec guide that includes essentially everything in the store including fixtures, finishes, furnishings, paint colors, kitchen equipment and more.
While this was no small task, says Castillo, it should give Panna a solid foundation as it plans for future growth. 
Project Team
Project team: Juan Romero, president & CEO of api(+); Tom Henkin vice president of design for api(+); Fernando Castillo, api(+); Oscar Amaro and Tanima Srivastava, formerly of api(+)
Architect and interior design: api(+)
Kitchen design: DEI Kitchen Consultants
General contractor: Portico Plus
Snapshot
Headquarters: Weston, Fla.
Concept: Pan-Latin American comfort food
Segment: Fast casual
Unit count: Seven locations, all in Florida.
Location of new prototype: Aventura, Fla.
Opened: Summer 2019
Real estate: Retail center endcap
Design highlights: Graffiti chalkboard educating guests on Latin American dishes, uplit 25-foot ceiling with wood panel-like finish offering high visibility to passersby.