Located in the Washington, D.C. neighborhood of Capitol Riverfront, Mah-Ze-Dahr Bakery was inspired by the Urdu word mazedar meaning "the essence." Mah-Ze-Dahr marks the fifth collaboration between multiconcept operator KNEAD Hospitality + Design and local architecture and design firm //3877. Directly opposite Nationals Park Centerfield Gate, its corner location anchors the new West Half development.
Images courtesy of KNEAD Hospitality and Design
The first location outside of New York City, Mah-Ze-Dahr's Washington, D.C. space includes the brand's signature deep blue and marble decor. Walking through the bakery, a 12-seat counter flanks the entry, inviting patrons for a quick coffee, pastry or place to work. A 20-foot beaded curtain adds shimmer while diffusing the sunlight that pours into the space. Along the beaded curtain hangs polished chrome lighting pendants with marble accents. The clear pendant globes feature an exposed curled LED filament that provides a warm glow.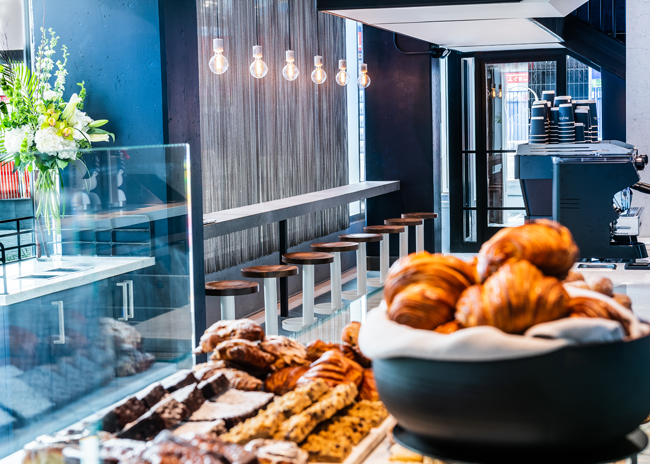 On the entry wall, picket-shaped marble tile creates additional texture, adding subtle sparkle while continuing the marble touchpoints found throughout the bakery. The monolithic coffee counter, made from solid slabs of Quartz, provides an effortless sophistication that embodies the brand's aesthetic. On the back wall, a large ombre wallcovering fades from blue to tones of grey. The flooring is comprised of light grey tiles sourced from Italy, laid in a herringbone pattern.
Leaning heavily on dramatic blues, soft greys and luxe marble surfaces, Mah-Ze-Dahr's signature airy-but-moody aesthetic provides the perfect backdrop for an indulgent yet refined bakery experience.