During the depths of the COVID-19 pandemic, Art & Soul, the contemporary American restaurant within downtown Washington D.C.'s Yotel, underwent a significant makeover. Remodeling its private dining spaces was one of the major facets of this effort.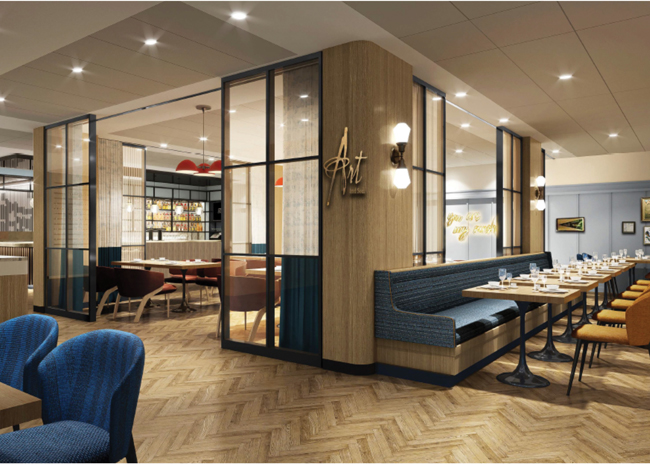 A newly constructed additional private dining area within Art & Soul at the Yotel Washington D.C. features sliding transparent glass walls. Image courtesy of Yotel Washington, D.C.
The boundaries of Art & Soul's two private dining rooms were converted from fully enclosed spaces to partially open areas with moveable walls that can be opened to the main dining room. In addition, a new private dining area was created in the middle of the restaurant with a transparent enclosure that can be easily opened. This project reflects a larger trend in private dining where flexibility is prized.
Creating welcoming, attractive private dining spaces is essential to the business plan for many restaurateurs. "Private dining spaces are huge revenue boosters," says Jessica Haley, project manager, RODE Architects. In addition to raising the volume of business, private events can be more profitable than standard dining. "You have a guaranteed number of people, so you can plan more effectively," Haley points out. "You can have a limited menu and plan exactly for the amount of ingredients and staffing, so waste and overhead are lowered."
Although programming design of private spaces is fairly straightforward, for best results monitor local market trends and pay close attention to key details including acoustics, lighting, service efficiency, and audio/visual elements. Getting these points right separates stellar spaces from the average.
When considering the design of private dining space, first research the types and sizes of events the local market can support. If your establishment is in an urban area with large office buildings, you have the potential to attract many corporate events — gatherings of 50 or more people. If your restaurant is in a less dense residential area, private dining demand may be chiefly for events such as birthday parties, baby showers, and other celebrations of no more than a couple dozen people.
Of course, the total footprint of your space is a key determinant in how large your private dining room can be constructed. Typically, a private dining space seats no more than one-quarter to one-third of the overall seating total of the entire restaurant, Haley says.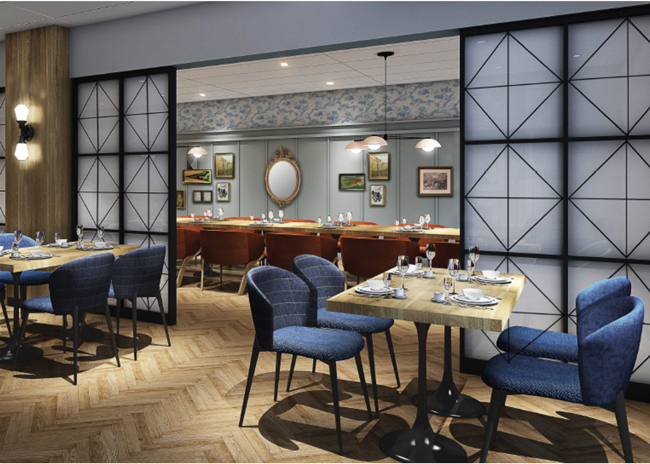 Large, translucent panels form the moveable walls separating the private dining area at Art & Soul from the main dining space at the Yotel Washington, D.C. Image courtesy of Yotel Washington, D.C.
Art & Soul's expansion and redesign of private dining areas was a response to customer demand driven by the hotel's robust conference business. "Private dining spaces are really sought after for impromptu meetings," says Shawn Jervis, general manager of Yotel Washington D.C. "There's a desire to be part of the scene instead of huddling in a ballroom. People want some interactivity with the larger space while still having some private time."
Most private dining areas accommodate overflow business when not being used for private events. So, Jervis wanted the private dining spaces to make diners within them feel connected to the larger dining area — not like they were tucked away in a walled-off, isolated alcove. Designers accomplished this aim by specifying translucent glass sliding walls that yield large gaps when opened. The new, third private dining space is delineated by transparent glass walls, two of which open on sliders.
With walls open, the private areas connect atmospherically with the larger dining space; when walls are closed off, privacy is maximized. Other moveable wall options include natural wood barn doors and garage-style doors that open to an overhead position. Barn doors evoke a rustic ambience, but because they do not create tight seals and do not have insulation, they do not provide as much acoustic isolation as other options, Haley points out.
Image courtesy of The Lexington
A recent RODE Architects restaurant project in Cambridge, Mass., The Lexington, includes a walled-off space within the 10,000 square-foot facility that can accommodate 49 diners. A steel-framed glass moveable wall creates a smaller space for more intimate gatherings when closed. The custom-built moveable wall resembles an awning hanging from the ceiling when it is fully rolled up. On some projects, off-the-shelf garage doors can achieve a similar effect at a lower cost or can be used to divide a private outdoor patio from an indoor private room to host two separate events simultaneously.
In most cases, designers strive to make private dining rooms blend aesthetically with the larger space while providing some points of distinction. "The root of the exercise for us is finding the right balance between having a cohesive space overall, but then being able to compartmentalize the private dining area so it stands on its own," says Aaron Beyers, senior associate, DMAC Architecture. For Greenwood American Kitchen & Bar, located in a Chicago suburb, Beyers used salvaged wood on wing walls, a back wall, and a slightly dropped ceiling to frame a private dining space. This design makes the private dining area look like a stage that stands out, but the color of the wood blends well with the muted color palette of the main dining area.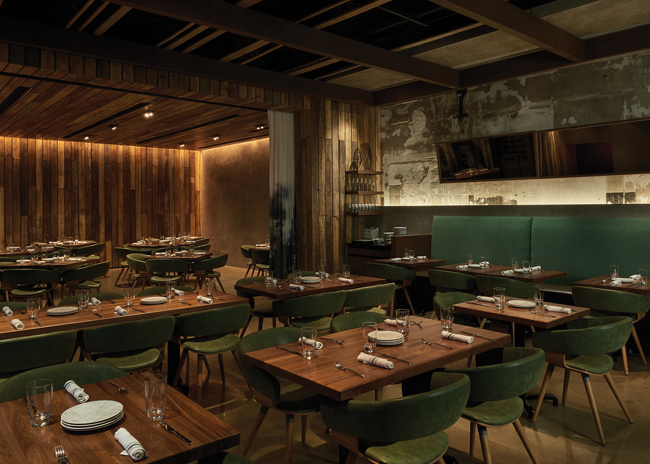 Reclaimed wood frames a private dining space at Greenwood American Kitchen & Bar in a Chicago suburb. Image courtesy of DMAC Architecture
One way to distinguish private space is to be more restrained visually. Design elements at The Lexington, for example, include stone and brass, along with hues of teal and pops of pink. Each space is distinctive, but common material choices build a cohesive feel. The large private dining area's aesthetics are comparatively subdued in the context of the rest of the establishment. This allows customers to make their party decorations be the focus of the overall decor and not have to compete for attention with room accents, Haley says.
After visual considerations, acoustics have the next biggest impact on the customer experience in private dining spaces. "Acoustics can make or break a good restaurant space," Beyers notes. The way many private areas are designed today — with the aim of conveying some vibrancy from the main dining space — makes for a tricky balance when it comes to acoustics.
"You want a little noise, but not have to scream to be heard," Jervis observes. At times, though, event organizers want to block sounds from outside of the private area by closing sliding wall assemblies. "If you want to have a toast or do a presentation, you close off the space," Jervis says.
Designers can acoustically isolate private spaces in walls and ceilings by using conventional acoustic dampening insulation and sound-absorbing ceiling tiles. Acoustic absorbing drapery is an economical choice (in lieu of moveable walls) that reduces ambient noise, though not as effective as most moveable wall options. For buildings with exposed ceilings, spray foam insulation can dampen sound. At The Lexington, Haley employed K-13, a light gray cellulose material with a refined look, to muffle sound waves.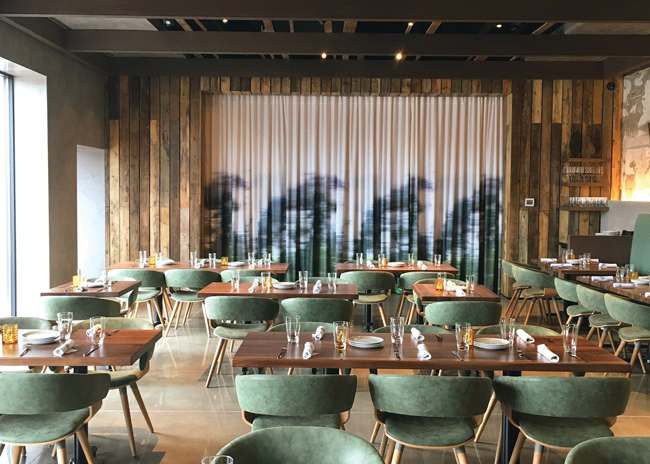 Greenwood American Kitchen & Bar partitions dining spaces with acoustic drapery
Any room or space that will be isolated from the rest of the dining area usually requires a dedicated thermostat to maintain thermal comfort, especially if walls and doors are closed for an extended period. Dedicated lighting controls are also a must, particularly if some events will include presentation screens. Business meeting participants will want to dim the lights for better visual acuity while presenting PowerPoint slides and videos.
Good service for a special event is critical to generating repeat business, so designing private spaces for service efficiency is a must. Larger rooms often include a buffet counter with cabinet storage below counter level. This reduces the space for seating a bit, but provides a place to lay out food and store tableware, linens, dishes, and other items so that staff can easily obtain them.
A station for staff to place orders — especially for drinks — is also essential, Haley says. This is a huge time-saver, eliminating the need for servers to visit the bar every time somebody wants a drink. Usually, this requirement can be fulfilled simply by locating a tablet in a discrete space. Most private dining space designs omit a dedicated bar, but may reserve some floor space for temporary, moveable bars. This strategy provides space flexibility.
Choice of moveable wall types also impacts service efficiency. Sliding doors or walls are easier than swinging doors or garage-style overhead doors for staff to open and close and pass through while carrying trays of food and drinks. "If it's easy for servers, it's less disturbing to guests," Jervis points out. This maxim goes for diners in the larger space, as well, who will take less notice of staff attending to private parties when servers perform their duties with minimal noise and fuss.
In main dining spaces, many restaurateurs opt for mostly two-top tables that can be easily placed together or separated to accommodate groups of different sizes. In private dining areas, however, where groups of diners know each other, people will sit together in larger numbers. Thus, tables that are at least four-top in size — or even larger in some cases especially in the largest private dining rooms — are usually better options. These naturally lend themselves to accommodating larger groups without needing to be rearranged. With the ability to plan ahead for private events, staff have enough time to band together when it is necessary to rearrange larger tables well in advance of the event.
Whether large corporate dinners for 50 people or intimate birthday parties for 10, a regular schedule of special events offers a welcome and predictable revenue source to any establishment. Many owners are blessed with such a reliable supply line of business after building suitable private spaces. With the right design, most restaurateurs could mine the same vein if their market demand supports it.