Brought to Portland by Jessie Aron and business partner Colin McArthur, this counter-service-plus restaurant opened in February. On an admittedly tight budget for opening, the co-owners designed the compact, 30-square-foot restaurant themselves, creating a playful and eclectic mix of old and new, with plenty of Victorian vintage, art deco pieces paired with Moroccan tile patterns, old brass, lace drapery, artwork by Kay Nielsen and clean natural wood, creating the feel of a cozy living room. Outside, a covered patio features plenty of greenery. The kitchen is directly connected to the bar, where, prior to the pandemic, customers would place their order and be directed to their seat. Old cast-iron sewing machines were used for some table bases, and the tops were made by a local woodworker. Reclaimed church pews were used for some of the seating.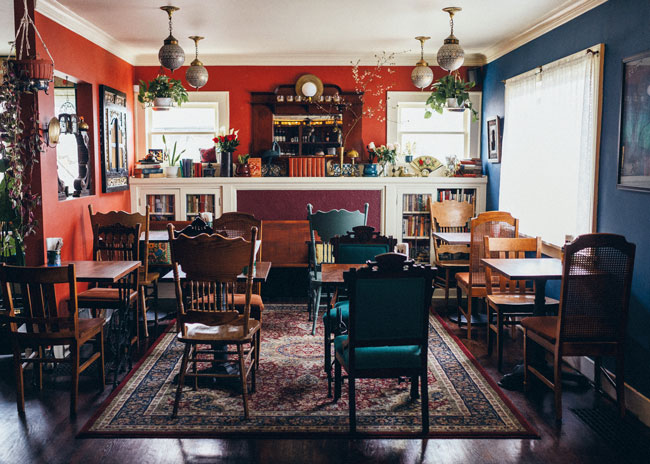 Images courtesy of Claire Thorington
Chef Maya Lovelace opened Yonder with Zach Lefler in March 2019. Designers from Portland-based Oculus Inc. and Meagan Geer Designs worked together to reflect Lovelace's Southern roots — she learned traditional Appalachian cooking from her grandmother, Mae. The team was tasked with taking an existing 2,200-square-foot space that had previously housed a bakery and creating a restaurant that features fast-casual service in front and a prix fixe pop-up private dining room in back. Upon entering the space, a classic felt board at the counter captures the attention of guests. They can order and then grab a seat at the quirky breeze-block bar or make their way
to one of the restaurant's 36 seats. The restaurant has a partially open kitchen and is accentuated by a palette of forest greens, sunshine yellows and pale blues in a nod to classic porch ceilings in the South that are meant to ward off evil spirits. A "Grandma Wall" — a heartfelt tribute lined with portraits of friends' and staff's grandmothers — helps direct guests past the kitchen to the restrooms.
Architect Mark Annen designed this Indonesian restaurant with owners Mariah Pisha-Duffly; her husband, Chef Thomas Pisha-Duffly; and Toby Roberts, with inspiration drawn from of Thomas's Peranakan heritage. That led to plenty of East-meets-West design ideas that included bright colors as well as artwork from the Pisha-Dufflys' personal collection. Guests enter though the neon rainbow-decorated storefront toward a tiled host stand. The large horseshoe-shaped bar is the focal point of the space. It features Indonesian carvings and sits next to the open kitchen with a large center island and pink shelving designed and built by Heirloom Modern out of California. Pastel pink, robin's-egg blue, maroons and turquoises grace the colorful, 80-seat space. The ceiling features custom acoustical panels hung in an eye-catching geometric pattern. There is also custom wallpaper and a portrait of Chef Tom's grandmother by artist Kate Blairstone. The restrooms are unicorn- and warrior-themed, both featuring '70s fantasy art and black lights.
Images courtesy of Christine Dong
Opened in April 2017, Campana is the brainchild of Annalisa Maceda and George Kaden. Designed by Oculus Inc., the intention for this space was to capture the owners' sophisticated style through the use of rich colors that evoke wine and vegetables. The 2,070-square-foot restaurant with 65 seats inside and 45 outside is an L-shaped space that features a traditional bar and dining area located in the front of the establishment. The designers created a 6-foot-wide pass-thru window to the kitchen for servers to access hot plates and for guests to see the cooks in action. A '40s-style papered wall of oversize flamingos and the '70s-era backbar tile set the restaurant's "space-out-of-time" aesthetic. Dark greens and purples balance out whitewashed shiplap walls, a white bar top and light wooden tabletops. Vintage and thrifted lounge area booths and rectangular tables populate the space, which also features low-hanging light fixtures and a rococo-style chandelier.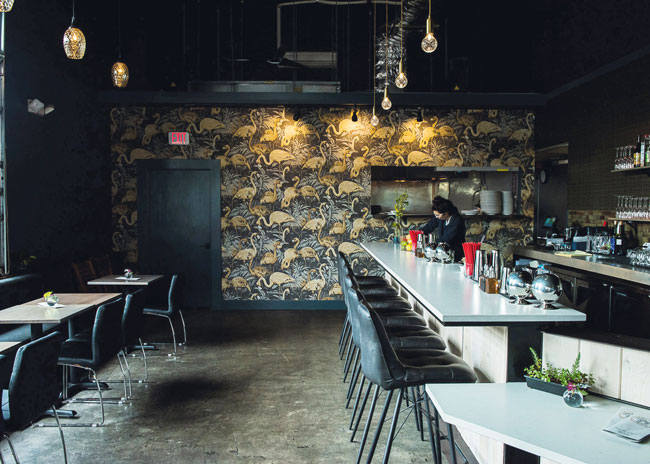 Images courtesy of Sally Painter Photography
Husband and wife team Chef Garrett Benedict and Architect Betty Benedict opened this plant-forward restaurant in August 2019. The duo designed the 1,923-square-foot, 50-seat space themselves, intent on creating a light, airy and positive vibe. The beachy aesthetic offers light blues and sunny yellows. The open kitchen sits at the center of the restaurant, surrounded by two-tops and larger booths as well as a chef's counter. Floor-to-ceiling windows on three sides of the restaurant allow for plenty of natural light throughout the space. Chef Benedict also designed the whitewashed ash plywood furnishings, which were inspired by slatted park benches. Minimalistic Nordic pendants in white and light blue grace the space. A crystal chandelier hangs in a disco-themed restroom, accompanied by illuminated gold sequined wallpaper, a gold-glitter floor and gold fixtures. The other restroom is jungle-themed with every square inch except the floor covered in faux plants. Betty Benedict created the bamboo weavings, woven textiles and other artwork on display.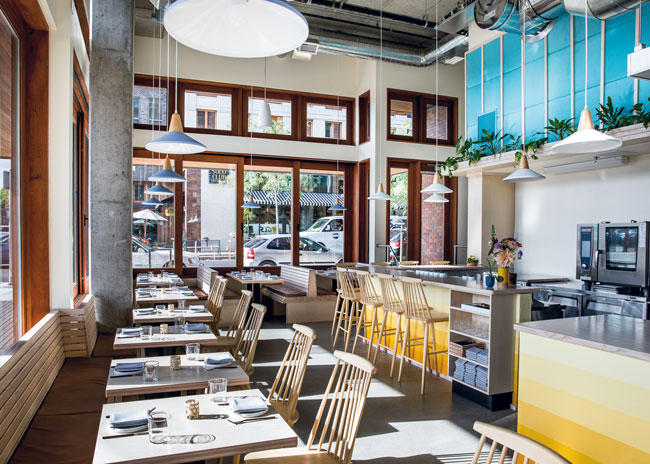 Image courtesy of Carly Diaz