Vancouver, British Columbia-based Earls Kitchen & Bar spent the past three decades polishing and perfecting its upscale casual dining concept throughout Canada.
It now operates some 60 units there, and is expanding into key U.S. markets as well. Its first new U.S. development, in Miami's Dadeland Mall, opened in March and within a month it had become the company's second-highest grossing unit.
Measuring 8,500 square feet, Earls sits on the second floor of a new wing recently added to the mall, part of an effort by Simon Mall Properties to turn the premium shopping center into a dynamic dining, shopping and entertainment complex.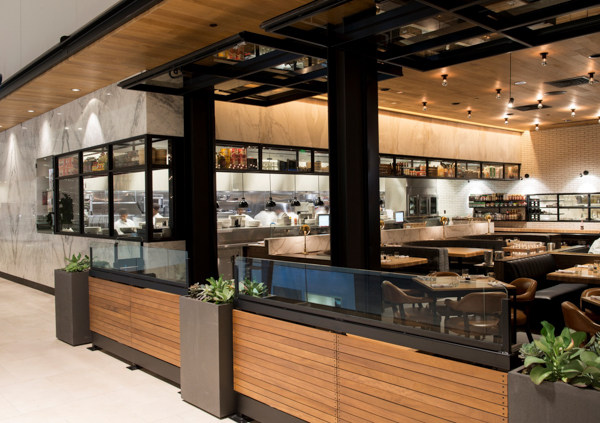 A large, partially glass-enclosed exposition kitchen beckons shoppers walking by inside the mall. It includes a 38-foot display cook line and a 20-foot partially exposed prep line. "People can watch 20 cooks busy at work preparing and plating the food. It's a peekaboo into the heart of the restaurant," notes Mark Hladik, vice president of operations for Earls Kitchen and Bar. "Even from outside the restaurant they get a sense of the energy within."
Exposition kitchens are a key feature in all Earls units and part of the chain's strategy of creating polished, chef-driven restaurants that also have a strong, well-integrated bar business. "Even when we were originally focused on burgers and beer we were a food-first concept," Hladik says. "Our experience has been that a fancy lounge will come and go, but a strong food program really keeps people coming back."
While its menu has grown from being burger-focused to featuring a broad range of casual, globally inspired fare, Hladik says Earls' kitchen design has remained consistent for the past several years.
"We've landed on a formula that works," he says. "It's one aspect of our design that we don't change much. A benefit is that it allows our chefs, whether in Toronto or Calgary or Miami, to come into the kitchen and feel right at home."
Hladik adds, however, that as Earls begins to move into larger locations, such as in Miami (the majority of its existing units measure 7,000 to 7,500 square feet), that may change. "As we're getting into these larger spaces and our food sales are spiking we'll probably have to innovate further in the kitchen before long."
While the front-of-the-house at each Earls offers a consistent look and feel, the Canadian chain continues to refine and update the design with each new opening. In the Miami unit, abundant natural light, warm oak, walnut, and stone finishes create a chic yet comfortable environment. The expo kitchen anchors the back of the restaurant and is clad in white marble, which wraps onto the mall exterior façade and frames the window into the kitchen. Ceilings, which are 12 feet high over the dining areas and 16 feet high over the main bar, are lined in oak.
An intimate, dedicated wine bar offers an additional seating and service aspect to the front of the house. It's positioned on one side of the main dining room and is finished below in board-formed architectural concrete. Subway tile and oversized chalkboards line the wall, where Earls merchandises its wine by-the-glass selection. The program includes 16 wines on tap and another dozen by the glass. Of the tap program, Hladik says, "Using the most modern technology, it enables us to serve a large by-the-glass selection and still ensure a perfect pour every time."
The larger main bar sits along the restaurant's front wall, which opens via retractable glass panels onto the 100-seat outdoor patio. The design, Hladik says, works particularly well given Miami's climate and creates an inviting indoor-outdoor drinking and dining experience.
"A unique piece of our concept is that, while there are a lot of great restaurants and a lot of great bars, we try to create an atmosphere that combines the two," he says. "It's not uncommon for people to come to Earls with friends after work and have a drink on the patio, stay for dinner in the dining room and then move to the bar for a couple of drinks and socializing after dinner. That's the magic of what Earls is and Dadeland is our best expression of that yet."
Snapshot
Earls Kitchen and Bar, Miami
Opened: March 2014
Property type: Upscale mall
Size: 8,500 square feet, 340 seats (240 inside, 100 outside)
Segment: Polished casual
Hours: Lunch, dinner, late night (weekends till 2 a.m.)
Design highlights: Expo kitchen visible from interior mall corridor, wine bar, large main bar, retractable front glass wall opening to patio, custom metal artwork installation at entry, original painting by Miami artist Pancho Luna, oak and walnut furniture and finishes, white marble kitchen façade
Build out: 22 weeks
Project Team
Sumeet Mittal, Vice President of Construction and Facilities
Jennifer Hoffbeck, Lead Designer
Kristen Bray, Lead Project Manager
Mark Hladik, Vice President of Operations
Del Diseko, Regional Chef
Architect: Gensler (Atlanta)
General Contractor: RCC Associates
Equipment: Edward Don & Company