One of the most popular new restaurants on the Washington, D.C. dining scene is Maydan, which offers food from Northern Africa, the Middle East, the Caucasus and beyond.
The restaurant, says co-owner Rose Previte, is out do more than serve food. With its name taken from the word for "town square" (in several languages), it is designed to give the feeling of a town square.
"We want you to have an experience," says Previte. "We want you to feel like what it felt like when we were traveling through different countries to research the menu of the restaurant."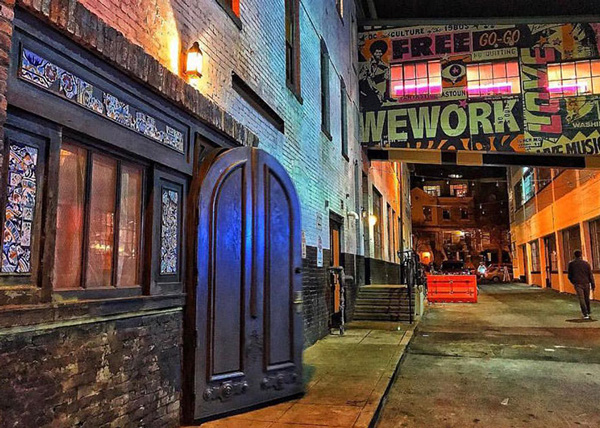 The Maydan experience begins when people are just looking for the restaurant, Previte says. The restaurant's entrance is down an alley of a side street. While the door stands out — it's large, blue and has a Tunisian style — there's no sign.
"Often people have to look for us. That's kind of intentional. We want this to mimic travel or some sort of great adventure," says Previte.
After finding the restaurant, guests enter into a small vestibule lined with fabrics Previte and others gathered during their travels, they then walk into the main area designed to provide a true "maydan" experience.
"The layout of the restaurant was meant to feel like a busy city square somewhere in the world, where you bump into people, you buy street food, you come to celebrate or mourn, as they do around the world. That's what we're trying to crate in the space," says Previte.
To create the sense of a city square, the restaurant is densely packed with high-top tables, stools and a bar. Like the vestibule, many surfaces are covered with fabrics gathered from around the world.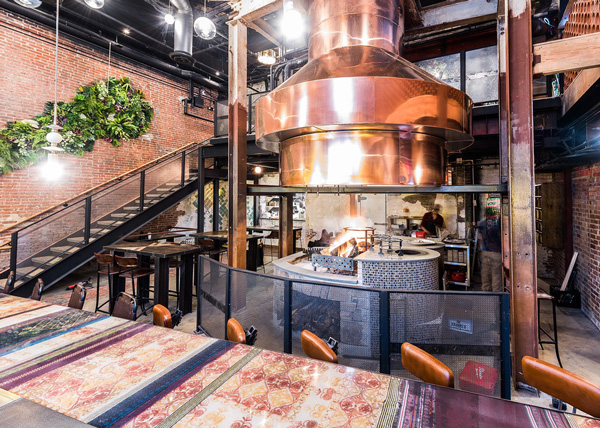 No doubt, though, the star of Maydan's town square is what Previte dubs "the hearth." This truly one-of-a-kind piece of cooking equipment was designed specifically for the restaurant. It is a wood-burning unit made with stone and brick and features a chargrill, tandori-esque oven and a copper-colored hood.
The piece is also set among four I-beams that are original to the building, giving the piece an even more impressive look, akin to a functional art installation, Previte says.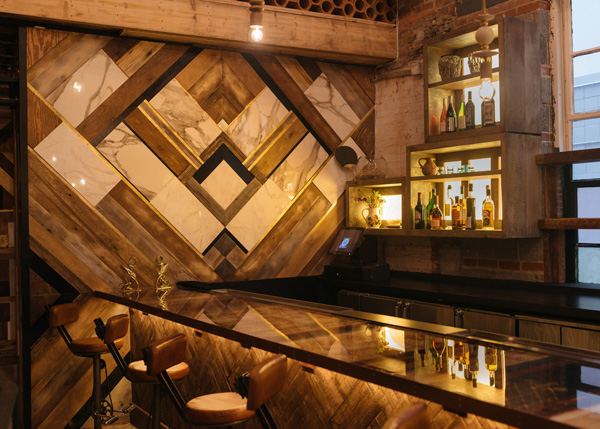 While the hearth is impressive, the restaurant's downstairs bar should not be overlooked. The bar top again features textiles gathered overseas, this time covered with a resin.
The bar also features several reclaimed elements, including bar stools (some with bike pedals, adding a dash of whimsy) as well as the materials used on the feature wall with a chevron pattern.
"We got materials at salvage stores, old building and from people willing to sell parts they didn't want any more. We just cut them up and made them into that pattern," Previte says.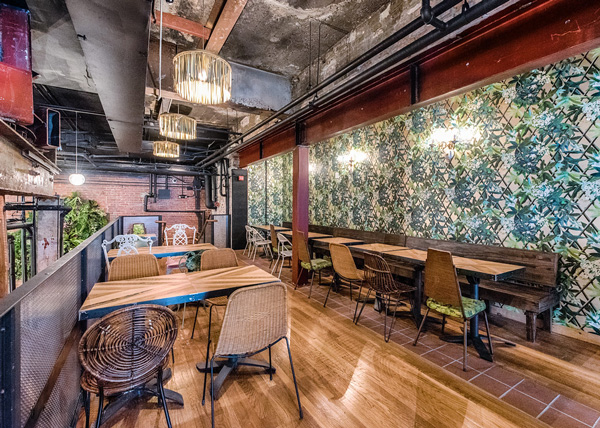 Maydan also has an upstairs dining room that offers a more formal experience.
A live plant wall accompanying the staircase connects the two spaces. "We followed the stair line," says Previte. "Then you get upstairs and you're welcomed by this leafy, palmy wall. It once again invokes the Middle East. It invokes being outside, like most squares are."
The upstairs also features reclaimed furnishings, including mismatched chairs and tables and reclaimed doors that have been repurposed into a server station with a POS, napkins, flatware and more. These pieces, says Previte, help create the sense of a space where people have and continue to gather, where life is lived on a daily basis.
"I really love authentic pieces," says Previte. "When something is brand new, it doesn't have a story yet. When you buy these things that have been part of people's lives at some point, I feel like they come to you with an established energy that adds to the feel of the space."