Neighborhood restaurants with attached grab-and-go marketplaces are growing in popularity in urban areas.
L3 Hospitality Group opened Kinship with the intent of creating a comfortable, neighborhood restaurant as well as a connected marketplace — Next of Kin — for locals to be able to get either a great, full-service meal, quick bite, or take-home eats. The concept is the second for L3, which also operates the popular Late Bloomer in the Lincoln Park neighborhood of Chicago.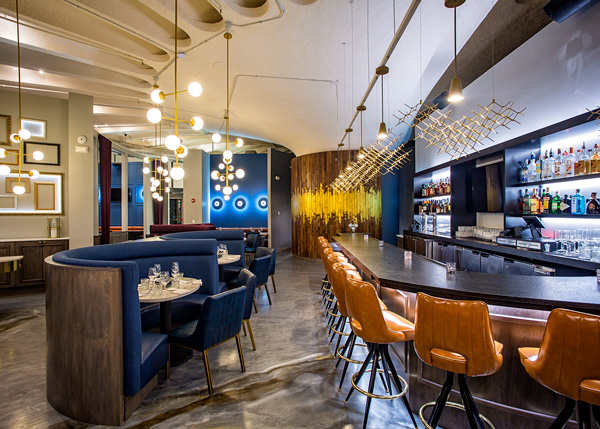 At the 100-seat Kinship, Chef Marco Bahena focuses on his open hearth for dishes like charred harissa lamb shank, roasted carrots and more. The attached marketplace offers a different but equally thoughtful mix of offerings. rd+d spoke with Interior Designer Laura Basich of Laura Basich Design to learn more about it.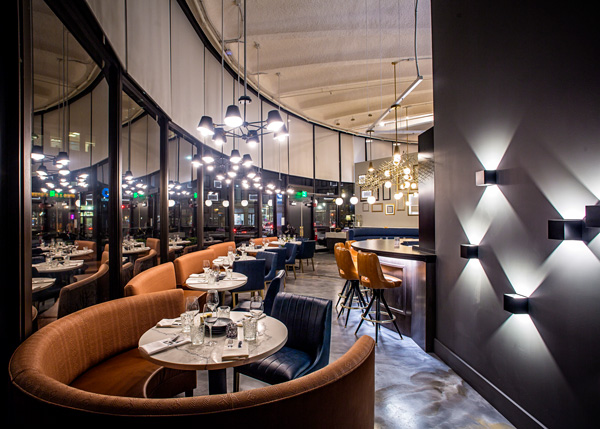 Tell us about the space.
LB: The most interesting thing about the Next of Kin and Kinship spaces is the building that holds them. The building was originally a bank built in the 1970s. Its intriguing round shape, floor to ceiling windows, and mushroom-cloud ceiling are all features that drew us to this unusual space in the first place, and we were lucky to have such an incredible shell to work with! To highlight those features, we've added custom lighting throughout, focusing specifically near the windows to draw the attention of passers-by. Since we turned one space into dual concepts, it was important to make each component feel like its own entity while still meshing with its sister brand. Next of Kin and Kinship have separate entrances, but they connect within the space to tell a cohesive brand story.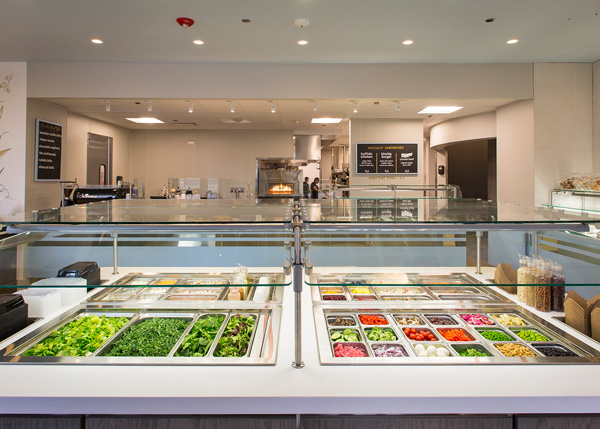 What's the retail component like?
LB: Next of Kin functions like a modern-day marketplace, featuring a full coffee bar and morning pastries, fresh salad bar, signature sandwiches made to order, a wide variety of beverages and signature desserts. We also have a small retail selection of grab-and-go options including organic granola, kettle chips, and organic cold pressed juice — all produced locally by our Chicago neighbors.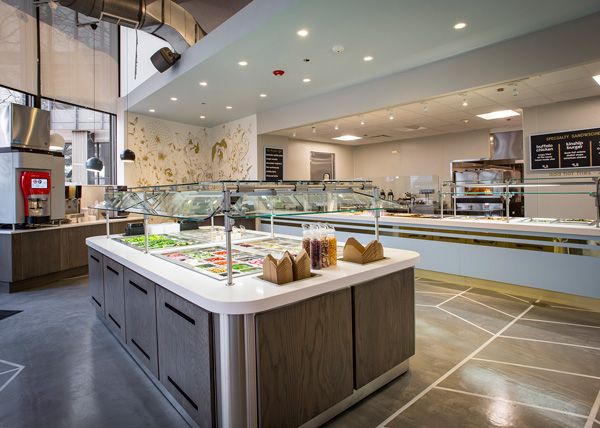 Did the unusual round shape of the space create challenges?
LB: Funny — the best thing about our space is also what makes it most challenging! Walls must be curved, tables must be angled, and floor plans must be very carefully considered to fit 100 seats in a round room. After months of planning, trying, re-ordering and problem solving, we couldn't be happier with the result.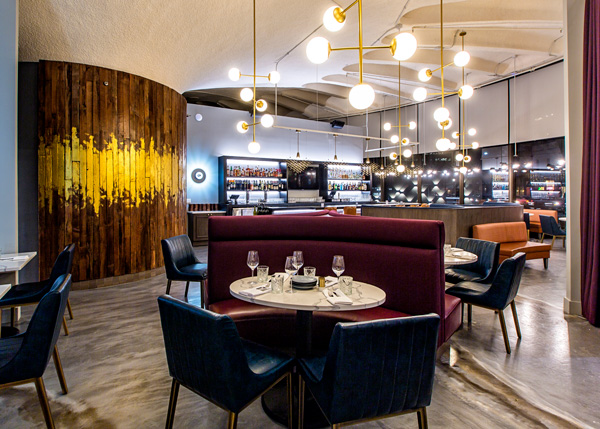 How do you manage the flow between the restaurant and retail space?
LB: We are marketing our two sister concepts as exactly what they are: two concepts. This makes is easier to tell the story of each space to our guests and meet their needs for multiple occasions throughout each week. Though segregated, the open flow between each concept once inside the space is designed to give guests a sneak peak of the other side and to pique their interest to try everything that Next of Kin and Kinship have to offer.
Where is the kitchen located?
LB: Next of Kin and Kinship share a large kitchen, located in the back quarter of the space.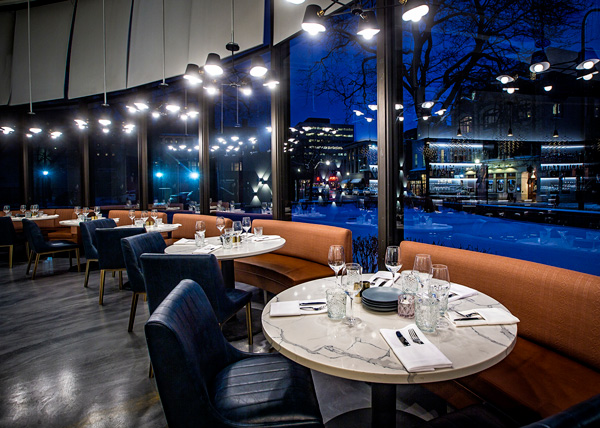 How would you describe the interior – the walls, ceiling, flooring, etc.?
LB: Kinship's ceiling is one of the most unique and beautiful aspects of the restaurant. It billows out like a mushroom cloud from one central pillar, which used to serve as an elevator shaft to the original bank vault. The pillar has been covered in reclaimed wood and metallic mural to make it a true focal point. We have a variety of finishes and colors on walls throughout the space including of two additional custom art installations, decorative molding, rustic wood paneling and penny tile. The floor features a gold marbled pathway to fancifully guide guests to their seats.
What are the furnishings?
LB: We thought it important to add warmth to the space through warm fabrics and natural textures. Caramel leather barstools tuck in nicely around our stark black bar, and rich velvety booths are a nice contrast to sleek marble tabletops. Our private event space is full of custom dark wood tables with a gold inlay to ensure the space is special enough for our guests' most special occasions.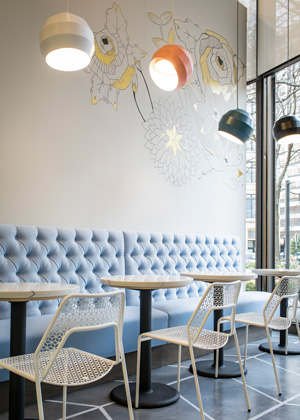 What is the color scheme?
LB: Next of Kin has a lighter, airier feel — ice blue, putty pink, and deep royal are accented with white marble, glass and shiny gold accents. The Kinship space is slightly more elevated with cognac leather, aborigine velvet drapes, and dusty blue indigo booths that pop against the grey concrete floors and large windows. We also commissioned two floral murals to brighten the Next of Kin space.