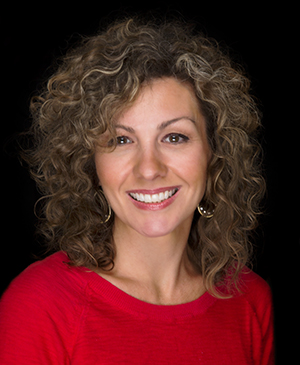 Leigh Ann VanDamLong John Silver's recently debuted its True North reimage. It's the only the third reimage in the brand's 50-year history. We dug in with the senior director of development and real estate to get all the details.
How did you get your start in restaurant development, and how long have you been with Long John Silver's?
LAV: I started my career in restaurant development back in 2003 with the Yum! Brands, now parent company of Kentucky Fried Chicken, Pizza Hut and Taco Bell. Of my 13 years at Yum!, the last 9 years I worked exclusively at Taco Bell as a brand architect, where I worked on a team that ushered new Taco Bell projects through the development process from site selection to restaurant opening. Back when I started with Yum! in 2003, the company owned Long John Silver's and A&W. So I had prior history with Long John Silver's in architecture and design before joining Long John Silver's in 2016 when I came on board as a senior director of development and real estate.
Was it interesting to come on board and see how the brand had changed?
LAV: You know, it hadn't changed that much. However, when I was last working with Long John Silver's, the big push then was to multibrand. Since then, they have backpedaled a bit and don't see that as a thriving development concept these days. That was the heyday of our multibranding efforts, and while the units are still out there, we don't consider it a driver of new restaurant growth anymore.
You will still see cobranded units, but Long John Silver's was sold about seven years ago and is its own company now. A&W was also sold and is also its own company.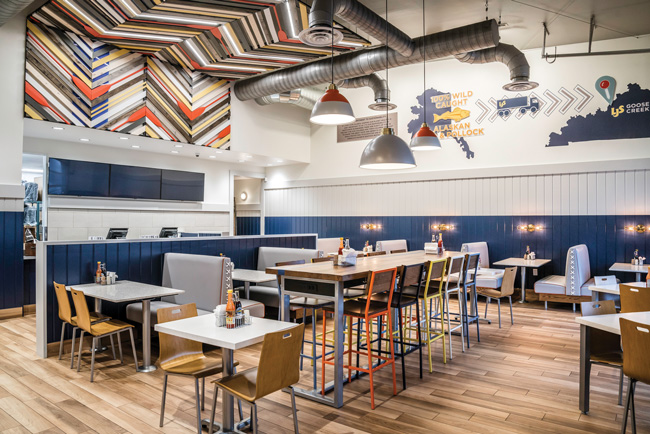 The True North image is only the third revamp in the chain's 50-year history. Image courtesy of Aerial State Media Co.
Let's talk about what's happening at Long John Silver's. This is a long-standing brand, but it hadn't had any recent updates to its prototype — is that right?
LAV: Correct. Long John Silver's was founded in 1969, so almost 50 years ago. And in that time, this new image, called True North, is only our third image in 49 years.
In 2015, Long John Silver's started hiring a new executive team to turn the brand around. And the executives, who all had strong restaurant backgrounds and experience, knew creating a new image was one of the major ingredients in turning around a restaurant company. They knew that that's what they needed to do. They just didn't have anyone in development to lead that charge, so they hired me. And I started working with other internal teams — the food innovation team and the IT department — because I knew they had their own initiatives they'd been working on such as the grilled menu, base menu upgrades and changes as well as new technology we wanted to incorporate.
And we wanted to do this all at once at our new flagship restaurant in Louisville as well as in the remodels we've done up to now. We not only give it an image update, but we also incorporate new menu items, customer service practices, operations processes, and new technology such as the new digital menu boards, which are the first of their kind in the industry. They are digital LED exterior menu boards. The content can be changed out very easily. We haven't used it yet to its full capabilities, but we're able to change out menu items very easily, and LTO [limited-time offer] menu items can be brought on and into the forefront, depending on the store and the demographics of that area.
It was especially important for us because we knew it was our one big stab at it. So, we needed it to be done right and to have full alignment — not just our internal alignment but also with our franchisees. Our franchisees were very involved in the installation and testing of the new menu.
It's a big decision, too, because it's technology that I think all restaurant brands have looked at, but we've been waiting for the technology to improve so that there was very little risk. And I feel like the technology is just now there.
What are some of the key drivers behind the new image?
LAV: Last year, we went down to Studio 11 in Dallas to get their help to tell our story and to figure out who we are and where we're going. The result of that is a conceptual design that highlights the nautical livelihoods of our fishermen with elements like real wood, stone, brass and chrome accents. However, we didn't want to divorce ourselves from our iconic elements, either, because they hold such sentimental value to our loyal customers and employees. Long John Silver's founder and early leaders were led by a set of innate goals and values that had been lost in time and translation over the years.
So, I named this new image True North, because I knew the original tenets, such as fresh food and responsible practices, are still relevant and honored today. We just needed to recenter and refocus: find our true north and follow the trajectory that was set by our company's founder. An example of that is that American consumers have more options and more information and have never been more demanding of real food and ethical processes than they are today. Our fish is wild caught by our fishing partners with whom we've invested to create and fine-tune our harvesting efficiency, which resulted in twice as much usability from every fish we catch. It's mind-blowing how much Long John Silver's reinvests in the fishing industry. It was sustainable and responsible before that became the thing to do.
What were some iconic elements you carried over from the earlier images?
LAV: One example is our bell that we had from day one that we put beside the door. As customers leave, they can ring the bell to signify that they had a good meal and a positive experience. Over the years, they've been "value engineered" to be a kitschy, gimmicky element. One thing we decided to do was to put a real brass ship's bell at the door. For each store, we have put in the name of the city and the longitude and latitude coordinates of that specific store. And that's an element we're integrating into every store we touch. It gives it a sense of place for that store. We put the longitude and latitude coordinates in other places throughout the store.
One challenge we've encountered is how to dampen those bells so they don't give our customers heart attacks. We've dipped them and coated them, but this is what you encounter when moving to real items.
I hate when you walk into a restaurant and you get the idea of what they were trying to do, but they did it in the cheapest way possible. For just a little more money, they could get the real thing, but they've been relegated to creating a faux version of the original to save a little money and to replicate something on a larger scale. That balance is hard to manage, but I've made it a personal challenge to do that: to stay with real materials as much as I can.
Also, at our Louisville flagship, we took extra effort to incorporate elements from local artists and sources. For instance, we had a local industrial design company, Rockerbuilt, build a really large ceiling element in our new store. We also had a local artist, Bryan Patrick Todd, do a large exterior mural with the coordinates for that location.
What's the next step with this reimage?
LAV: We've done 9 full remodels. We have about 1,000 single and multibrand units. We are still working on value engineering this image so that it's more palatable to the system. We're buying back stores as company stores for the first time in many, many years. So, we're working to revive those, and we have to be very frugal. Most of these buildings are from 30 to 49 years old and haven't had any major remodels, so that is our major challenge right now. So any change is a big change. Coming up with a stopping point is a top thing because we could continue to remodel, remodel, remodel because everything needs attention and reinvestment. There are times when we have to stop and assess: How much more can we get out of this building if it hasn't been maintained for 40 years? At what point do we look at relocating or rebuilding versus remodeling?
We also have a refresh program, and it has about a $50,000 target reinvestment, and it includes any deferred maintenance on the exterior, new paint, new signs, updating and/or repairing the parking lot and landscape, and then a minor dining room upgrade.
What are the biggest challenges facing your team right now, and what are you doing to meet them?
LAV: The biggest challenges are how to value engineer this reimage and how to find the right construction methods to roll this out system wide. We are in the testing phase right now. We have a lot of franchisees that love the idea and they love the image, but they're just sitting back and waiting to see what the results are on the nine we've done. If you roll in this new prototype, we've had some outstanding results so far. We've got some that are up 30 percent in sales from before the reimage.
One of our big challenges was that we had a shorter development period than most restaurants because we were not only dealing with spring weather but Lent is very important to us. We get 40 percent of our annual sales during Lent. That time is hands-off. We leave the stores alone during Lent, and we don't want to compromise or stress them during that time.
What about nontraditional units?
LAV: We are working on an LJS Express concept. We are soliciting partners in that. We're focusing on gas and convenience stores. We want to partner with a single convenience store company so that we can do several and do them as company stores so that we can manage, test and vet thoroughly. We expect to have a full program set up by June, and that will also include a breakfast menu. +
The True North image is only the third revamp in the chain's 50-year history. Image courtesy of Aerial State Media Co.