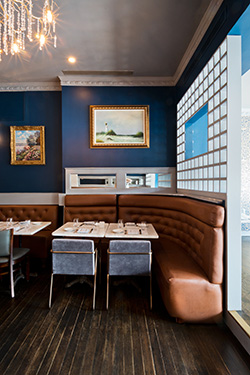 The industrial chic craze is giving way to the glamour of art deco and art nouveau — at least at Gatsby's Landing in Roslyn, N.Y., a concept that pays homage to F. Scott Fitzgerald's era with a modern take on 1920s glamour.
The 2,000-square-foot restaurant features rich navy blue walls that serve as a backdrop to soft brown leather seating and brass and glass geometric fixtures. The restaurant seats 120 across its bar, main dining area, private dining area and a patio that overlooks Roslyn Pond.
New owners Glenn and Danai Falcone worked with Salt Design to transform the space. Salt Design handled the re-concepting, branding package and interior design.
A tight budget meant including some elements of the existing restaurant, but the design also capitalized on those. "For example, the existing banquette was a big ticket item, and they decided they didn't want to reupholster it so we found things that would play off the existing brown leather banquette," says Evan Bauer, principal, Salt Design.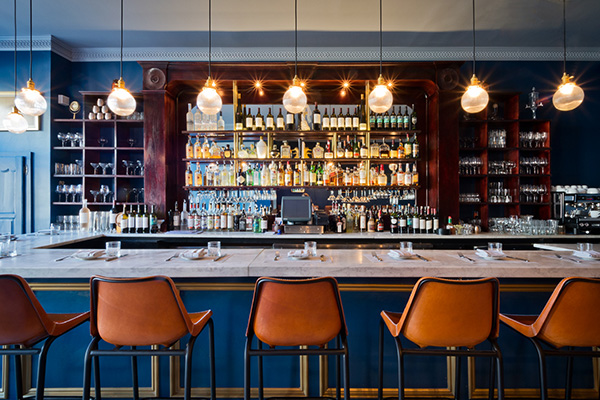 The restaurant is segmented into three spaces. Guests enter through a vestibule into the main bar area. There's a pinch point between a full-size walk-in wine cooler and the host desk, which sits beneath a sizable chandelier. From there, guests transition to the second area, the main dining room. An existing stained-glass panel on the ceiling serves the overall theme surprisingly well and is backlit with a bright white light. Finally, at the rear of the space, guests step up into a semi-enclosed private dining area, the Pond Room, that also leads to the restaurant's patio seating.
"The Pond Room space is pretty amazing. It features a custom collaboration we did with the wallpaper vendor," says Bauer. "We customized one of their colors to match the walls, but about 60 percent of the wallpaper features a gold Mylar that picks up all the light that comes off the pond throughout the day."
Gatsby's Landing also features custom hand-painted signage throughout by artist Will VanZee.
Photos courtesy of Lindsay Kunz.