Emmerson, a new all-day neo-bistro recently debuted in Boulder, Colo.
It's the brainchild of an ownership collective that includes New York and Colorado hospitality veterans. Michael Gibney, executive chef/partner, is a best-selling author and veteran of many New York kitchens including Tavern on the Green; Jeb Breakell, executive pastry chef/partner, is a Culinary Institute of America-trained pastry chef with experience at New York restaurants including Eleven Madison Park and Per Se; Tre Gerbitz, general manager, is local to the Boulder restaurant scene; Ben Foote, beverage director and assistant general manager, has a history in Boulder's cocktail scene; and restaurateur Ben Kaplan is an investor or partner in restaurants throughout Colorado. Nancy Kwon rounds out the management team. A Top 50 American Bartender of 2016, Kwon relocated to Boulder from Los Angeles to become Emmerson's bar manager and cocktail curator.
The approachable space is a mix of simplicity and sophistication. Designed by Aleks Kaplan and Amanda Arguello of Shears Adkins Rockmore Architects, the restaurant covers 5,160 square feet and seats 125 inside.
A curio parlor at the restaurant's entrance invites guests to leave the stress of the day behind and provides a psychological shift as guests enter the Emmerson space. Its shelves feature quirky trinkets and artifacts, and music plays on a Victrola.
The restaurant's interior divides into three sections: a bar, the dining area that features a 20-foot long communal table, and a small private dining room. It features wallpaper designed by Mike D of the Beastie Boys, with images of Brooklyn that include shout-outs to Nathan's hot dogs and Notorious B.I.G. (and serves as a nod to some of the staff's New York roots). Additionally, a patio seats another 25 guests.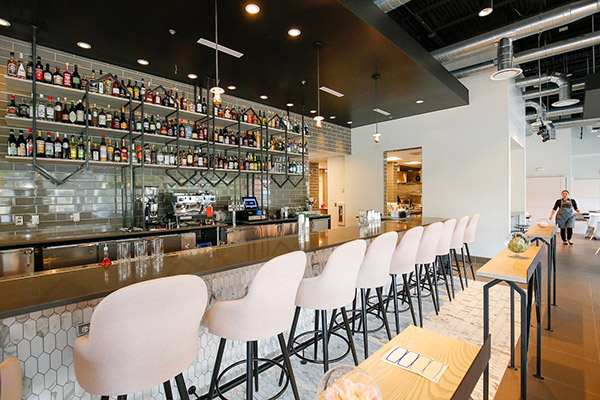 The design reinforces the ownership's commitment to all-day dining, and the idea behind the concept: a fine-dining restaurant masquerading as a neighborhood spot.
"Each of us is committed to this project in a way that truly feels like family," says Kaplan. "It's the perfect marriage of fresh, outside perspective from our chefs, who moved here from New York to be a part of Emmerson, and homegrown talent from our two local hospitality pros from Boulder's thriving and close-knit restaurant culture."
Photos courtesy of Adam Larkey Photography