Philadelphia International Airport (PHL), American Airlines, MarketPlace PHL and hospitality group OTG unveiled PHL's new Terminal B, a $30 million investment that includes local chef-driven concepts and a free-flowing design.
Gate Lounge
The terminal includes a new, wider range of shopping and dining options for travelers. Eight dining venues, as well as markets, cafes and 15 lounges near gates provide an array of choices for travelers. As is the trend with airport dining, menus at all price points emphasize fresh, locally sourced ingredients and highlight regional and local dining experiences.
Boule
New concepts include French-inspired bakery Boule Café, Mediterranean mezze concept Baba Bar (pictured at the top of the page), Italian eatery CIBO Bistro & Wine Bar, beer and brat concept Germantown Biergarten, steak and chop house Independence Prime, fresh sushi concept Noobar, Philly comfort food concept LOVE Grille and Neapolitan Pizza concept Mezzogiorno.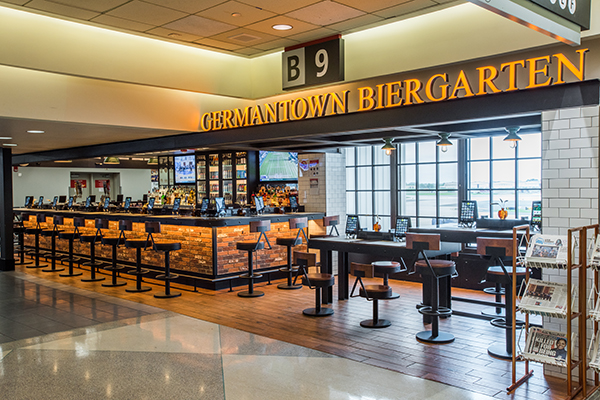 Germantown Biergarten
OTG retained Philadelphia-based Daroff Design Inc. + DDI Architects, PC to provide design and consultant coordination services for their new restaurant concepts. The design includes a collaboration with British lighting designer Tom Dixon. His unique Melt fixtures in the gate areas represent the largest installation he has ever designed.
Mezzogiorno
Technology takes center stage. The terminal includes more than 1,000 iPads positioned throughout the new restaurants and gate lounges. The iPads allow guests to track their flights, browse the web, play games, and order food and amenities, all delivered directly to their seat. Customers also have access to more than 2,000 power and USB ports with the redesigned terminal's seating.
Love Grille