Tacology, a new 6,125-square-foot restaurant from Cinbersol Group that seats 125 people inside and 85 outside, has opened at Brickell City Centre, a new mixed-use development in downtown Miami.
"The idea behind Tacology was to create an authentic Mexican mercado, or open food market experience, but within the modern architectural backdrop of Brickell City Centre's context," says Susan LaFleur, director of hospitality and residential interiors for Stantec, the project's architect and interior designer. "We achieved this concept by creating several kitchen pods, each offering different types of dishes and distinct design elements."
An open-air design is expressed through a 25-foot ceiling and through three folding glass doors that blur the line between the indoor seating and the terrace. Two exterior trellis elements draw attention to the idea as well.
Influenced by the vibrant culture and colors of Mexico City, the restaurant's color palette draws inspiration from serape textiles with shades of fuchsia, turquoise, red and gray. The materials are industrial and rustic, aiming to give the space a timeworn feel.
Tacology's sustainable features include the use of low-VOC paint, reclaimed wood, and a 50-square-foot living green wall.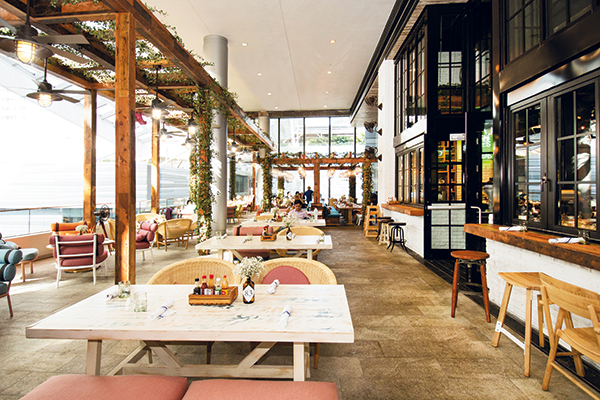 Outdoor Seating
Bar
Photos courtesy of Stantec