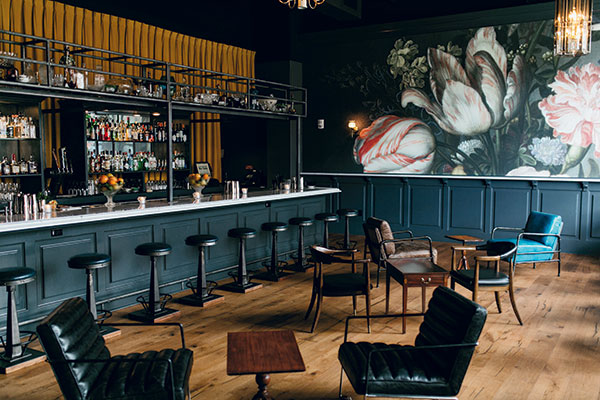 At The Haymaker in Raleigh, N.C., designer Dustin Slemp used Pinterest as a way to source decorative pieces. Photograph by Brett Donar of Brett & Jess Photography An unprecedented drinking culture has arisen in the U.S., fueled by the craft movements in beer, spirits and cocktails. This is a world where increasingly sophisticated consumers fixate on imbibing the new and novel, bartenders become celebrities and new bar openings are highly anticipated.
Another impetus for the proliferation of new and exciting drinking venues is money. "Bars can be very profitable; the margins on beverages are incredible, and there is a direct relationship between the quality of the design and the money you make from that bar," says Griz Dwight, principal of the Washington, D.C.-based firm GrizForm Design Architects.
Junction of Design and Function
With all the fads and trends in drinks today, operational design is key. Designers have to figure out how to run all those tap lines; how to accommodate drink rails jammed with speed bottles of bitters, modifiers and house-made infusions; and where to put barrels of maturing cocktails, sous vide machines, centrifuges and other trappings of modern mixology.
Indeed, some breeds of bars operating today couldn't have existed 10 or 20 years ago: craft beer specialists sporting 100 or more tap handles; saloons dedicated to a single spirit, from bourbon, gin and tequila to mescal and pisco;
establishments focusing on serving only locally produced beverages; and taprooms offering not just beer but kegged wines, cocktails and spirits on draft.
What Makes a Bar Great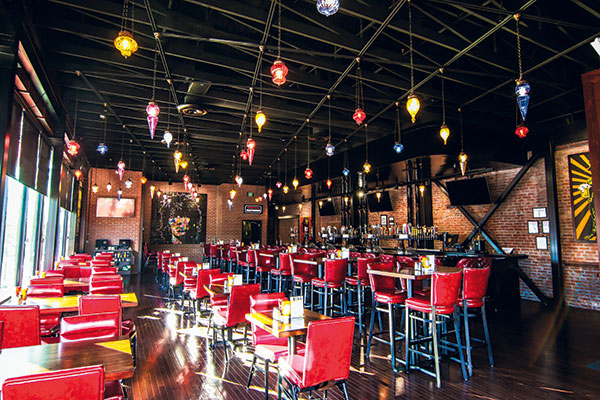 Which factors make for great bar design? Key points include tailoring the space to its purpose, announcing the intent and expertise of the beverage program, and encouraging social interaction and flow. Designers must also create a functional space for staff, which requires specialized setups and equipment suited to the task.
With the proliferation of so many pubs, taverns, saloons, lounges, taprooms, dramshops, speakeasies and joints, it's important to differentiate from the competition.
"The mark of great bar design is originality — that when you walk in the door, you feel like you've never been in a place like this before," says Dustin Slemp, creative director at Eschelon Experiences in Raleigh, N.C. The internet, he adds, is an ideal tool for scoping out what's new in design, the local competition and customer demographics. When designing The Haymaker in Raleigh, N.C., Slemp used Pinterest as one way to source decorative pieces including old-school boxing gloves, wallpaper featuring infamous rapper Notorious B.I.G., classic and cozy furniture, and a mounted moose head.
The principle of divergence holds for chains as well. HopCat bills itself as the anti-chain chain as each of the 16 beer bars features a unique appearance and ambience. "We don't do cookie-cutter bars," declares Mark Sellers, owner of Grand Rapids, Mich.-based Barfly Ventures, which operates HopCat and several other establishments, including an upcoming tiki bar. "A bar is not just a place to have a drink. It's about having a unique experience, especially for Millennials."
Establishing Intent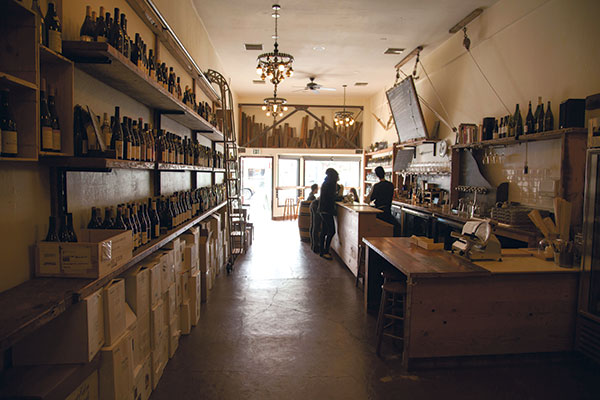 Ordinaire, a wine bar and shop in Oakland, Calif., focuses on organic wines; the design reflects it with a focus on natural light and earth tones. Photos courtesy of Ordinaire Used to be, a bar was a bar was a bar. Today, consumers have a plethora of choices: beer bar, wine bar, cocktail bar and all variations in between.
"With so many different niches, it is incumbent upon the design to communicate the intent of the beverage program and establish expertise from the moment customers walk in the door," says Brian Miller, design director for Streetsense Strategy + Design Collective, a Bethesda, Md.-based firm. "The bar operator has to show customers they know what they are doing, and design helps set those expectations."
Ordinaire, a wine bar and shop in Oakland, Calif., focuses on natural and organic wines, and the design reflects it. "I worked with raw, natural, organic products like old marble and Douglas fir joists, which mirror the type of wines we offer," says co-owner Bradford Taylor, who created the wine bar with the help of friends and family. A rolling library ladder allows patrons to peruse the 1,000-bottle collection. Wine taps reside behind a blackboard slab salvaged from a school, which lists info and prices scrawled in chalk.
HopCat bills itself as an anti-chain chain as each of the 16 beer bars features a unique appearance. Photo courtesy of HopCat Similarly, HopCat emphasizes its primary mission: beer. The bars boast 100 to 130 taps, all arranged at the front of the bar top. "That's the wow factor," says Sellers. "The first thing customers see when they walk in the door are all these tap handles. That creates the visual statement that we are all about beer."
"There are bars popping up that specialize in a single spirit — whiskey, gin and mezcal — all bragging about the number of bottles they have on their backbars," notes Dan Beres, beverage director for StandEatDrink Hospitality Group in Milwaukee. Beres helped design the bar in the company's recently opened Hotel Madrid. With an extensive list of vermouth and fortified aperitifs, Vermutería 600 takes a page from Hemingway-era Spain with faux trophy heads on the walls and bull-head tap handles on the bar that dispense draft sangria or gin and tonic.
GrizForm has had several projects where the beverage is the star, such as the Federal Tap House with 100-plus taps of craft beer and a "crowler" station that cans draft beer for take-home. Craft cocktail bar 2 Birds 1 Stone displays a collection of 200 bottles of bourbon, and each cocktail is served in its own unique glassware. "Layering in all those bottles and 30 different glasses at the bar was a challenge," Dwight says.
Social Components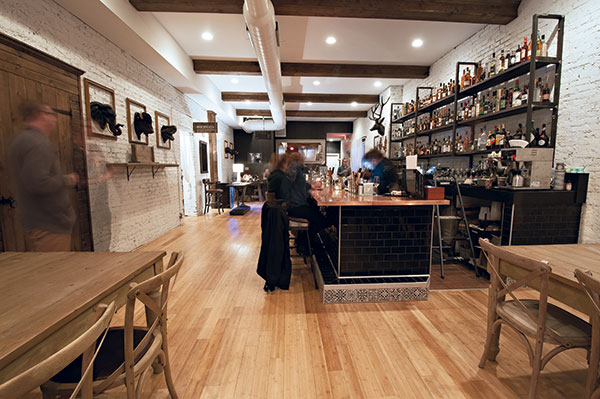 The design of Vermutería 600's bar included extra space for necessary tools, such as a sushi cooler to hold botanical garnishes without wilting, containers for dry ice and a vaporizer to create trendy smoked cocktails. Photo courtesy of StandEatDrink Hospitality Group"Bars are inherently social — places to meet up with friends, family and strangers. So bars have to have a social flow," says Dwight. "When setting up the space, you have to think through different scenarios that might occur." Designers must consider where parties of various sizes can gather, set aside deuces for dates and create areas where guests can easily meet up.
"Bar operators aim to create social gathering places," says Miller. That's one reason for the popularity of beer halls with communal tables. In the late 1990s, there was a movement toward lounges with sofas and low coffee tables, he notes, but that trend has faded because the seating was not conducive to conversation. The tendency now is toward narrower, bar-height tables, the purpose of which is to bring people together.
Changes Behind the Stick
Redesigning the cockpit accommodates ambitious beverage programs.
"Bars are turning into kitchens for cocktails," says Dan Beres, beverage director for StandEatDrink Hospitality Group. "Now there's a show involved, with drinks being mixed in front of guests." When designing Vermutería 600 at the recently opened Hotel Madrid, Beres planned extra space for necessary tools — such as a sushi cooler to hold botanical garnishes without wilting, containers for dry ice and a vaporizer to create trendy smoked cocktails — and sufficient electrical outlets to power those machines. Instead of the standard 4-inch bar rail to build drinks, Beres built a 10-inch bar rail across the entire bar. "So as many as three bartenders can work at once, with room enough to mix drinks without infringing upon guests' bar space," he explains.
The utilitarian aspect of design is that the bar must be set up to mix and serve drinks efficiently. If a design doesn't function well, you'll be hearing about it from the bartenders, says Griz Dwight at GrizForm Design Architects. "If a bartender has to take two, three or four extra steps to make a drink and they are making hundreds of drinks a night, that bartender is walking extra miles."
Customers want those complicated craft drinks delivered fast, too.
"A lot of bars are not designed by bartenders, and setups can be willy-nilly," says Toby Maloney, mixologist and partner of The Violet Hour, a pioneering cocktail establishment in Chicago. He designed the bar with the idea of shaving seconds off each movement a bartender makes. "Those seconds add up over an evening and allow them to make more drinks per night — and guests are happier because drinks come out faster," he says.
While technology behind the bar is a boon to productivity, designers tend to limit its visibility in the front of the house.
"It's not shunning technology but rather making it less visible to the guest," says Brian Miller, design director for Streetsense Strategy + Design Collective. POS systems, for example, have gotten smaller and less obtrusive both behind the bar and at bussing and host stations.
"I like to hide technology," echoes Dwight. "Keep the convenience for guests, but keep the tech end out of sight — for example, concealing cell phone chargers under the bar top." The designer has long been an advocate of removing big-screen TVs from bars and restaurants. "Five years ago, every bar we designed had to have TVs; owners demanded them. Finally, we have the traction to get rid of TVs because everybody has a TV in their hand — the cell phone."
Bar of the Future
Perhaps a glimpse of what bars will look like in the future can be seen in the pour-your-own beer establishments that are popping up around the country. Examples include the three-unit Barrel Republic in California and two-unit Frankie & Fanucci's Wood Oven Pizzeria in New York. Armed with RFID cards, guests can pour their own beer by the ounce or by the pint by interfacing with an iPad rather than a bartender.
Trends in bars cycle through. Tiki bar concepts, for example, debuted in the 1940s and 1950s, enjoyed a revival in the 1990s and are now back again, as popular as ever. So-called retro bars, utilizing decor, memorabilia and drinks from the 1970s and 1980s, are in vogue. And the classic cocktail movement, of course, is a revival from pre-Prohibition times.
Technology is likely to change the shape of service in the future,from ordering cocktails on your way to the bar to paying for another round from your phone.
"I don't think we will ever get rid of the human bartender," says Beres, "but no doubt we will see more automation." He's looking forward to advances in refrigeration, draft systems and other back-of-the-bar equipment. He is also intrigued by the possibilities of 3-D printers, though he adds, "Bars of the future will be much the same as they have been for the past 200 years: a place to forget about the world outside its doors — at least for a little while."