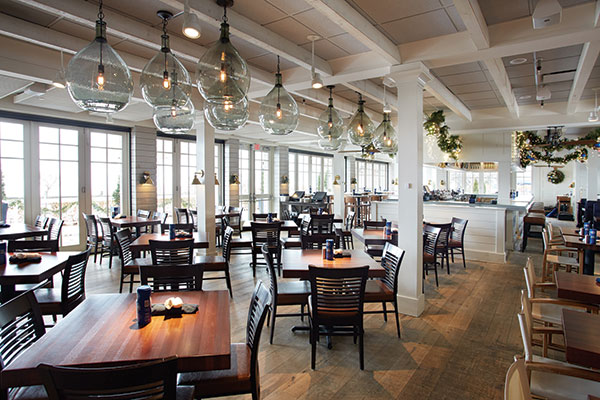 Salter's project, Boudin at the Wharf in San Francisco, has a sound-absorbing metal deck to absorb sound bouncing off the ceiling. Photo courtesy of Charles M. Salter Associates, Inc.
Finding the right soundscape requires balancing art and science.
Interested in learning more? Check out our free webcast about acoustics in restaurant design.
At this time of intense competition for customers, designing a restaurant for comfortable acoustics is a must. "If diners come to a restaurant and it's too noisy, they'll leave or won't come back again," says Charles M. Salter, principal of Charles M. Salter Associates, Inc., San Francisco. He and his firm authored the reference book Acoustics: Architecture, Engineering, the Environment. "Yet, if a restaurant is too quiet and doesn't feel energetic, some customers may not be satisfied, either. But you can't generalize what the perfect acoustics should be because it's subjective. There are no industry standards."
Addressing acoustics up front during the initial design results in the best return on investment. "Not putting acoustics on a high priority design checklist from the beginning of the design process is a huge mistake and can be outrageously expensive," says Tom Galvin, FCSI, president, Galvin Design Group Inc., Winter Garden, Fla.
"The process of retrofitting and perhaps closing down the restaurant can also be very expensive and create great angst," adds David Shea, CID, NCRB principal, Shea, Inc., Minneapolis.
Three primary areas of concern surface when designing acoustics: determining the optimal acoustical levels for ambience and customer comfort, installing the right materials in dining areas, and controlling kitchen acoustics.
The Changing Landscape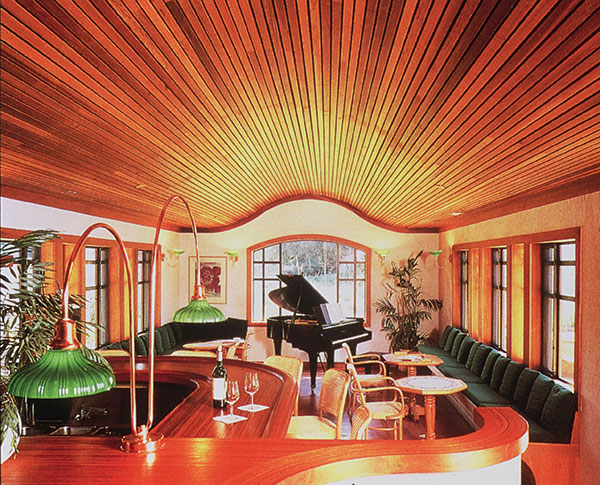 Built in the 1980s, a kiln-dried-cedar slat ceiling with sound-absorbing material was installed at Mudd's restaurant in San Ramon, Calif., in order to control reverberation. Photo courtesy of Charles M. Salter Associates, Inc."In the past 10 to 15 years, designers and architects have changed the landscape of restaurant design to create a clean, modern aesthetic in the environment they are creating, which leads to higher sound levels," says Shea. "People are eating out more often and want a relaxed, casual social experience. Designers are adding open theater-style kitchens and blending the dining room and the bar into the same space. They're also designing loft/warehouse spaces that offer a lot of space and oftentimes can be more economical, but their hard surfaces contribute to much higher sound levels."
Acceptable decibel levels vary enormously for different age groups and dayparts. Older customers who have a hard time hearing prefer quieter environments in which they can hear their companions sitting across a table. Customers of all ages dining in very expensive restaurants tend to want reasonable soundscapes so they can converse with their companions and the waitstaff. On the other hand, Millennials and customers just out of college often enjoy louder dining and bar environments. Families often want something in between, where they can talk but the kids don't have to be too quiet. For some restaurateurs, changing sound levels works best. "For example, some restaurateurs have a music program that changes throughout the evening, so it's quieter for diners earlier in the evening and louder for a bar focus later," Shea says.
The best thing to do if you're designing a new restaurant or want to retrofit your existing space is to go to different restaurants and measure their sound level to determine if that level might be good for your concept, Shea suggests. He thinks acoustics is so important that he keeps a decibel noise meter app on his phone so he can check out the soundscape at every facility he walks into.
Material Selection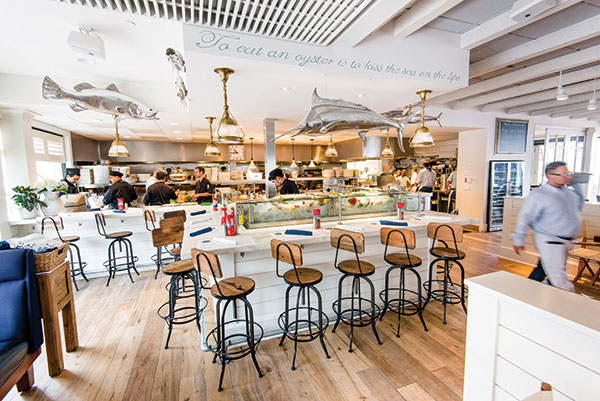 At COV in Wayzata, Minn., Shea's team raised the ceiling but added wood slats and dense acoustical panels to absorb and break up the sound. The open kitchen and bar provide white noise. Photograph by Travis AndersonFiguring out which materials to use to achieve an acceptable noise level is like working with a kaleidoscope. Designers must find a way to allow acceptable noise from regular conversations, kitchen activity and music to come forth while reducing disturbing noise such as loud conversations, as well as waiters and kitchen staff banging plates and equipment.
Before selecting materials to create the right soundscape, designers review the noise reduction coefficient (NRC), a scalar representation of the amount of sound energy absorbed upon striking a particular surface. An NRC of 0 indicates perfect reflection; an NRC of 1 indicates perfect absorption.
Designers often recommend that their restaurant clients don't become penny-wise and pound-foolish when selecting materials. "People tend to be very attached to the ceilings and walls in an existing restaurant," Salter says. "But if the restaurant is too noisy, it doesn't matter how good it looks."
In fine-dining and some casual-dining environments, upholstered seat cushions and banquettes work well to reduce noise. "Table size and how close guests sit next to one another affect sound levels," Salter says. "A private dining room or banquet space can often reverberate sound because so many people are talking in a close environment."
Tablecloths and drapes over windows minimize reverberating sound. "If the ceiling height is above 9 or 10 feet, consider treating the walls and ceiling," Salter says. For ceilings, adding material such as felt can be effective. However, selecting a material that is thick enough to absorb sound is crucial. "For example, one restaurant's owners installed quarter-inch felt in the ceiling but soon discovered it wasn't absorptive enough, so they had to go in and replace it with thicker material," he adds.
Large-format acoustic panels can be worked into an attractive solution. Cushioning a ceiling with two inches of sonic spray can also be effective. "One company makes ceiling panels that look metal but aren't, so we can get the aesthetic we want without creating an acoustical nightmare," Galvin says. He also designs dropped ceilings that contain acoustical material above so sound isn't reverberated back to guests.
Adding wood slats to a ceiling with heavy-duty sound-absorbing material also works to control reverberations. Salter tells a story about Mudd's restaurant, built in the 1980s in San Ramon, Calif. "The floor is colored concrete, the walls are stucco and the restaurant has many windows. To control reverberation, a spaced, kiln-dried, cedar slat ceiling with sound-absorbing material behind it was installed. In addition to effectively controlling reverberation and concealing necessary equipment, such as fire protection gear, HVAC and the sound system, the vaulted ceiling is aesthetically appealing."
Many restaurants contain hard surfaces like glass, stone, metal, gypsum board and concrete that tend to reverberate sound. Fabric-wrapped panels as well as burlap-covered and linen-covered walls dampen noise. "Spray-on materials that keep the industrial charm can be effective to reduce the bounce of sound in a space," Salter says. Porous acoustic plaster with a NRC rating of 1.00+ is an effective application for seamless, flat, curved, domed and vaulted surfaces.
Galvin suggests breaking up flat wall surfaces by placing insulation in between staggered studs and creating a serpentine motif. "This absorbs more sound because there is more absorption area," Galvin says. He also suggests placing insulation all the way to the top of walls to meet the ceiling deck so sound can't travel above and drop into other spaces.
Installing carpeting is an obvious solution to minimizing noise, though most carpet is only about 20 percent to 35 percent absorptive. "At one restaurant in Florida, we put in some carpet to absorb reverberations, but we couldn't carpet everything, so we had to give more attention to the ceilings and walls," Galvin says. Using cork flooring and foam can be sound absorbing, as can inserting a layer of rubber beneath the floor.
Some restaurateurs are looking at a system developed for performance space and game technology. Tiny microphones and speakers are placed at each table, which becomes its own audio zone. The microphones and speakers are piped into a computer so that noise levels can be monitored and adjusted automatically.
Kitchen Acoustics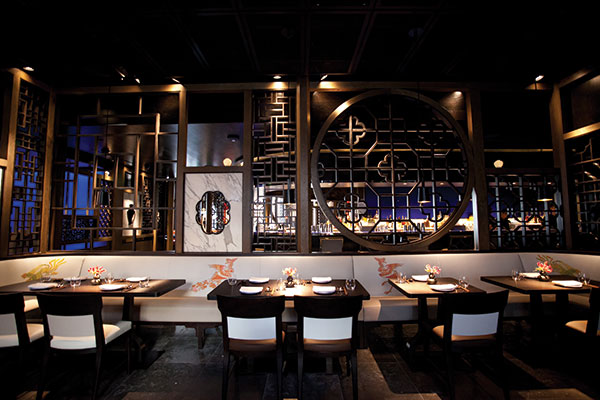 The restaurant owners at Salter's project at Hakkasan in San Francisco had specific acoustical requirements. The absorbing material was black duct liner board on the ceiling. Photo courtesy of Charles M. Salter Associates, Inc.As more restaurateurs move kitchens to the foreground, noise becomes even more of a concern. Banging pots and stainless steel counter noise reverberate into dining spaces. When this happens, staff may need to be retrained. "For the most part, new hood systems are pretty quiet and create a consistent white noise that isn't disturbing," Shea says. "People pick up on change of sound. So, they don't respond well to cooks shouting at each other, for example." One way noise can be contained is by placing easy-to-clean soffits over the front of the cooking line.
Given the complexity of acoustic design, creating the right soundscape is indeed both an art and a science that is best addressed before a restaurant is built. But if retrofitting is the only option, be sure the right materials are used to achieve desired results.