With the purchase of an adjacent space, the owners of Washington, D.C.'s popular Boundary Stone pub undertook a full renovation and expansion with a project team that included Edit Lab at Streetsense and Hospitality Construction Services.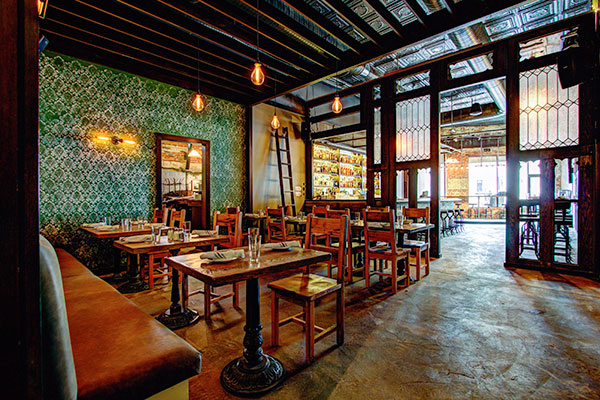 The project team doubled the size of the restaurant's original 400-square-foot kitchen and increased seating with a larger dining room. They also added a stage for live music. To keep guests coming to the pub, designers and construction workers were challenged with keeping Boundary Stone open for service during the renovation.
The first step in expanding Boundary Stone involved demolishing the vacant space next door. With Boundary Stone on one side and another operating restaurant on the other, Hospitality Construction Services had to maintain working power and water lines. The restaurants had to remain operable, and work had to be done during times that minimized impact on patrons. After demolition, the company updated the underground plumbing, poured concrete, built the framing, installed mechanical plumbing and electricity, and put in a full kitchen exhaust system and fire alarms.
Design details include custom stained glass, wood partitions and wall siding made from reclaimed barn doors as well as custom wood and metal ornamentation on the ceiling. Exposed air ducts run across the ceiling, providing an industrial edge that contrasts with the warm furniture and building materials.
The dining room is separated from the bar by an antique wood-and-stained-glass partition, which matches the wall siding in the bar. The partition and wall are comprised of reclaimed doors from a barn in Maryland. Originally 38 inches wide and 14 feet tall, the doors were restored and cut down by four feet to accommodate the space. The extra material was transformed into a hanging ceiling ornament.
Each room features unique ceiling ornamentation that adds dynamic elements to the vertical space. A grated metal rack serves as a shelf for decorative wine barrels above the bar. A wood trellis in the main dining area hides mechanical equipment while providing an aesthetically pleasing support for lights.
Photo courtesy of Matthew Lynch and Jim Cuddy