Boston's dining scene has exploded in recent years, and the design — not just the food — of its newest and trending places continues to test creative limits. Here we look at one design that pays homage to Boston's supper club past while still being thoroughly modern and another that perfects the aesthetic of a modern sushi bar.
Yvonne's
A modern interpretation of the supper club, Yvonne's opened in September 2015 in Downtown Crossing, and occupies the former space of Locke-Ober, a small cellar café that opened in 1862 and was a mainstay in Boston's dining scene for more than a century. In renovating the space, co-owners Chris Jamison and Mark Malatesta sought to recreate the former tenant's reputation for international food and wild parties, where dining, lounging and revelry effortlessly blended. Guests enter through a "secret entrance" at the back of a blow-dry bar to the 90-seat dining area outfitted with gray tufted sofas, white tables, decorative wallpaper and chandeliers. A painting pays homage to Locke-Ober portrait of Mademoiselle Yvonne — one of many nods to the landmark. Many of the 150-year-old architectural and design features were maintained, including the restaurant's original raw brick and Santo Domingo mahogany bar, hand-carved on-site by French woodworkers in 1886 and now topped with white Calacatta marble.
Adjacent to the dining room, the lounge replicates Locke-Ober's unvarnished brick walls and tin ceiling. Couches and coffee tables offer an informal dining and drinking space decorated with mixed media from Amsterdam.
Yvonne's intimate seating areas continue in the 32-seat Library Bar, which serves classic cocktails. Bookshelves surround communal and private tables, and the space features a mahogany bar, comfy couch seating, herringbone wood floors, Locke-Ober's original gilded fireplace and portraits of famous historical figures. A lower level has private space that can be rented out for parties of up to 100.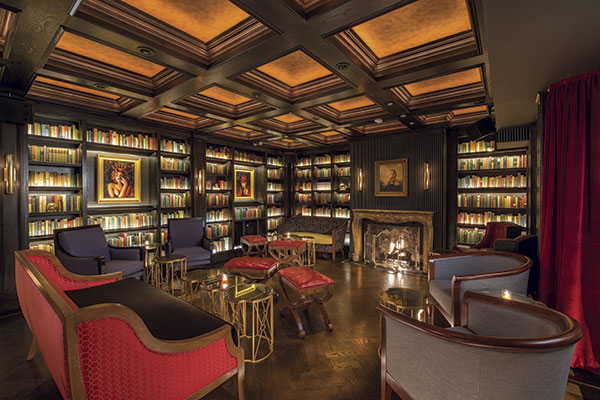 Yvonnes Library Lounge. Photos courtesy of Eric Levin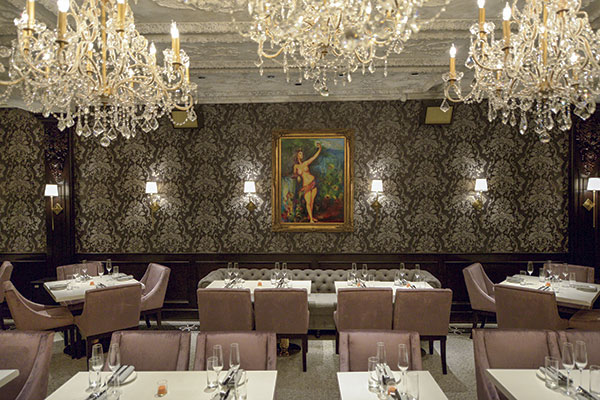 Yvonnes Dining Room with Yvonne painting.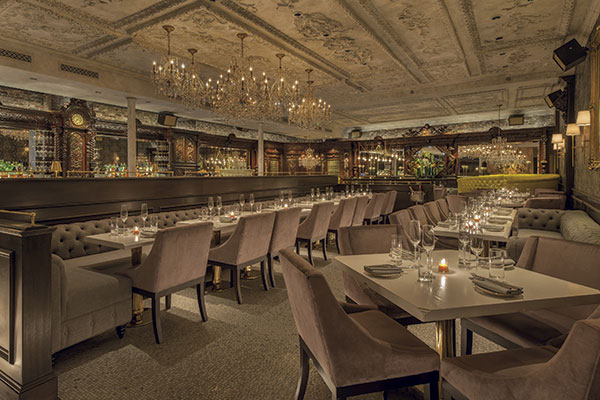 Yvonnes Dining Room facing back and bar.
UNI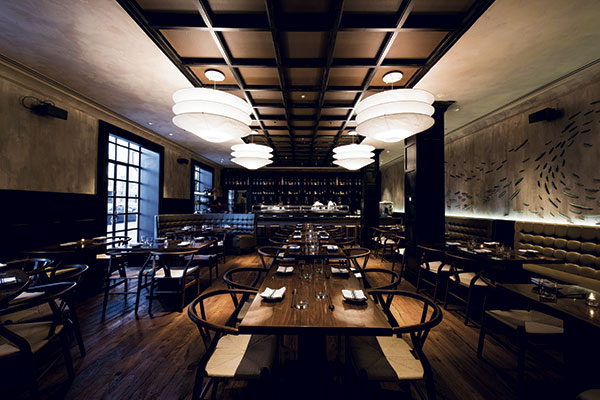 UNI Dining Room. Photo courtesy of Hien Nguyen.This highly acclaimed, inventive Japanese and sushi mainstay opened inside the iconic Clio lounge at the Eliot Hotel on Commonwealth and Massachusetts Avenue in 2002. Executive Chef and Owner Ken Oringer opted to close Clio at the end of 2015 and, with Executive Chef and new Partner Tony Messina, the space underwent a major redesign, and UNI took over the former Clio space, bringing with it influences from the streets of Tokyo, Shanghai, Singapore, Bangkok and Bangladesh.
Designed by Peter Niemetz, who was also the original designer of Clio, UNI feels clean and modern with dark rustic wood and playful pops of color woven throughout for an upbeat, casual experience. In the 80-seat dining room, hardwood floors and natural materials contrast with tattoo-inspired art and the pulsing energy of the restaurant's three bars: one for drinks, the other two for sushi and sashimi.
At the bar, guests can order classic cocktails, tiki-style concoctions and draft pours of sake. The sashimi bar offers guests a front-row view of the action while the sushi bar installed at the opposite end of the restaurant allows guests to partake in creative maki and nigiri, made with fresh seafood sourced from both local fisherman and Tokyo's famed Tsukiji market. Photography by Hien Nguyen
Branch Line
This Watertown restaurant, which opened in October 2015, is the first partnership between Andrew Holden and Garrett Harker, Massachusetts Restaurant Association's 2016 Restaurateur of the Year. Designed by architect David McMahon, the restaurant occupies space in the former Watertown Arsenal, once a weaponry depot and small-arms factory predating the Civil War by nearly 50 years. Constructed in 1816 by Alexander Parris, who would later design Quincy Market, the Arsenal has been a landmark in the Boston neighborhood for nearly two centuries. Fully converted to caviling use in 1995, the Arsenal is now a mixed-use development listed on the National Register of Historic Places, ensuring that key structural elements of the buildings and facades stay untouched. In keeping with the Federal style of architecture present throughout the Arsenal, Branch Line sports high steel-beamed ceilings and a red brick facade that speaks to its military heritage. Floor-to-ceiling windows bring natural light into the space. The 50-seat dining room features oak wood floors, painted brick walls, and traditional and bench-style seating repurposed from pews found at an old church in Warwick. An open kitchen showcases a rotisserie oven for slow-roasted meats as well as a wood-fired grill resembling an antique fire pit for cooking oysters and steaks.
A 14-seat oiled-steel bar with a blackened bar top and unmarked, white marble beer taps glistens under industrial light fixtures, flanked by an outdoor keg room leading up to Branch Line's front entrance. Outside, a year-round terrace, with 65 seats at the height of the season, is partially covered by steel beams and siding. A bocce court and perennial garden allow guests to partake in games or walk the grounds.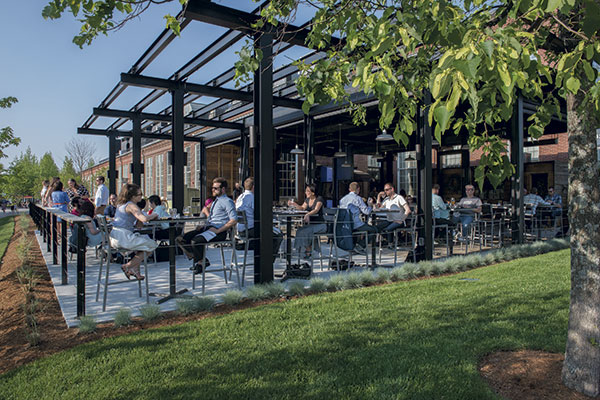 Branch Line Patio, photos courtesy of Melissa Ostrow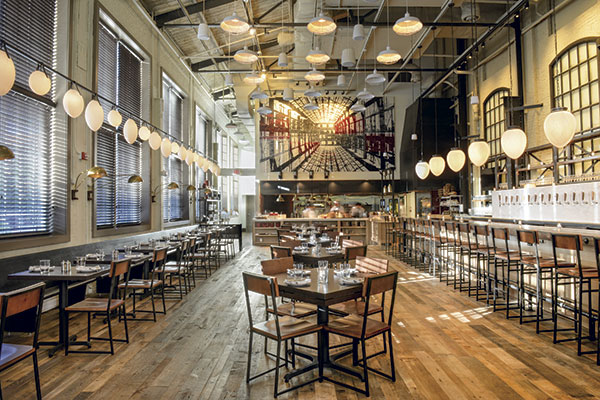 Branch Line interior