Yelp and other review sites can make or break a restaurant. Popular San Antonio, Texas restaurant La Fogata Comida started seeing negative reviews from customers about the high volume of noise in the 8,458 square-foot restaurant, which matched the feedback that the restaurant's servers had relayed to management.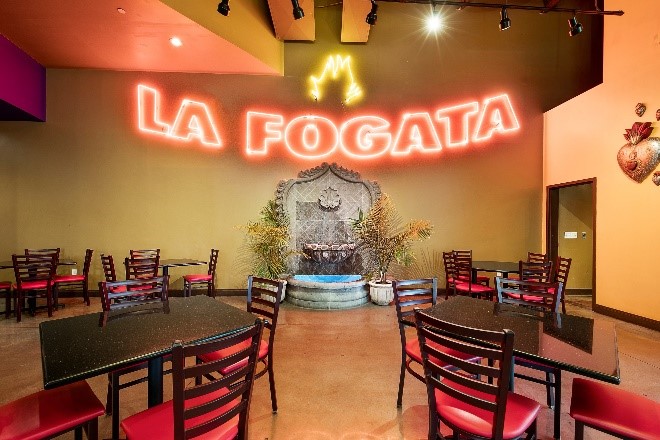 Before: The restaurant's open-concept design was creating a problem with excessive noise and negative customer reviews.
La Fogata Comida has an open-concept design – 20 ft high ceilings, exposed structural elements, concrete flooring, granite tabletops, and plenty of windows – that creates a visually striking restaurant. But guests told servers that they were shouting during their conversations and straining to hear what their companions said.
La Fogata Comida proprietor Patrick Richardson knew he had to act quickly to avoid damaging the restaurant's reputation.
"Sight, taste, smell and touch take center stage for restaurants, and often hearing is overlooked by restaurant owners, which is a mistake. All five senses are equally important in restaurants," said Richardson.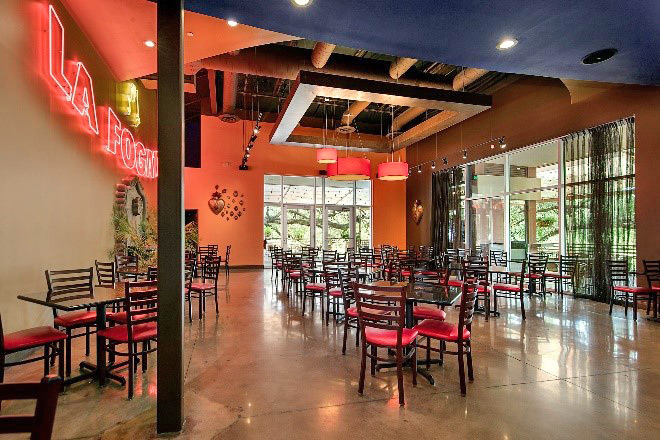 After: Alphalia® Silent AW reduces noise reverberation by 40% while visually blending into the ceiling.
Sound reverberates on the hard surfaces inside a restaurant and amplifies the noise of lively conversation in a full dining room. Sound mitigation options like fabric panels absorb noise, making it easier for guests to converse.
The Chism Company, a San Antonio-based manufacturer of architectural shade and protective products, met with Richardson to explore sound mitigation options. Chism had to reduce noise while preserving the restaurant's ambiance – seamlessly blending into the aesthetic and fading into the background.
Carpeting, a popular choice for sound mitigation, is hard to clean and it doesn't match today's style.
To absorb the noise, Alphalia® Slient AW acoustic fabric was hung from the ceiling with a 4 inch air gap.
Drop ceilings, spray-foam decking and foam wall panels were also quickly eliminated from consideration because they would interfere with the restaurant's aesthetic.
The Chism Company recommended tensioning sound-absorbing fabric beneath the ceiling. Serge Ferrari's Alphalia® Silent AW, a dimensionally-stable flexible composite membrane, would be suspended approximately 4 inches below the ceilings, covering 483 square feet, to absorb the sound.
The membrane has a carefully calibrated micro-texture, making it lightweight yet high-performance. Alphalia Silent AW reduces sound reverberation without any additional absorbers, like bulky foam or wool inserts. Depending on installation and surrounding environment, the Alphalia Silent AW can absorb up to 65% of noise with a 4-inch air gap.
Most importantly, the Alphalia Silent AW would be unnoticeable to guests once installed while making a significant improvement to the dining experience.
Blends into the background
The Chism Company created custom panels to fit irregular-shaped openings around La Fogata Comida's ceiling framing and ventilation systems. The specific dimensions were critical to the project's success ensuring the membrane's tensioned finished appearance would visually blend into the ceiling. The lightweight membrane is suspended just below the ceiling, which keeps it out of guests' sight, maintaining the carefully curated aesthetic environment of the restaurant.
Quick installation
Custom panels were installed to fit around ceiling framing and the ventilation system.
The Chism Company worked with La Fogata Comida to install the panels during times that the restaurant was closed to minimize the impact on its business. The panels were designed to attach to the framing and ventilation systems resulting in a quick installation, requiring only two mid-week mornings – times that the restaurant is closed to guests – to install the acoustic treatment.
Durability
Alphalia Silent AW is a durable membrane that will retain its shape and not stretch over time. It's perfect for restaurants as well as natatoriums and gymnasiums because it is easy to maintain and also resistant to moisture and chlorine.
Proven results
La Fogata Comida had sound absorption testing completed before and after the membrane was installed. This testing measures the time it takes for a noise to travel through the room before it decays, known as sound reverberation. Using the acoustic engineer's explanation of results: before installation, 35 patrons (or about a half-full restaurant) would likely have to shout across the table (or 3 feet) to be heard. Nelson Acoustics' tests found Alphlia Silent AW absorbed 40% of the sound across all frequencies, and at some frequencies as high as 51%.
"Guests could tell a difference right away – and I could too," said Richardson. "Guests thanked us for listening to their complaints about the noise and appreciated that we took action right away. Most importantly, we no longer see complaints about noise on Yelp."
To request a free sample or sample card, click here.