A FREE Webcast:
Designers Dish
Thursday, May 12, 2022 at 1:00 PM (Central)
Hungry for more insights, opinions and expertise from restaurant designers? Our panel will offer their unbridled opinions on the hottest restaurant design trends, inspirations and challenges, as well as tips on forging great designer/client relationships. Hear directly from, and pose your questions to, three prolific, creative and experienced restaurant designers.
Register to Watch it On-Demand
FCSI members and certified foodservice professionals may earn a continuing education unit by registering and viewing the webcast and then completing a short quiz.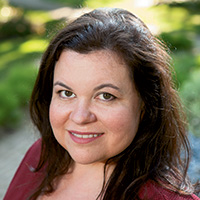 Moderator
Rebecca Kilbreath
Editor in Chief
rd+d Magazine
Panelist Bios:
Theresa English
Theresa serves as Principal of TK Architects and manages projects focused on Food & Beverage, Entertainment and Cinema. She joined TK Architects in 2006 and is licensed in over 12 states. Coordinating with vendors is one of her specialties. She enjoys putting the 3D puzzle of equipment and patron flow together to create great client experiences. Renovation to bring new life to a facility and thinking about the future of the patron experience are aspects of F&B projects she is passionate about. TK Architects is a 40+ year old firm that focuses on F&B,Cinema, and Entertainment and includes in addition to architects—in house Structural, Mechanical, Electrical and Plumbing Engineers, graphic design and interior design. She twice has been recognized as one of the Top Women in Global Cinema and is the Co-Director of Membership Services for Women in Exhibition (WIE).
Yuna Megre
Yuna Megre is the Founder and Principal of MEGRE INTERIORS. With over 200 projects in the hospitality sector to date, Megre Interiors has become an award-winning international hospitality and commercial design firm. With her analytical frame of mind and a background in advertising and marketing, Yuna Merge is known for her investigative and conceptual approach to design – providing a valuable asset to her hospitality clientele.
Sponsored by: