A FREE Webcast:
Ghost Kitchens 2.0: New Frontiers in Development + Design
Tuesday, October 19, 2021 at 1:00 PM (Central)
Ghost kitchens have quickly accelerated from trend to mainstay as the popularity of food delivery services spike. The design of the kitchen space is critical to its success. rd+d brings in experts to discuss best practices in the design and how to maximize the space and efficiency of an off-premises operation.
FCSI members and certified foodservice professionals may earn a continuing education unit by registering and viewing the webcast and then completing a short quiz.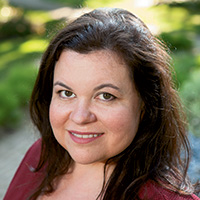 Moderator
Rebecca Kilbreath
Editor in Chief
rd+d Magazine
Panelist Bios:
Hagop Giragossian
Along with his two business partners, Hagop co-founded Dog Haus in April 2010, with the mission of elevating stadium food classics into culinary masterworks. Hagop oversees the company's operations, national supply chain and distribution network, as well as the brand's culinary team. This includes Dog Haus' innovative Chef Collaboration Series, which features acclaimed chefs from across the nation who create unique, limited-time menu items. Over the last decade, the Pasadena, CA-based craft casual brand has expanded to nearly 50 locations from coast-to-coast.
Prior to establishing Dog Haus, Hagop got his first taste of the foodservice business when he introduced the popular Boar's Java coffee truck in Los Angeles County. In 2006, he opened Neomeze, a Mediterranean small plates and cocktail lounge concept in Old Pasadena, followed by the debut of Kings Row Gastropub in 2011. Hagop has also been a partner in Pyramid Powder Coating since 2000.
Carl Howard
As CEO of America's largest fast casual Italian chain, Carl Howard understands restaurants. When he joined Fazoli's in 2008, the brand was ready for an update. With a strong background in multi-unit hospitality and food service, Howard rolled up his sleeves and re-energized the brand. Today, Fazoli's is experiencing renewed momentum. Under Howard's leadership, Fazoli's now offers strong unit economics, innovative menu options and personalized franchise support. To maintain its competitive edge, he continues to invest in new technologies to elevate the guest experience. Howard has received many industry accolades throughout his 35-year career including Nation's Restaurant News Power List and his passion extends to elevating the industry through mentoring programs like Fazoli's Dare to Excel Educational Scholarship Program.
Eric Lavinder
Eric Lavinder joined Saladworks in mid-2018 to revive a brand that had tremendous growth potential. With the addition of Garbanzo Mediterranean Fresh, Frutta Bowls and The Simple Greek, the WOWorks Holding company was formed. As the Chief Development Officer for WOWorks, Lavinder is responsible for all franchise, license, and corporate growth, including new verticals beyond typical growth sectors. Lavinder also oversees the real estate and construction team.
Prior to arriving at Saladworks, Lavinder was the EVP at The Simple Greek, a startup franchise built from the ground up and funded by Marcus Lemonis, the host of "The Profit" on CNBC and owner of Camping World. Other roles Lavinder has held in the past include the Executive Director of ML (Marcus Lemonis) Food Group, LLC, and Director of US Non-traditional business development for Quiznos.
Sponsored by: