A FREE Webcast:
The Do-Everything Front-of-House
Tuesday, August 3, 2021 at 1:00 PM (Central)
The front-of-house is asked to do more than simply provide a pleasant dine-in experience. It's now tasked to also accommodate spaces for walk-up windows, takeout patrons for food and cocktails, third-party delivery drivers and more. We explored current trends, offer some best practices on space planning, and discuss how to do it all.
FCSI members and certified foodservice professionals may earn a continuing education unit by registering and viewing the webcast and then completing a short quiz.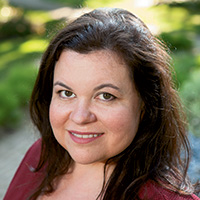 Moderator
Rebecca Kilbreath
Editor in Chief
rd+d Magazine
Panelist Bios:
John Hensley
John Hensley joined Moe's Southwest Grill in July of 2010 and brings nearly 15 years of experience in food service, operations management, product testing and training. In his current role as Director of Operations Services, Hensley manages market tests, packaging, operations, oversees menu implementation. In his 10+ years with Moe's, he has worked on the Field Training team, as a Franchise Business Consultant, and began his current role for Moe's in 2019. Prior to joining Focus Brands, Hensley was an Executive Chef at Laurel Island Links Plantation and gained experience as the Apprentice Chef at Featherstones Grille. He earned his AAS in Culinary Arts and Related Services at Le Cordon Bleu Collect of Culinary Arts.
Yuwen Peng
Yuwen Peng's expertise in hospitality, retail and entertainment design have contributed to the development of many award-winning projects around the world. Based in CallisonRTKL's Los Angeles office, her human-centric approach to a wide variety of social spaces have resulted in numerous cross-sector innovations and long lists ofprestigious clients such asWolfgang Puck Restaurants, W Hotels, Lucky Strike Lanes and Hyundai Department Stores in South Korea.
Steve Starr
Founder and chief since 2007, Steve is a self-proclaimed nerd – he's creative, analytical and loves reading. He's endlessly learning and expanding his knowledge of restaurants, architecture, marketing, food, football and just about anything else. At the same time, he's just another one of us. A people person by nature in his down-to-earth charisma and care for others. A genuine leader, he drives his decisions with a team-oriented mentality where no voice is too small. He sees the unique value that each individual brings to the team and knows how to capitalize on them for the greater good of our projects. His fervent devotion stems from a passion for connecting people and the impact it can have on the world. He runs the office on collaboration and coffee and can turn any 5-minute conversation into 50 with no problem.