A FREE Webcast:
Best Practices in Designing Off-Premises Dining
Tuesday, March 16, 2021 at 1:00 PM (Central)
Off-premises dining was becoming a big deal before the pandemic, and it will likely be an even bigger deal after. But designing for off-premises dining isn't just about curbside pickups. The ways operators will work with architects, designers, consultants and other players in the future are changing significantly to accommodate the plethora of off-premises options.
FCSI members and certified foodservice professionals may earn a continuing education unit by registering and viewing the webcast and then completing a short quiz.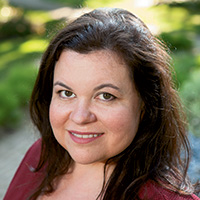 Moderator
Rebecca Kilbreath
Editor in Chief
rd+d Magazine
Panelist Bios:
Lauren Chipman
A multi-disciplinary designer and performing artist, Lauren Chipman brings a distinct sense of creative leadership to her position as CEO at Chipman Design Architecture. Lauren's unconventional background and sense of innovation bring a fresh perspective to hospitality, retail and restaurant spaces. Despite helming an established firm that supports clients like Chick-fil-A, Ulta Beauty, and Marriott, Lauren's entrepreneurial vision goes beyond traditional industry approaches. A holistic leader, Lauren leverages her experience as an industry outsider to cultivate a forward-thinking environment composed of a diverse team.
Lauren has spoken at numerous conferences, including Globalshop, Google Zeitgeist, design:retail Forum, and was recently recognized with vmsd's "40 under 40 award."
Richard Elkins
Richard Elkins is the director of construction services at Firehouse Subs and he is responsible for providing brand standards guidance and support to company area representatives, franchisees, architects, contractors, and sign vendors, as they design and develop new restaurants and renovations to existing restaurants. He joined Firehouse subs in 2012 as manager of construction services and assumed his current role of director in 2015. Previously, Richard worked for various general contractors primarily responsible for estimating, project management, and business development. Richard earned a degree in residential construction from Bob Jones University and currently resides in Jacksonville, Florida. He is actively involved in Big Brothers Big Sisters of America, Her Song, and his local community through his church. Running is a big part of Richard's life and for the past nine years he has raised funds for the Firehouse Subs Public Safety Foundation by running marathons and garnering support in the form of donations.
Brian Kern
Brian Kern, AIA, LEED AP BD+C, NCARB, serves as the retail director and a principal of Oculus Inc. Brian is a graduate of Kansas State University's College of Architecture and Design, and joined the firm in 1994 when Oculus was originally founded. In 2008, Brian earned his MBA in Business Management from Washington University in St. Louis and assumed the role of retail director at Oculus. Brian's extensive experience in new retail concept and prototype design, brand standards management, national roll-out, new builds and retail remodels has worked to build a diverse portfolio of local and more national restaurant clients, such as Focus Brands, Dominos and BurgerFi.
Sponsored by: