A FREE Webcast - Restaurant of the Future
Original Air Date: November 3, 2020
In this crossover webcast with our sister publication, Foodservice Equipment & Supplies, we took a deep dive into what restaurants will look like in the future. From the latest designs, trends and innovations that will be used in the front of the house to what the back of house will look like and how technology will enhance efficiencies, this is a comprehensive cross-section of the restaurant industry as a whole.
FCSI members and certified foodservice professionals may earn a continuing education unit by registering and viewing the webcast and then completing a short quiz.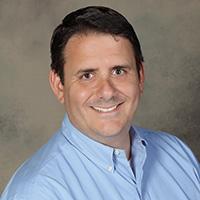 Moderator
Joe Carbonara
Editorial Director
rd+d Magazine and FE&S Magazine
Panelist Bios:
Eric Montell
Eric Montell is the Executive Director of Stanford Dining at Stanford University. He has worked at Stanford University for the past twenty-two years.
He oversees an award-winning dining program feeding over 4000 undergrad and 7000 grad students daily in eleven dining hall locations and three late night cafes. His portfolio includes an executive dining program for the Stanford Graduate School of Business, rated #1 in the world by the Financial Times, athletic high-performance dining for the #1 rated athletic program in the nation, Central Production Kitchen, Teaching Kitchen @ Stanford, Stanford Flavor Lab, summer conference dining and the university community gardens. Stanford Dining serves 3.5 million meals annually.
Eric is also the co-Founder and co-Director of the Menus of Change University Research Collaborative (MCURC). The MCURC is an international working group of leading academics, university business leaders, executive chefs, nutritionists, and sustainability leaders from invited universities. The MCURC is a collaboration of forward-thinking scholars, food service leaders, executive chefs, and administrators for colleges and universities who are accelerating efforts to move people toward healthier, more sustainable, and delicious foods using evidence-based research, education, and innovation.
James O'Reilly
James O'Reilly is the President and CEO of Smokey Bones, a Sun Capital portfolio company. Since joining Smokey Bones, James has built a new executive leadership team and embarked on an aggressive growth plan, investing in people, technology, and restaurant development. James joined Smokey Bones in May 2019 after four years as the President and CEO of Long John Silver's, America's leading seafood QSR brand. While at LJS James led significant business and cultural improvements, being named "Turnaround Man" by the Louisville Courier Journal and earning three consecutive "Best Places to Work in Kentucky" awards from the Kentucky Chamber of Commerce.
Prior to joining LJS as CEO, James held brand leadership positions in some of America's leading restaurant brands, including Sonic Drive-in (Chief Marketing Officer, Chief Brand Officer), and KFC US (Chief Marketing Officer). James spent many years as a marketing leader outside the U.S., as CMO of KFC Canada, Pizza Hut United Kingdom, and KFC/Pizza Hut Caribbean & Latin America. James began his marketing career in brand management at Procter & Gamble. He holds a B.S. in Biochemistry from McMaster University in Hamilton Ontario, and an MBA from York University's Schulich School of Business in Toronto Ontario.
Timothy Schwarz
Taking inspiration from around the world, Timothy Schwarz creates innovative, thoughtful and engaging designs down to the personal level. He focuses on the emotional connection between the user and the space by combining an array of multidisciplinary resources for an all-inclusive experience.
Timothy holds a Bachelor of Architecture in Design with College Honors and Distinction from the University of Illinois at Chicago. Over the years, he has refined his skills with well-known global hospitality and residential firms including Jordan Mozer + Associates, The Gettys Group, Mary Cook Associates and Morgante-Wilson Architects. Timothy envisions, designs and executes all sizes and types of architectural and interior design projects including brand positioning, food and beverage development, menu and product design, and custom furniture and fixtures.
Timothy joined Simeone Deary in 2013. A licensed Architect, Interior Designer and LEED Accredited Professional with more than 25 years in architecture, interior design and branding, he is a member of the American Institute of Architects, NCARB Certified as well as a member of the United States Green Building Council (USGBC). Recognizing the importance of sustainable design, Timothy seamlessly blends materials with new technology and lifestyle trends to create spaces that offer measurable returns that will last for generations to come.
Sponsored by: