To keep a restaurant humming, every aspect of operations needs to run smoothly and efficiently. Just one detail gone awry — the refrigeration, HVAC or hood system going out, for example — could force a shutdown and affect the bottom line. Even a broken grill could upset customers and keep them from returning. Whether you handle it in-house or work with an outside facilities maintenance contractor, setting up a facility maintenance program to mitigate potential disasters is vital to a restaurant's success and customer satisfaction.
Sixteen-unit chain Black Walnut Café has an in-house facilities manager to track tasks and contractors to ensure maintenance is on time and up to date. Photo courtesy of Black Walnut CaféA facility maintenance program includes both preventive maintenance (such as changing air filters on the HVAC and cleaning grease traps and receptors) and routine maintenance (such as fixing minor repairs and changing out lightbulbs) to prevent major problems. Preventive and routine maintenance will also keep you from having to do costlier repairs further down the road.
"If you're doing routine maintenance, you won't have to do emergency maintenance," says Matt Tripp, director of new business development hospitality for Shawmut Design & Construction in New York and Boston. "All too often, these issues rear their head at the worst possible time — on Thursday, Friday or Saturday night before dinner service. If you're doing the little things throughout the year, you're not going to be disrupted by the big things one night when it shouldn't be happening."
Staying on Top of a Maintenance Program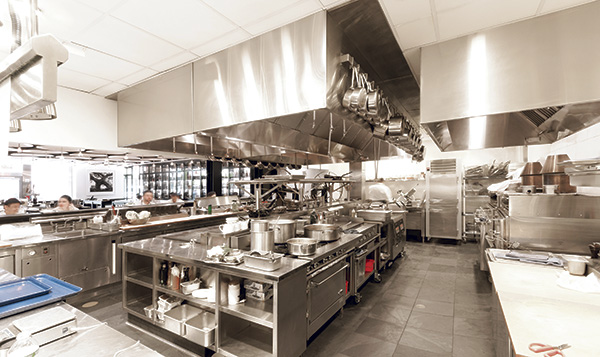 The kitchen inside the North End Grill in New York took maintenance consideration into the design as a sloped drain prevents damage to the floor. Photo courtesy of Shawmut Design & ConstructionScheduled maintenance varies from restaurant to restaurant, but diligence pays off.
One of the most common challenges in restaurants is maintaining the HVAC system, which is often out of sight and out of mind as a rooftop unit. It's one of the easiest things to maintain on a regular schedule, yet it's something many restaurants tend to neglect and is expensive to replace, according to Tripp. "Get the HVAC service companies to provide you with a maintenance program," he says. "The program generally includes at least quarterly filter changes, belt tightening and lubrication of moving parts. Having that program set up and adhering to it will give your HVAC system a longer life and better performance when you really need it."
Regularly changing out air filters can prolong the life expectancy of an HVAC unit. "It's going to run at peak efficiency and last its lifetime expectancy," says Chuck Taylor, director of operations at Englewood Construction in Lemont, Ill. Because rooftop units can cost north of $20,000, he estimates, you want to protect your investment. "We've seen units completely destroyed after three to four years just because they weren't being maintained."
Checking utilities regularly, such as the water heater, waste lines and electric breakers, is also necessary. "In a working kitchen, you need water at a certain temperature, or it creates an unsanitary condition and you'll be shut down. You've got to make sure that the water heaters are regularly checked and serviced. People don't think about them until they're not working," says Taylor. "Regular water jetting of your waste lines will save you from having a backup later on down the road. Going in after hours to massage the electric breakers in the panel prevents them from getting stuck."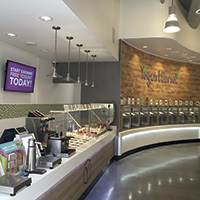 Irvine, Calif.-based Yougurtland recently switched to sealed concrete floors from tiles in its stores for easy maintenance. Photo courtesy of YogurtlandWhile scheduling regular maintenance can keep problems at bay, restaurants also have to consider how the service might interfere with operations and, if so, how to work around it. For Houston-based Black Walnut Café, which has 15 restaurants in Texas and one in Georgia, an in-house facilities manager tracks tasks and contractors to make sure projects are completed on time and don't impact business or guests.
Many Black Walnut Café restaurants feature ceilings as high as 24 feet in some spots with wood beams that occasionally need to be professionally cleaned. "We have a company come in twice a year to do high dusting," says Joe Brassard, president of Black Walnut Café. The tricky part? The restaurant is open for breakfast, lunch and dinner, so some managers leave after midnight, while others arrive at 5:30 a.m., leaving a small window of time to do the job. "This maintenance is done overnight because they have to drape everything and dust everything from the top of our crown up to the ceiling, wood beams, platforms and light fixtures. They drape everything so they don't get dust everywhere. Then we need time in the morning to come in and sanitize all the tables."
Design Considerations and Challenges
Black Walnut Café makes it a point to routinely inspect every ceiling tile, wall and toeboard, table, booth, chair, ceiling fan and light fixture at its restaurants to see whether any need to be restained, repaired or replaced. Photo courtesy of Black Walnut CaféMaintenance should be factored into the design from the beginning, including what it takes to keep surfaces and materials clean, as well as accessibility to restaurant equipment for service. "There are all sorts of considerations when building a restaurant," Tripp says. "Ultimately, we want to know how long is this going to last. Is this particular detail sustainable? Is the end user going to have to keep addressing [certain issues]?"
The kitchen floor is important to address because of constant spills, foot traffic and possible damage that could hinder service. "Specify or build kitchen floors that slope to drains (both floor drains and trough drains) so excess moisture isn't sitting on them, soaking through the grout and possibly into a mud bed and deteriorating waterproofing," Tripp says. "That's the worst-case scenario. It happens over time, but one of the easiest ways of protecting that overall system is sloping to floor drains and having proper drainage."
A kitchen floor leak could be especially disastrous for leased spaces in a multilevel building with neighbors below because it could deteriorate the structure. "It's typically in the lease that the tenants will take proper care of the space, but you can't be raining on the tenant downstairs. There's a certain level of expectation of being a good neighbor," Tripp says.
Irvine, Calif.-based Yogurtland, which has 329 locations throughout the U.S. and in international markets, recently switched to sealed concrete floors from tile in its stores for easy maintenance. "With tile floor, you're always vulnerable to chips, and lighter-colored grouts have more wear and tear," explains Yogurtland vice president of development John Carlson. "In a self-service concept like ours, you always have yogurt hitting the floor, and we have to create a surface that delivers on the brand aesthetics but is also functional. We find that the concrete floor generally hides the smaller spills and makes cleanup easier."
All of the restaurant's mechanical equipment should also be accessible whenever contractors are called out to service it. "Sometimes designers add beautiful decorative elements that block access to a rooftop unit or an electrical device, so the mechanic has to disassemble finishes just to service the equipment," notes Taylor.
Replacement Strategies and Solutions
Regularly inspecting every detail from floor to ceiling helps keep a restaurant in good shape, but when something needs to be replaced, you need to have a strategy in place that makes it easy to swap out furnishings, finishes and equipment with minimal to no interruptions to service.
To start, Tripp recommends obtaining an operations and maintenance (O&M) manual from your general contractor and project team. "Make sure they're providing you with accurate O&Ms with care instructions for the materials that are actually installed because materials can change throughout the course of the project. Then, set up those programs and a partnership with your contractor to tell you what you should be paying special attention to," Tripp says.
Black Walnut Café makes it a point to routinely inspect every ceiling tile, wall and toeboard, table, booth, chair, ceiling fan and light fixture at its restaurants to see whether any need to be restained, repaired or replaced. "Our booths and fabrics are custom made by a millwork company," says Brassard. "We have national accounts for our fabric and tile and always make sure we have enough in stock. Our 5,000-square-foot warehouse at our corporate office houses much of these items, some purchased in bulk, like light fixtures, ceiling fans, tables and chairs. We either have extras readily available or our millwork company has all the fabrics and everything we need."
"You want to make sure that your design elements can be easily changed out but also durable enough to last that entire period of your lease," Carlson says. "Top flight malls may only give you one to two years, so you have to create a concept that's portable enough to pick up and move to another location."
Keeping an eye toward the future while refreshing a restaurant is also key to minimizing costs and staying relevant. In Yogurtland's original concept, mosaic tile was a signature design element, but the manufacturer discontinued it, so the operator had to find a suitable replacement that wasn't as exclusive.
"That's one reason why we went with a wood look," says Carlson. Yogurtland still had some mosaic tiles in stock, which were used as a trim around the wood wall with the yogurt machines in some of their new stores as a nod to the original look. The curved wall is made using a sealed wood flooring material that stands up to wear and tear, won't show smudges and offers versatility. "We want to keep our image fresh and new, but we also want to make sure our design isn't too heavily anchored in the styles of today because the franchisee is going to have to remodel in 10 years. We want the expense required to update the look to be manageable while also being easily convertible to present a new retail image in a few years."