Canadian chain Earls Kitchen + Bar continues its expansion into the U.S. with each restaurant showcasing a unique design.
Following the first U.S. location in Virginia, Earls opened in Orlando and recently Chicago, where designer Kevin Albaugh, senior associate at Alameda, Calif.-based MBH Architects, sought to create a bright space balanced by concrete, wood and steel that features unique artwork embracing Chicago's jazz and blues roots.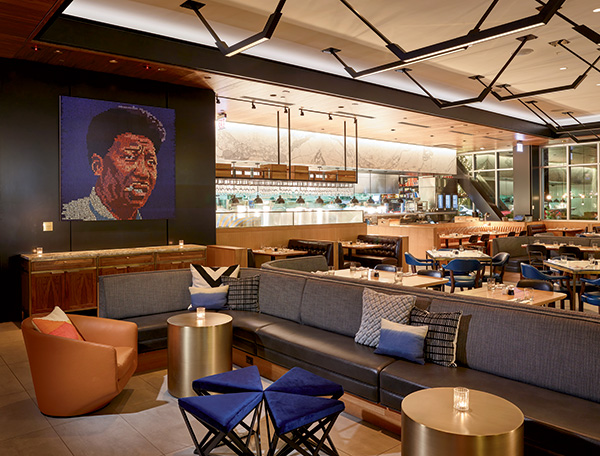 Photo by Gary GrossmanThe 8,800-square-foot, 340-seat restaurant features custom installations from Chicago street artist FRESH and renowned Vancouver artist Ricky Alvarez. Another focal piece is Erik den Breejen's mosaic portrait of musician Muddy Waters. In the mosaic, Muddy Waters' face is filled with painted tiles that contain his lyrics.
A rich color palette warms up the cozy-chic interior, complete with button-tufted leather booths, a sophisticated paneled wood ceiling and custom structural chandeliers. Pops of blue add interest to the primarily natural palette.
"There are consistent themes with the different Earls locations — mainly the use of true materials like stone, not plastic laminate created to look like stone," says Albaugh. "But we try to use different artwork, colors and other unique fixtures to create a different look for each restaurant reflective of the location."
A set of industrial, hexagon-shaped chandeliers hangs in the dining room, while a series of globe light fixtures lights up the bar area. The restaurant also features a separate lounge area where guests can enjoy cocktails while waiting for their table. An open kitchen at the back features a large marble bulkhead and a glimpse of the cooking action.