Firehouse Subs opened its first location in downtown Chicago. Growth has been steady for the nearly 900-unit chain headquartered in Jacksonville, Fla.
The 1,380-square-foot Chicago restaurant, located in the office-heavy Loop neighborhood, is the second restaurant for local franchisees Phillip and Alan Forfar.
Founded by former firefighting brothers, the restaurant's firehouse décor is based on the founding family's decades of fire and police service, and the new location is decorated with firefighter memorabilia.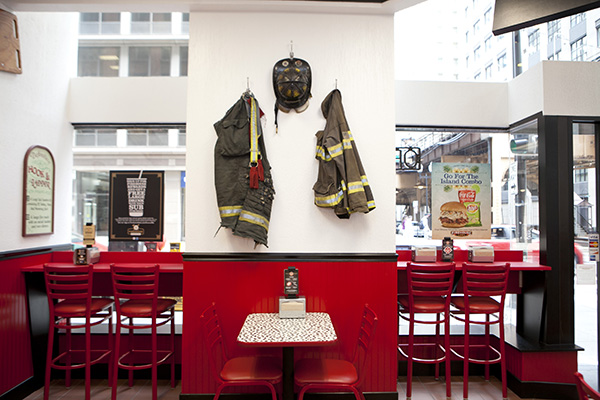 The Fofars took over an existing restaurant and renovated the space. Although the Chicago location runs smaller than most Firehouse restaurants, which span about 1,800 to 2,100 square feet, the space features a similar layout, according to Johny Namey, vice president of real estate services for the chain.
Upon entering the dining room from the street, customers first encounter the sandwich prep line and cashier station. The beverage station sits across the way.
Red and white accents with black trim resemble the primary colors of fire stations, white and black-speckled tabletops representing Dalmatian dogs take up the main dining room.
A limited amount of countertop seating runs the length of the storefront window overlooking the bustling Jackson Boulevard.
"Each Firehouse Subs restaurant has a standard décor package that includes custom wooden signs and metal firehouse-related signs," says Namey. "We encourage our franchisees to build a relationship with their local fire department to obtain local fire photos and memorabilia."
Like other Firehouse Subs restaurants, the Chicago location also boasts a custom, hand-painted mural by Chief Mural Artist Joe Puskas, that pays tribute to the local community. The Chicago mural depicts the Great Chicago Fire, with Catherine O'Leary pictured escaping from the fire with her cow on a rowboat. The fire was believed to have been started in the O'Leary barn.
Through the Firehouse Subs Public Safety Foundation, franchisees can assist local first responders in requesting a grant for needed equipment and/or training, according to Namey. The fast-casual chain has given $14 million to firefighters in 43 states and Puerto Rico, including more than $395,450 to Illinois. In May, the Foundation held a donation event in downtown Chicago at the Robert J. Quinn Fire Academy to award nine Chicago-area public safety organizations with nearly $200,000 in life-saving equipment.