A roundup of interesting bits of news that came across the editor's desk in the last month, including Krystal's Side Chik bracket, plans to break into the North Carolina market for Ellianos Coffee and earning airline miles with poke bowls.
development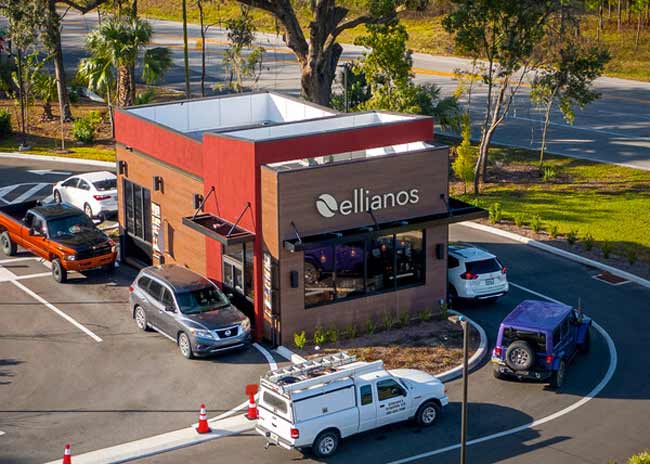 Ellianos Coffee drive-thru franchise expanding into North Carolina. Image courtesy of Ellianos Coffee
Ellianos Coffee, a drive-thru specialty coffee brand based in the southeast, is making its way into the North Carolina market with three franchise locations.
Chicken Salad Chick opened its first Colorado location in Greeley.
Celebrity chef Buddy Valastro, who gained popularity as part of the television series "Cake Boss" partnered with a robotics company to launch a hot-food vending operation serving the bakery-style pizza available at his Boss Café, which has a location on the Las Vegas strip.
Chip City Cookies opened a location in New York City's Tribeca neighborhood, its 13th in the Big Apple. The gourmet cookie chain has set a goal of having 40 units open by the end of 2023.
branding
In the latest in irreverent marketing,  Wingstop invites fans to take a bath in ranch dip. The wing concept teamed up with Buff City Soap to create a line of soaps scented with notes of buttermilk, parsley and dill. To top it all off, the soaps feature a creamy texture that mimics the ranch dip served at Wingstop.
Krystal is capitalizing on the popularity of March Madness gaming brackets by launching their Side Chik Mania filter on TikTok. Between March 28 and April 3, customers will be able to fill out their brackets by creating TikToks ranking Krystal's slider-sized chicken sandwiches. Participants will be eligible to win Krystal-themed gifts.
Uncle Sharkii Poke Bar announced a new partnership with Hawaiian Airlines. Customers will now have a chance to earn HawaiianMiles at participating Uncle Sharkii locations in California and Hawaii.