In 1940, Ken and Florence Hanna opened a Framingham, Mass., restaurant that soon gained notoriety for its signature salad dressing. Legend has it that patrons were so enamored of the dressing they clamored for the founders of Ken's Steak House to bottle and sell it.
The Hanna's friends, Frank and Louise Crowley, took on the challenge, starting Ken's Foods in their kitchen in 1958 to bring to market the house dressing served in the restaurant. The venture took off, and today Ken's Foods has about $100 million in annual sales, making it the number-three manufacturer of salad dressings in the United States.
Today, many restaurateurs offer signature items such as meat rubs, barbecue sauces, marinades, and other shelf-stable menu items for sale in their eateries. Many also sell branded swag such as T-shirts, hats and mugs, both in-store and online. While few, if any, will ever come close to becoming multimillion-dollar salad dressing empires, these restaurateurs do reap marketing benefits and improved customer loyalty from their retail offerings. And, during the pandemic, the retailing of menu products gained steam in a variety of creative ways that continue to improve the bottom line for restauranteurs across all segments.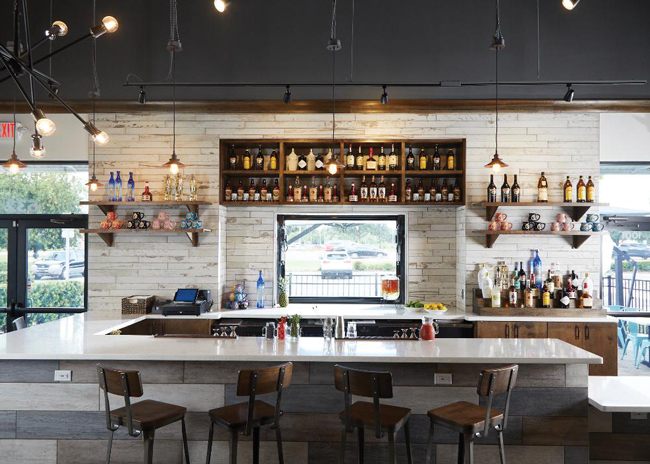 The bar at Another Broken Egg
Promotional Efforts Aid Sales
Margaritas Mexican Restaurants, a chain with 25 locations in the Northeastern U.S., has embraced retailing. Margaritas gave away bottles of its Squeeze Margarita Mix to customers that ordered takeout during last year's Super Bowl Sunday. The drink mix is available for sale in stores and online. The product's popularity has built slowly from word-of-mouth and from modest promotion in stores and on the chain's mobile app. "It has the potential to be more popular," says Conor Burke, director of marketing, "but the number one purpose [of the product] is to put our brand in people's homes. Squeeze helps reinforce our brand as the go-to Margarita place."
Another Broken Egg Café's mugs are emblazoned with the site's location. This localized branding has made them popular with customers. Photo courtesy of Another Broken Egg CaféAnother Broken Egg Café, an 80-plus-unit breakfast and lunch chain, has a similar approach to retail sales. The company sells a proprietary Bloody Mary mix and its own pepper sauce at each outlet, but it reaps its biggest marketing impact from retail sales of branded mugs. "We have a lot of loyal and passionate customers who see our mugs as collectors' items that are unique to the brand, especially since the mugs are localized to each cafe," says Jeff Sturgis, chief development officer, Another Broken Egg Café. "We have people who collect them from multiple locations and even contact us to purchase mugs from locations they cannot visit. While the sales and profit are nice, we see them as more of a brand-builder and a way to keep our guests connected to Another Broken Egg Café at home."
Upselling Potential
Burke joined Margaritas a little over a year ago and has been focused on promoting the restaurant. While his focus hasn't been on maximizing retail revenue yet, he has ideas on how the chain could realize higher sales of its products and looks forward to putting them into practice in the future. Burke suggests devising a script for servers to suggest patrons purchase a bottle of margarita mix when they bring the check to the table. Servers could say something like: "I hope you enjoyed your meal and drinks. If you enjoyed our margaritas, would you like to take home our mix so that you can make them at home?"
The chain might also insert cards or flyers in the check portfolio that pitch the margarita mix, Burke notes. Cards encased in a freestanding frame displayed on each table could also be effective. To attract the attention of passersby, restaurants could post flyers in the front windows, he adds, and displays at host stands could reinforce product marketing.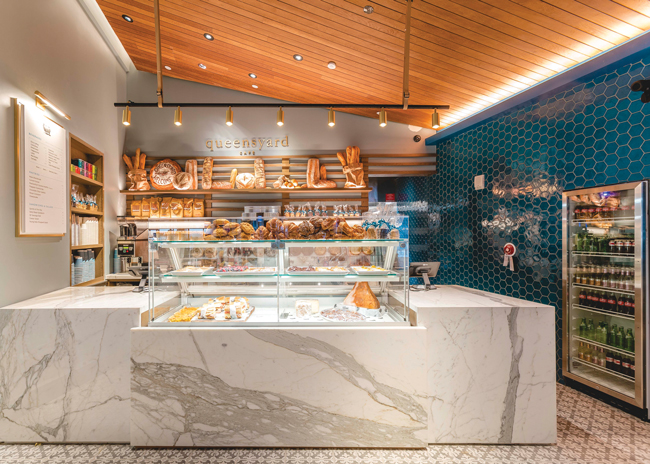 European-style bread racks at Queensyard in New York City provide a pleasing display for numerous pre-wrapped foods for sale. Image courtesy of Will Stanley.
Pop-up marketing
Several restaurants owned by D&D London, a U.K.-based holding company for multiple venues, install temporary, seasonal pop-up displays in the front or center of their cafes. "This is a great way to stage what you are selling," says Kana Ahn, senior associate with design firm CetraRuddy. Two of D&D London's restaurants, Queensyard and Bluebird London in New York City, have taken that approach for holidays such as Mother's and Father's Day. The two venues, each of which has a high-end restaurant and a connected cafe that sells numerous prewrapped food offerings, create eye-catching pop-up retail staging. One example: a vintage bicycle with baskets of candies attached to the frame.
Such temporary displays are effective sales tools. As Instagramable backdrops, they appeal to a broad array of customers and offer social media marketing opportunities.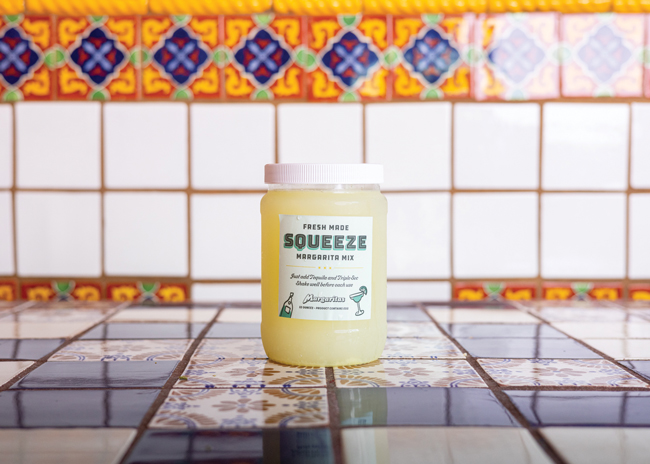 Margaritas Mexican Restaurants chain sometimes gives away its popular Margaritas Squeeze mix to promote its brand. Image courtesy of Margaritas Management Group.
Retail Displays
Permanent retail displays should be placed in the best location for visibility, provided with good lighting, sized appropriately for the product, and blend with the overall interior aesthetic. When it comes to placement and sizing of displays in a restaurant setting, there are two competing forces. The more prominent, eye-catching the display, the more it will attract attention. But make the display too big and gaudy, and you risk detracting from the ambience you are trying to create for diners. It's a fine line to straddle.
Brands such as Margaritas and Another Broken Egg opt for modest presentations with retail sales almost an afterthought. Many of the former's venues to date have little to no displays at all. A few have small retail nooks that showcase the margarita mix and some popular T-shirts emblazoned with cheeky slogans such as "Tequila worm is my spirit animal." The shirts, explains Burke, are primarily promotional items that the chain gives away during special events. "Give away a shirt even that costs $8 to make," Burke says, "and 100 people see it in a year. You just need one of them to visit Margaritas once to justify the cost. They also make the customer feel like they are part of the brand."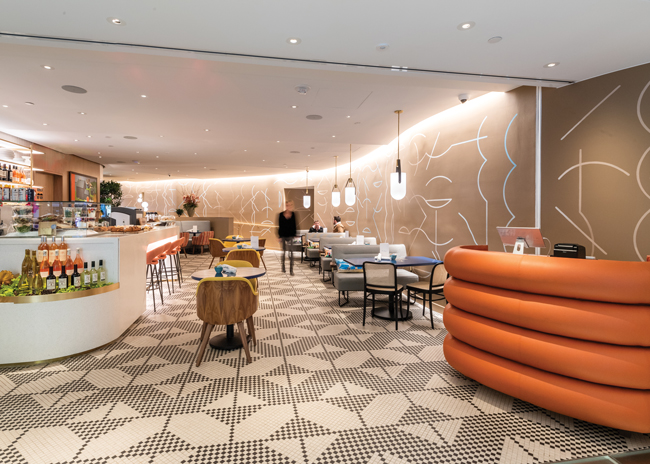 Bluebird London's design features niches to stage retail items. Image courtesy of Evan Sung
D&D London's strategy, on the other hand, incorporates retail sales as an important part of the business plan. At Queensyard and Bluebird London, the casual mood of the cafes, which sell sandwiches, salads, hot beverages, and pastries, is appropriate for displays of a wide variety of prepackaged goods including chocolate, hard candy and British biscuits. Patrons can enjoy the prewrapped treats in the cafe, take them home, or present them to friends as gifts.
A European-style bread rack behind counters, space on countertops, a glass case, and under-counter nooks all can be used to display retail items. At Queensyard, located on the fourth floor of a mall at Hudson Yards in Manhattan, a window niche gives passersby a view of the retail display area. The retail displays are generously lit with spotlights offering a warm glow that presents the items in a visually pleasing way. Display designs provide simple but attractive stages that highlight the offerings, allowing them to speak for themselves.
Extensive retail presentations, such as those within D&D London's venues, are uncommon in the restaurant realm, Ahn says. In some cases, those that opt for a big retail splash like D&D London incorporate retail from conception. Other times, brands build a loyal following through word-of-mouth and social media and realize they can exploit their popularity by selling ancillary products. Ken's Steakhouse is a prime example of the latter.
"Retail is a great way of branding," Ahn says. "It also gives confidence to buyers that you believe in the food you are selling."
While peddling items along with serving meals doesn't make sense for all restaurants, it can be a brand building element as well as a revenue driver.