As consumers have been eating at home exponentially more in the past two years but not necessarily cooking the food themselves, the rise in popularity of grocery store restaurants is not surprising. These restaurants operate in a variety of ways, from ghost kitchens to kiosks to full-service outposts. In these pairings, both the restaurant concept and the supermarket benefit from a shared group of customers and the know-how each brings to the operation. 
Image courtesy of Shawarma Press
Shawarma Press
Shawarma Press operates four locations in Walmart stores in Texas and has plans to open seven more before the end of the year. 
Founder and CEO Sawsan Abublan is excited because opening in the retail behemoth will expose her Irving, Texas-based fast-casual Mediterranean brand to many customers. 
Shawarma Press built out the Walmart spaces itself. "They were offered to us as a white shell, Abublan says. "We designed them and provided everything, and it cost about 50% less than a traditional store, but mostly because the spaces are smaller." The grocery store locations are around 2,000 square feet, about 500 square feet less than the original restaurant.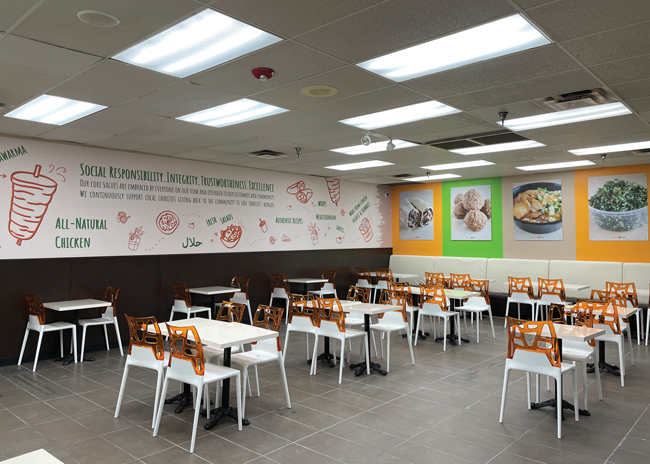 Shawarma Press has four locations inside Walmart stores in Texas. Walmart takes a percentage of sales but is not involved directly in the operations. Image courtesy of Shawarma PressAbublan pays a percentage of her sales to Walmart, which offers no help to the restaurant chain beyond the space. "The benefit is just allowing us the exposure," she points out. "They just want us to be a good tenant and present ourselves in the best possible image."
Many people in Texas are not yet aware of the brand and these locations are introducing it to guests. "These customers are coming into Walmart regardless, so that's helping us without any extra promotion from the landlord," says Abublan. "It's on us to prove ourselves and market ourselves externally and make sure the Walmart customers are happy with our food and service."
Abublan did make a slight menu change for the Walmart locations, adding a smaller size bowl and wrap to make it less of a commitment for new customers to try. She's also added breakfast to these locations because they open earlier. However, a challenge in the Walmart locations is reaching the customer, she points out because shoppers are focused on their tasks — on getting on with their shopping and errands. 
Abublan found it works well to provide paper menus as customers enter the store, to plant a kernel in their brain, and to give them samples as they leave (even during the pandemic) when they might be hungry. "Just trying our food is very helpful, and it breaks the barrier and they're then comfortable ordering it," she says.