Images Courtesy of A&WDuring its 102 years A&W has faced some challenges. Right now, like nearly every other restaurant brand, the chain is struggling to find employees. However, it's continuing to grow. The Lexington, Ky.-based brand is on track to surpass its goal of opening 20 new standalone units this year.
One way the brand is finding people is targeting Millennials — as both franchisees and employees — since "they're the biggest group we have to pull from and they are the future business owners," says Senior Director of Marketing Liz Bazner.
However, Bazner admits, "labor is one of the top three things that can prevent a restaurant from opening."
Here, Bazner offers five best practices to opening a restaurant in a tight labor market.
1. Utilize technology.
Well before the labor market took a dive and even before COVID arrived, A&W had started using online portals to find franchisees and employees. "You have to meet them where they are," says Bazner. The company likes ZippyApp, "which is an easy way to aggregate a lot of applications that come in online," Bazner says. Each restaurant location gets its own QR code to guide responses to each manager's email.
A&W recommends that franchisees create a Facebook event around their opening, which can help attract potential employees. They also encourage franchisees to use A&W corporate's master email list. "Although we can't share emails with our franchisees, we can segment our list by restaurant and send emails on their behalf," Bazner says.
"Prior to this year we did not place focus on building up an email list before a restaurant opens but are now recommending targeted Facebook and Instagram ads that allow locations to build up a subscriber list that can be used for recruitment and hiring."
The best resources, however, are local community hiring sites, Bazner says. "We're in so many small towns and there's often a local job posting board online."
2. Use open interviews.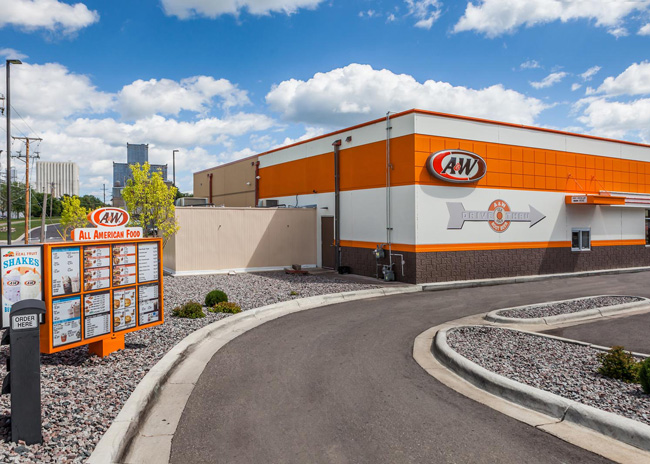 Offering open interviews means providing a window of time, perhaps noon to 4 p.m., when a manager is available to interview prospective employees, with no scheduled times, "so it takes some of the planning work out of it and makes it less daunting," Bazner says.
The company also recommends immediate hiring if a franchisee finds a suitable job candidate. "We tell them to be prepared to hire someone on the spot if you really like them, so you know that person is coming back before they leave," says Bazner. "With this, a person walks out knowing the answer."
A&W franchisees also sometimes offer "dinnerviews," in which candidates can get something to eat during an interview and site visit, "which takes some of the stress and formality out of it," says Bazner.
3. Scout offline using local resources.
Post signs at the restaurant construction site saying "coming soon" and "now hiring" and post a QR code where prospective employees can find more information, Bazner says.
Bazner also recommends using local publications, contacting local Chambers of Commerce, small business groups, colleges and high schools to get the word out. "We've seen some franchisees have good luck with high school or college internship programs that then turn into full-time employment post-graduation, and Chambers of Commerce often have online job posting boards or have a lot of connections to the community for networking purposes."
4. Ask around and utilize existing networks.
A&W asks other restaurant operators or franchisees it already knows in an area it's considering opening a new restaurant to gauge the labor market. It also asks at its franchisees' other businesses, if they have them, "so we'll lean on their expertise too," Bazner says. "We also provide a list of other A&W operators in that area and allow them to ask them what has worked for finding labor."
5. Offer bonuses and benefits.
A&W is considering hiring bonuses and staying bonuses — increases after 30 days of employment; and some franchisees are offering school scholarships, tuition reimbursement or covering textbook costs. "The bonuses can really make a difference," Bazner says, "but sometimes the labor pool just isn't there, so it wouldn't matter what pay they offer."
Other benefits A&W franchisees are offering include a certain number of vacation days for new hires after their initial 30 days, a big difference from the six months employees used to have to wait.
And A&W has ramped up its Bear Care rewards program. Through this, franchisees reward team members with a little card to say thank you for things they do, and this now comes with a financial reward or gift card "though [the program] started just to help people feel good," Bazner says.