What started as a small chicken stand at Smorgasburg, a weekly Los Angeles food festival, has developed into a restaurant chain with a hearty appetite for growth. Daddy's Chicken Shack partnered with architecture and design firm Harrison to evolve and scale the design as the concept grows.
Daddy's Chicken Shack first hatched in 2018. Co-owners and spouses Pace Webb and Chris Georgalas moved quickly to open Daddy's Chicken Shack's first brick-and-mortar location in Pasadena, Calif. Now the chicken-centric concept is ready to stretch its wings, so to speak. 
Harrison is repositioning the fast-casual brand for scale, beginning with a new flagship location in the Heights, a blossoming community near downtown Houston. Through a new brand strategy, and concept and design evolution, Harrison has positioned Daddy's Chicken Shack for growth, including dine-in, kiosk ordering, a walk-up pick-up window and a drive-thru online pick-up only lane prototype design. 
The Daddy's Chicken Shack menu features American Southern cuisine with a hint of Asian, as Webb hails from Texas and Georgalas is half Japanese, per a release announcing the company's growth plans. Webb's father, Bob, created the logo and serves as creative director for Daddy's Chicken Shack. In fact, his original artwork will be in the restaurants' dining rooms. The core pillars for the new restaurant design include southern hospitality, refined confidence, repurpose and resilient and natural imperfection. All the design elements have a meaning and a story. For example, the murals surrounding the restaurants will pay homage to Webb's farm in Brenham, Texas.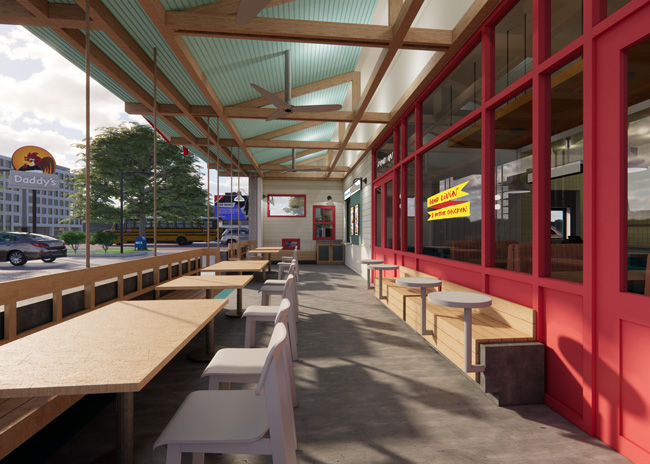 The new Houston, Texas, restaurant will also integrate different methods of ordering. The restaurant will also feature a porch with outdoor kiosks, porch-swing-inspired benches, and indoor booth and banquette seating.
Daddy's Chicken Shack has also launched a franchising initiative.