2020 was an awful year for bars, restaurants and consumers alike — and everyone could use a good drink about now. Contending with COVID-19 restrictions has meant limiting or eliminating indoor imbibing and dining, expanding outdoor seating options and relying more heavily on takeout and delivery. And with the rise of off-premises sales, operators miss out on lucrative, high-margin beverage sales.
One bright light in the gloom has been the loosening of restrictions to allow restaurants and bars to offer cocktails to go. Over 30 states and Washington, DC, now allow cocktails to accompany takeout and delivery food orders. Iowa made this practice permanent and other states may follow suit.
Consumers are buying into the idea. Carryout is seeing broad consumer popularity, according to a recent Trends in Adult Beverage report from the Chicago-based research firm Technomic.
Regulations for offering takeaway cocktails vary, but bar and restaurant operators have to observe responsible beverage alcohol service procedures, such as checking IDs during the handoff at takeout windows or curbside. Some locales require delivery drivers to carry a copy of the establishment's liquor license.
Drinks to go must accompany food orders in many states, although that definition can vary from a bag of chips to a full course meal. Most states set a maximum number of drinks or total volume and some set a minimum as well — no shots. A common stipulation is that mixed drinks for takeaway maintain the same spirit to mixer proportion as those served on-premises. In a few locales, restaurants and bars can sell a package of mixer and spirits, but offering premixed signature cocktails allows them to promote their mixology expertise.
An area of opportunity is packaging innovation and design. Some operators recycle bottles or repurpose containers such as mason jars. Others purchase unique sealable items branded with logos. Yet others heat seal drinks inside plastic bags, with a separate compartment for garnishes.
For a more elaborate presentation, a few operators tout cocktail kits, which provide ingredients with recipes and
pro mixing tips. Kits often include branded barware such as shakers,
jiggers and glassware.
The overarching aim of takeaway beverages is not only to boost overall sales but to keep the establishment's name top of mind when it comes to expertly crafted cocktails.
San Francisco, Calif.
"Elixir Curbside has been a lot of work. This operation has been just like starting a whole new business," says Proprietor H. Joseph Ehrmann. Located in the Mission Dolores district since 1858, the historic saloon was restored to its Victorian glory by Ehrmann in 2003 with mahogany and redwood accents and is currently offering cocktails to go from its front door.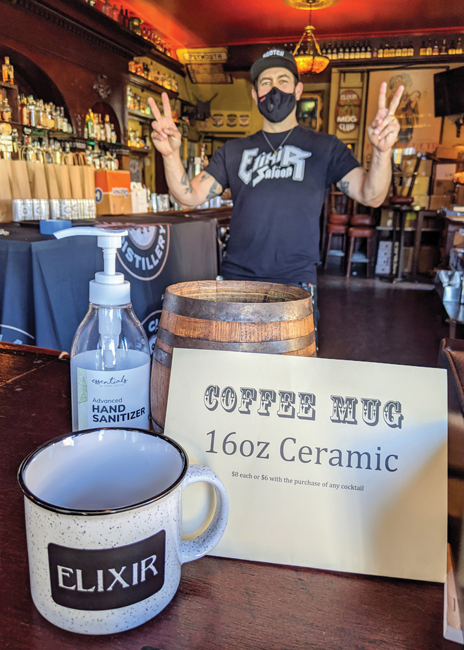 Located in San Francisco's Mission Dolores district since 1858, the Elixir Saloon's decor is "modern Victorian." Image courtesy of Darren Edwards"First, I switched the way we prepare cocktails from the scratch preparation of juices and syrups to a reduced-touch, sanitary, and safe manner of batching cocktails based on Fresh Victor's line of cold-press, fresh cocktail mixers, a company I am a partner in. That operational shift also demanded an entire new menu of cocktails, which I also built off of the to-go cocktail kits we created over the summer when we could only operate as a retail liquor store with delivery service," explains Ehrmann.
For the packaging, Ehrmann's designer created a label that could be used across the product line and fit its "modern Victorian" brand aesthetic. Cocktails are packaged in 100ml, 8-oz., 16-oz., 750ml and liter glass containers with a generic label that includes directions. For the Fresh Victor-based cocktails and syrups, they use PET bottles in 8-oz., 12-oz., 16-oz., and 32-oz. sizes with labels featuring directions for that drink. For individual takeaway pours from Elixir's renowned whiskey collection, they have purchased 1- and 2-oz. amber Boston Round Bottles.
During the late summer with the purchase of a slushie machine, Elixir sold slushie-style cocktails in PET bottles as well as single serves in small (9-oz.) and medium (14-oz.) compostable cups. "Sales of the slushies have gone down with the advent of cold weather, obviously," notes Ehrmann. That's been supplanted by an annual hot spiced cider program, which has been expanded to include fresh hot coffee and Mexican hot chocolate as two new drink bases. For now, these warmers are available to go in 12-oz. paper hot cups; Ehrmann has ordered branded thermoses and new coffee mugs to sell online.
Two canned cocktails are also part of Elixir Curbside. One is the Pom Paloma and the other, The Golden Hydrant, is a spin on a classic gin and tonic — and $2 from each sale is donated to charity.
For social distancing during ordering and pickups, a custom 7-foot-long Victorian catering bar is rolled into place across the doorway to create a front counter. Delivery service is provided on Fridays.
Approximately 70% of Elixir's business is now generated from takeout drinks. "We have stuck to our normal pricing, but it all scales up with volume," says Ehrmann. Prices range from $12 for a cocktail up to $125-plus for some high-end cocktail kits. "Packaged cocktails to go cap off at about $75 for a liter." Standard, familiar drinks sell the best: Margaritas, Whiskey Sours, and Barrel-aged Negronis.
For the near future, Ehrmann anticipates further mandated shutdowns. So, he is focusing more on building and growing online events, both individually ticketed events and private group cocktail classes.
Lexington, Mass.
"Massachusetts has very strict laws regarding the sale and distribution of alcohol, so having the opportunity to be able to sell cocktails, wine and beer to go has been a positive change," says Trisha Pérez Kennealy, owner of the Inn at Hastings Park.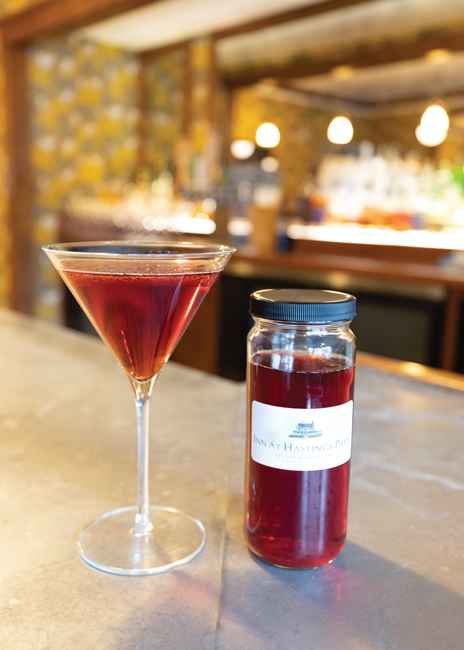 The Inn at Hastings Park packages cocktails to-go, including this one, The Bitters Are Coming, in logoed 16-oz. sealed jars per state regulations. Image courtesy of the Inn at Hastings ParkLocated 15 miles outside of Boston in historic Lexington, the Relais & Châteaux-affiliated establishment features 22 guest rooms and suites as well as the Town Meeting Bistro. The three historic buildings that comprise the Inn have been updated with modern amenities.
On any given day between 10% and 20% of sales are takeout. "Offering to-go cocktails helps boost our to-go check averages," notes Pérez Kennealy. "We have a reputation for delicious craft cocktails, so guests have loved continuing that tradition at home."
Guests can order and pay for alcoholic beverages when they place takeout orders via the phone. To minimize contact, staffers place the takeout orders directly into the trunks of guests cars.
All of the cocktails on Town Meeting Bistro's list are available for takeout with the exception of drinks involving sparkling wine or champagne, which might not travel well. Drinks sport Revolutionary War-inspired names, such as a Minutemen Martini (made with Tito's Vodka, sake, ginger syrup, lime juice and mint), The Bitters Are Coming (Bulleit Bourbon, Dubonnet Rouge, Lillet Blanc and Campari) and The Shot Heard Round the World (jalapeño-infused silver tequila, Cointreau, apple syrup and lime juice).
To-go cocktails are packaged and securely sealed (to satisfy state regulations) in branded 16-oz. glass bottles or cute honey bear-shaped containers. "We purchased the branded bottles and honey bears specifically to handle our to-go beverage program," says Pérez Kennealy. "Guests can order up to 64 oz. of beverages, so the containers are designed to hold more than a traditional restaurant serving of a cocktail."
Besides the cocktails, the Inn sells bottled beer and wine to go. There are also a couple of mocktails packaged for takeout, such as the Hastings Honey Bear, made with local Wilson's Farm Honey, apple cider, lemon juice and vanilla, packaged in a honey bear container, of course.
This holiday season has been busy. For Thanksgiving, the Inn did over 250 to-go orders as guests did their part to keep celebrations smaller and more intimate. "We're offering a to-go option for all of our holiday menus — Hanukkah, Christmas Eve, Christmas and New Year's," says Pérez Kennealy. That will include wine pairings to complement the menus as well as suggestions for sparkling wines and champagne to make the meals more festive.
Says Pérez Kennealy: "We will continue to offer to-go cocktails as long as we are allowed to by the state."
San Diego
"At the start of the pandemic, we created an online site for guests to order our products, merchandise, and to-go offerings from home," says Ellis Beardsley, director of operations for You & Yours Distilling Co. "Our to-go program has been a great way to supplement sales while on-site dining has been limited. We've seen it especially successful during the holiday season, as guests are looking for fun ways to enhance their at-home plans. Guests frequently pair cocktails with our takeout Friday dinner series as well!"
Opened in 2017 in San Diego's East Village neighborhood, You & Yours Distilling Co. is a 2,300-square-foot full production distillery, tasting room and event space with a craft cocktail program. "Salvaged wood, whitewashed brick, exposed concrete, plush velvet, denim linen, copper and marble accents come together to create a fresh, unique and Insta-worthy atmosphere," says Beardsley.
You & Yours got a head start by launching canned ready-to-drink cocktails in 2018, which are crafted on-site using Y&Y's vodkas and gins. These RTD cocktails (as well as retail bottles of its spirits) can be ordered online for pickup or shipped anywhere in the U.S.
In 2020, the advent of the pandemic spurred You & Yours to develop a full-fledged, freshly mixed cocktails to-go program.
Guests place their cocktail order 24 hours in advance online (everything is made fresh to order), and the packaged cocktails can be picked up Wednesday through Sunday at the Tasting Room. All payments are taken ahead of time online to streamline the pick-up process.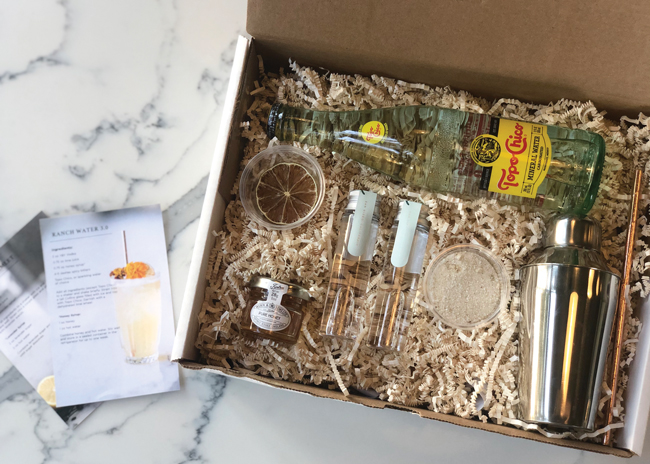 You & Yours' Virtual Cocktail Class Kit includes drink ingredients, tools and access to online mixology. Image courtesy of You & Yours Distilling Co.
The to-go cocktails come in two sizes: 16 oz. for about two to three servings ($17); and 32 oz. for four to five servings ($35). "All components for our cocktails are made in-house — from our grape-based distilled-on-site vodka and gin to our syrups made from freshly juiced produce and herbs," says Beardsley. Each order comes with Topo Chico sparkling mineral water for topping off cocktails and is accompanied by garnishes (such as dehydrated lime wheels or rosemary sprigs) to elevate the at-home experience.
Among the half-dozen cocktails available for takeaway are Sangria & Tonic (made with Y&Y's London Dry Gin, mulled wine syrup, apricot, lime juice and East Imperial Tonic) and Rhubarbie's Dream House (Y&Y Sunday Gin, rhubarb, raspberry, lemon juice, Peychaud's Bitters and pink peppercorns, topped with Topo Chico).
"Our current to-go cocktail options are a selection of Y&Y favorites, although from time to time we add in seasonal offerings or specialty cocktails to pair with our Friday dinner series," notes Beardsley.
You & Yours also offers a Virtual Cocktail Class Kit, which, for $60 per person (minimum of four per class), includes all the ingredients and tools to make two Y&Y cocktails.