It's never easy to make the decision to close a store, but it comes down to numbers. Is the store underperforming? Is it a lot of work? Is it an outlier, requiring extensive travel for the executive team to visit it? Many restaurant companies are finding shrinking store counts is an ideal way to strengthen a brand and ready it for growth.
Between 2011 and 2020, Menomonee Falls, Wis.-based chain Cousins Subs closed 40 underperforming stores. Today, same-store sales are 26% higher than they were in 2011 and average store sales volumes have jumped by 55%. Back in 2011, Cousins Subs launched a brand refresh that included a new logo and store prototype. As franchise contracts came up for renewal — about 10% of stores each year — corporate asked if the franchisee would commit to remodeling. Those that wouldn't closed or converted to corporate stores. In that time, the concept has almost doubled its corporate store count to 30, mostly converting franchised locations into its own.
Because Cousins' stores are mostly in Wisconsin (a few are in Illinois and Indiana), when a store closed, a nearby location typically saw a boost in sales, usually of 30% to 40%, says Joe Ferguson, vice president of development. "We found our trade areas could be a bit larger and that people would travel farther to get to our stores."
Closing some stores has also allowed Cousins to be more strategic about its store locations. The chain exited leases in inline spaces or in buildings with no drive-thru and relocated those stores only to see improved performance, Ferguson says.
When Cousins closes a store with another unit nearby, it lets customers know, starting with signage (as early as possible) to inform customers, and to tell them where the next nearest store is. And it sees sales increases at the next nearest store from day one, according to Ferguson. The stores use banners and flyers to alert customers to the upcoming closure and the nearby store to cross-promote it.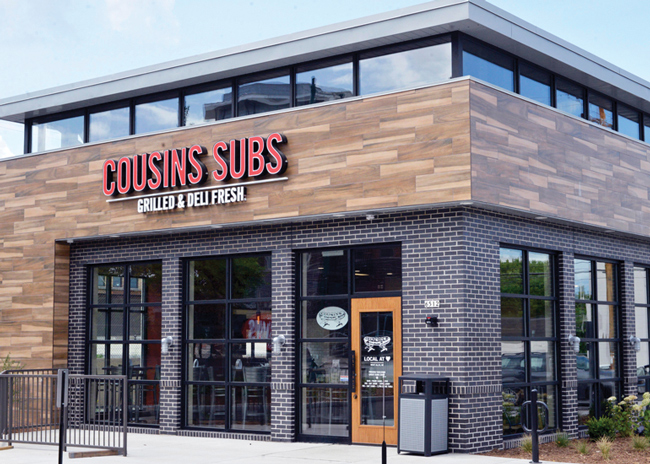 Between 2011 and 2020, Cousins Subs closed 40 underperforming stores. Today, same-store sales are 26% higher than they were in 2011. Image courtesy of Cousins Subs
Geographical Consolidation
Since last year Famous Toastery has closed nine of its restaurants in order to concentrate operations close to home. The Charlotte, N.C.-based brand closed locations in Colorado, Pennsylvania and New York to "reenergize franchise sales," in nearby states, says CEO and Founder Robert Maynard. "You've got to be mean and lean and have control."
The 15-year-old brand started franchising in 2014. "We signed up people all over the country, but you can't do spot checks on those. I remember a time with deals pending in Arizona, Utah, California and London, and then we just said we can't do it. Obviously you walk away from a lot. But we weren't in it just for the money. We like to work side-by-side with franchisees and we have a different perspective," Maynard says.
This, he adds, has made Famous Toastery "a better franchisor and a better operator." He can be there for his franchisees and visibility matters, he adds. "You've got to be involved; you can't be spread too thin. If a chef is sick, we can find someone. It makes it so much easier to jump in a car than jump on a plane."
As a growing chain, if you have stores scattered across many states, those far flung locations are the stores that absorb your time, Maynard points out. "Now, we don't have to work as hard. We only have so much time in the day and need to maximize it."
A side bonus of this, he adds, is it put the concept in a great position when the pandemic hit, since he could easily get to all of his stores. "Within four days we rolled out online ordering. We could focus; we weren't flying all over the place."
Making the decision to close stores is not easy. "You've got to be humble enough, smart enough to say we made a little error here and we've got to fix it before it gets worse," Maynard says. He's now back in growth mode, aiming to open 50 units by the end of 2022, all in the Southeast, close to headquarters.
Pie Five operates 43 restaurants, a drop of 14 locations since the beginning of this year. "The main reason for closing is strategic moves to position us to grow," says Mike Burns, COO of parent company Rave Restaurant Group, Dallas. The company closed locations that were underperforming due to high rent and site problems (wrong part of town, wrong businesses around them), among other issues including that one store was in a part of the country that was hard to get to.
Now there are 43 stores, they're easy to manage since they're all geographically close, Burns says. If stores are too spread out, "it makes it difficult for oversight, which leads to brand inconsistency. One-off stores also don't give you much buying power."
The closures were all part of a strategic plan created by a new executive team that includes Burns, which was brought on at the end of 2019. "Having 43 locations allows us to move quicker and faster and it makes us pretty mobile: we can change menu panels, roll out new items," he says. "We feel we're in prime position to grow in those markets and leverage what we have."
Pie Five Pizza is down 14 locations in 2020, part of a geographic strategy to tighten operations. Images courtesy of Pie Five
Brand Strengthening
By the time Cousins Subs decided to remodel all of its stores, many were in need of a facelift and were looking tired and shabby — not a look the brand wanted to portray or perpetuate.
"We truly believe this strengthens our brand," says Ferguson. "When you have a store that's underperforming, it's typically not profitable. When franchisees have an investment that's not working for them, after a few years they're not going to continue to throw the money at it, so we see a hit in our operations." These underperforming stores are also often understaffed due to financial difficulties, which leads to poor service and speed of service, he adds, "and we see that as detrimental to the brand."
Limiting the spread of Famous Toastery units was also about brand awareness, says Maynard. "Brands build with their density, so you need lots of them in one area. We now have a much stronger system; people [in our markets] see us all the time."
Consolidating stores provides restaurant concepts with "solid brand power," adds Burns.
Rave is now looking specifically for franchisees who want to open five to ten Pie Five locations. "If they only have one, they're in there for the daily grind. If they have multiple, they step back and work on their business. We want them looking from 35,000 feet rather than 35 feet," he explains. One franchisee has just opened a store in Corvallis, Ore., with four more to come, staggered over time. And while Oregon isn't currently a core market for the brand, having someone open that many makes sense, Burns says, "to expand our footprint."
Otherwise, Pie Five is mostly looking at nontraditional growth for the time being, since the company is in the midst of overhauling its entire brand to differentiate it. Nontraditional sites are ideal, Burns explains, because they have a captive audience and are a great opportunity for brand recognition.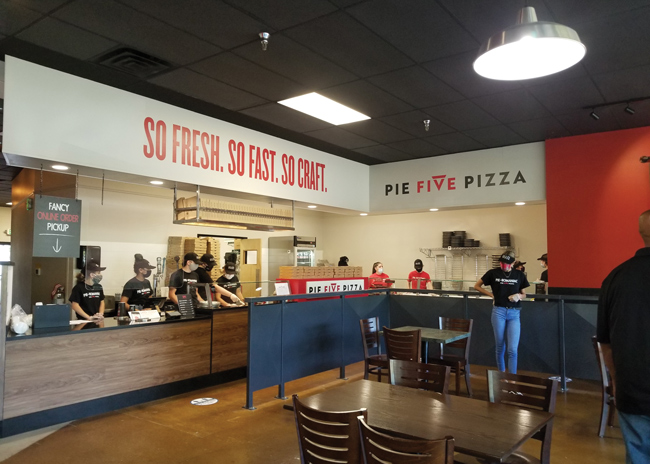 For growing chains like Pie Five Pizza, keeping a tighter geographic area is beneficial to supply chain logistics.
People and Supplies
When stores close down, sometimes the people who work there can be retained. This was the case for Cousins Subs. "We can transfer our managers, who are more mobile in the market, but it's a little bit different for our hourly staff who want to work in the neighborhood where they live," says Ferguson.
But an unexpected plus was that it proved easy to get workers for remodeled stores, with their fresh look and improved technology. It also improves store morale, "with better camaraderie with the staff, and it's contagious," he says.
Having stores concentrated in one area also helps with the supply chain, says Burns. Otherwise, far-flung stores tend to require a secondary supplier, adding a layer of complexity along with costs.
For Famous Toastery, now that all stores are concentrated, all supplies come from one Sysco location, "so we can control everything," Maynard says. "This gives us an enormous amount of control and oversight into what we're getting and knowing if there are problems with being short or needing to sub a product."