The reigning motto of self-serve could be characterized by the Burger King line, "Have It Your Way" along with a dash of the Veruca Salt (of Willa Wonka & the Chocolate Factory) sentiment: "I want it now!"
In the age of COVID-19, the time has come to recast the self-service model. As hospitality designers and strategists, we can seize this opportunity to rethink self-service to meet and exceed consumer demand for safety as well as quality, customization and convenience.
Don't run from the robots. Robotics have been part of the food manufacturing process for decades. Now, new inventions in the foodservice space can give operators the ability to bring bionic assistance inside the restaurant for food preparation, dispensing and sanitation.
Have you met Sally, the salad-making robot, yet? She can assemble fresh, customizable and hygienic salads in 90 seconds with the push of a button. Want a smoothie with your salad? Another manufacturer has a machine that dispenses 600 "safe to sip" variations of smoothies and blended drinks from its vending machines.
Ordering takeout via an app was already becoming the way "to go" prior to COVID-19. When customers were sheltering in their homes, restaurants across the spectrum, from the local bakery to the fine-dining restaurant, jumped onto takeout platforms. Starbucks has upped their game by remodeling many stores for pickup service only.
Takeout is transforming into a grab-and-go self-serve dining experience: Users can order, pay, and pickup without human interaction. With digital platforms, customers self-select menu items, modify ingredients, and choose a pickup time. With the help of pickup staging areas or locker solutions, customers complete the entire transaction independently. Instant gratification achieved.
Despite predictions of its demise, the buffet table can live on but with some welcome updates. Wynn Las Vegas Resort recently reopened their "buffets of your dreams." Technically, the buffet transformed from self-service to full-service. Nevertheless, the all-you-can-eat feature remains. Guests can choose from 90 items in a two-hour window. And when we can once again belly up to the buffet, expect to see food shields as NSF regulations develop further preventive food safety measures.
Packaging and Presentation 
With increased takeout options, it's time for containers to step up to the plate and do more than just hold food. They need to maintain dishes' freshness, temperature, texture and appearance. Clamshell containers, hamburger paper wrappers and pizza boxes all deserve a makeover. Packaging can progress even further to win a place at the table. But they must earn it by becoming more economically and environmentally sustainable as well as thoughtfully designed. Just as restaurateurs and chefs devote time and attention to selecting just the right tableware for their restaurants, they are now turning their discerning gaze to packaging for the off-premises and in-home dining experiences.
Revolutionary ideas are not always futuristic. Even in our low-contact era of self-service, personalized touchpoints still matter and can have a lasting impact. Think about the journey your customer takes and intentionally incorporate unique ways to surprise and delight. Create a connection with customers, maybe by attaching an old-fashioned handwritten note to the takeout bag, restaurant-branded stickers or keepsake containers and cups. There's joy in the McDonald's Happy Meal for a reason — everyone loves the feeling of a surprise in a takeout box.
In the wake of COVID-19 and into the future, self-service is becoming more user-friendly for all. Even better than having it your way is having it both ways. Reimagining and reinvigorating self-service benefits both consumers and food operators, not just for now, but for the long term.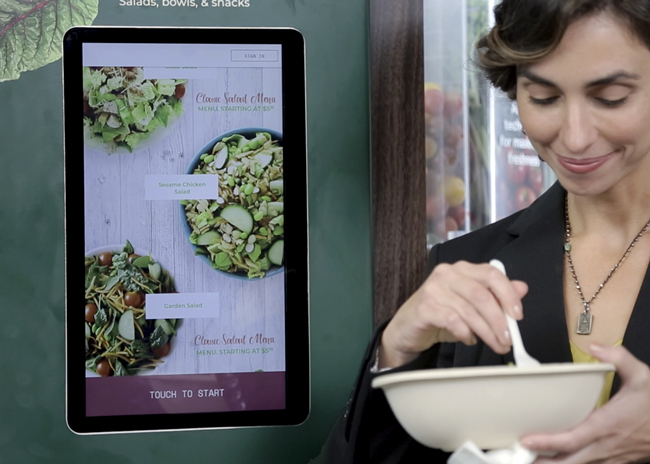 ---
About RealFood
RealFood is a premier hospitality strategy and design firm meeting the foodservice design, development and strategic advisory objectives of the hotel, club, institutional and restaurant segments of the global hospitality industry. For more information, visit rfhsd.com.