With an indoor/outdoor bar, improved queueing area and more efficient kitchen, this chain out of California has taken full advantage of its first ground-up build.
The word "opportunistic" may have a negative connotation to some. It can sound like someone is taking unfair advantage of a situation, maybe even sticking it to someone in dire straits.
Really, though, being opportunistic isn't always a bad thing. It's just making the most of the situations you encounter.
It's also one quality that makes up a big part of the culture at Dog Haus, a hot dog-centric chain founded in 2010 by partners Hagop Giragossian, Quasim Riaz and André Vener.
Before starting Dog Haus, the three had known each other for years and had shown their own opportunistic streaks, doing things like leading a powder-coating business, operating a coffee and smoothie food truck (before food trucks were cool) and running other restaurant concepts, including fine dining and gastropub operations.
They founded Dog Haus because they saw an opportunity in the relative lack of hot dog concepts in a restaurant scene filled with burgers, pizza and burritos.
"With the hot dogs we wanted to say, 'You know what, the hot dog isn't an afterthought. It's not scrap meat that's stuck into a tube," says Riaz
Since opening its first restaurant, Dog Haus has shown that people will respond to a quality dog. The chain now has more than 50 locations, with more at various stages of development.
Proving the company's opportunistic streak, this growth has come in many forms. Dog Haus has stores in strip centers, mixed-use developments, music/performance amphitheaters and sporting venues (including the Rose Bowl). It's got standard fast-casual style spots, biergarten restaurants with full bars, pickup/delivery only locations and even ghost kitchens.
Until recently, though, one thing the chain hasn't had is a location built from the ground up exactly to its specifications.
That changed when franchisee Shawn Eby approached the team about a new restaurant in Cheyenne, Wy. "With one of our operators, we had an opportunity to design a Dog Haus from the ground up because he was looking to purchase land. When we heard about it, we were really excited because it gave us control of all the things that are important to us," says Riaz.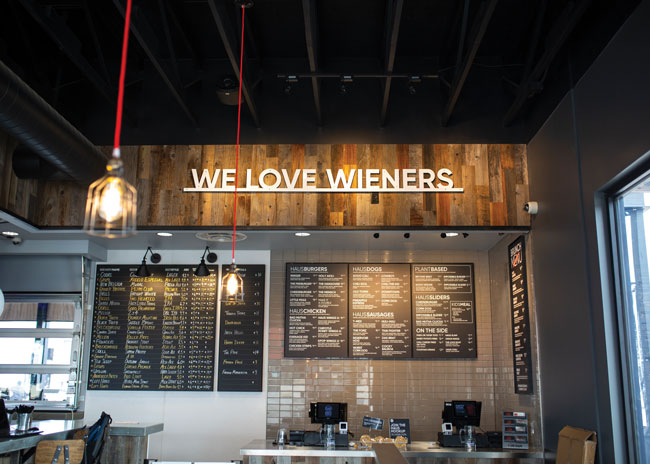 The beer and cocktail menus, to the left, are hand-written on a chalkboard. While a digital menu board would be easier to change, it wouldn't fit with the chain's craft feel and approach.
Wish Lists Meet Reality
Starting with a clean slate is fun, but it can also be challenging. Exactly what do you do when the constraints you're used to working under are removed? For this project, there was no set footprint, existing utilities or landlords' rules about the design or exterior branding.
To help focus their work, then, the Dog Haus team started by reviewing their pain points, says Riaz.
"We said, 'we have an opportunity to do everything we want. What are some of our bigger challenges in other layouts?' We put all these things on our wish list. We wanted a nice long line for the queue, we wanted an open bar, we wanted garage doors. We put all that out there and said, 'Now let's lay this out and see if we can have everything we always griped about.'"
Of course, a wish list and a design are separate. On the first ground up build, the heart says you can have everything you want but the head knows that's not true. Constraints and challenges remained, says Riaz.
One of the biggest was simply the size of the space. If the chain gave itself everything it wanted without striving for efficiency, the restaurant would have been closer to 4,000 square feet, than its actual size of 2,700 square feet.
"The truth of the matter is you can go too big, because the bigger you go, the more expensive it gets. We still have to make sure that the operator isn't spending a ton of money on this. Yes, we've got a wish list, but just like everything else, you have to make sure you're not spending too much."
Some of the decisions to keep the cost of this new build down, Riaz added, went a long way toward staying under budget. The team, for example, moved the walk-in cooler to the building's exterior, allowing more inside space to be dedicated to food production and guest seats.
Other choices were smaller but added up when the final bill came due. Dog Haus, says Riaz, would have liked to run the pavers used on the exterior wall all the way to the top, but that would have proved too costly. "We looked at it and said if we stopped at a set point, we would get the desired effect and save some money," says Riaz.
Dog Haus's patio can be closed off, making it usable year-round. It also connects to the bar via a small garage door-style window.
Perfect Kitchen, Familiar Feel
When the design was finished, changes impacted both the front and the back of the house. In fact, says Riaz, getting the kitchen exactly how they wanted it was one of the biggest items on their wish list. By improving equipment placement (such as locating the freezer holding french fries and tater tots next to the fryer) Dog Haus reduced steps and made the overall operation more efficient.
"We have basically the same equipment in all the kitchens but have not had what I would call an ideal space to work with," says Dog Haus Director of Design and Construction Bruce Olandt. "This just gave us the ability to put everything we wanted in just the right place."
While the back of the house found its perfect form in Cheyenne, the overall look and feel of the interior design didn't change drastically from what Dog Haus has long presented. Many of the changes are tied to new spaces, and new treatments of existing spaces, made possible by this ground-up build.
Walking in, guests encounter an open space filled with authentic materials that communicate the idea of craft. The floors are stained concrete while the exposed ceiling and ductwork are blacked out. Hot rolled steel is used in many spots in the front of the house, from the queueing area to menu board frames to bases for tables and chairs.
The tabletops, meanwhile, have a butcher block top with the Dog Haus logo branded into them. Options include communal tables, picnic table-style seating, as well as stools with backs and without.
All the tables and chairs are custom designed and custom-made for Dog Haus, helping to give the restaurant its own unique look, says Riaz.
"This isn't something out of a catalog. A lot of the time you can walk into a restaurant and say I've seen those chairs before, I've seen those booths before. Maybe they have a slightly different upholstery, but the uniqueness is gone."
Along with these are some good-natured hints of edginess, such as the sign above the menu board proclaiming "We Love Weiners," or wooden benches with the words "Hot Buns Here."
As the chain's first ground-up build, this location also saw some significant edits to its floor plan. In fact, one of the biggest goals of the redesign was to connect the indoor dining area with the outdoor patio, says Olandt.
To achieve this, Dog Haus added full-sized garage doors that connect the outdoor patio with the interior dining room.
While this sort of opening isn't uncommon, Dog Haus has taken steps to bring the two spaces together even more. The indoor dining room/bar area flows directly to the patio and allows tables for very large parties to span both spaces. What's more, the outdoor patio flooring uses concrete stained the same color as the restaurant's interior floors, helping to give the two areas the same look and feel.
The restaurant's bar area also underwent major changes as part of the redesign. Previously, the bar would be located entirely inside the restaurant, with its location depending on the new footprint. With the redesign, Dog Haus has created an indoor/outdoor bar, with a garage door-style window opening up to the patio, allowing guests to get another round without going inside.
Some elements of the bar mirror the designs in other Dog Haus locations, often with upgrades. The bar top, for instance, is stained concrete that matches the flooring. Dog Haus's tap tower descends from the center soffit, where guests can choose from over 20 beers, mostly local craft brews.
To highlight these offerings, says Riaz, the chain makes full use of the custom tap handles given to them by the breweries.
"We don't go with the little black knobs. When I go to a bar, I don't look at a menu board first. I look at the taps. I've got my favorite beers and the handles call to me telling me what I want to order. So, we make sure we have enough clearance for these tap handles."
Guests can also check out the beer selection on a chalkboard. A second chalkboard lists drinks from Dog Haus' newly developed cocktail program. Like the menu boards above the POS station, these are both framed in hot rolled steel with a clear powder coat.
"Digital menu boards would make our life a little easier in certain ways, but we felt that loses some of that authenticity. We want to keep that small, crafty feel. The use of digital menu boards, we can't get to that yet," says Riaz.
Looking Ahead
The typical Dog Haus location offers 24 beers on tap. In Cheyenne, the tap tower is suspended from a soffit. While this project was focused primarily on layout, the chain has plans to fully review its look in the near future. Its finishes, furnishings and fixtures will all be up for reevaluation. The goal is not to completely overhaul Dog Haus's look but to find ways to reduce costs and/or improve durability, says Riaz.
"It will be evolutionary," he says. "In order to progress, things have to change, but it will still be a Dog Haus. Many of the key elements we like that we hang our hat on, the communal seating, the openness, that's all going to stay. The changes will be to the tone of wood or the exact way we treat metals."
The chain has even bigger plans than a value-engineering exercise, though.
As part of this ground-up build, Dog Haus also started to play with ideas involving changes in guest dining habits. Like many operations, restaurant shelves were added for easy pickup of takeout orders.
Dog Haus has taken this idea a step further, though, and started to make plans for a drive-thru. This new feature will not only serve customers but also act as a pick-up line for to-go and delivery orders.
This will obviously present some logistical challenges. Dog Haus ticket times run from 5 to 8 minutes in most cases, which is longer than most operations with drive-thrus. There's also the issue of serving both new orders and pick-up orders with the same infrastructure.
Still, the chain sees an opportunity here. And in keeping with the chain's opportunistic streak, Dog Haus' leaders see this addition as a way for the chain to stand out.
"It's a new part of the food industry, that's why it's an opportunity. You start rethinking how you do things. It's all about convenience and bringing a quality product out and making it as pleasurable of an experience as you can." +
Dog Haus's patio can be closed off, making it usable year-round. It also connects to the bar via a small garage door-style window.
The beer and cocktail menus, to the left, are hand-written on a chalkboard. While a digital menu board would be easier to change, it wouldn't fit with the chain's craft feel and approach.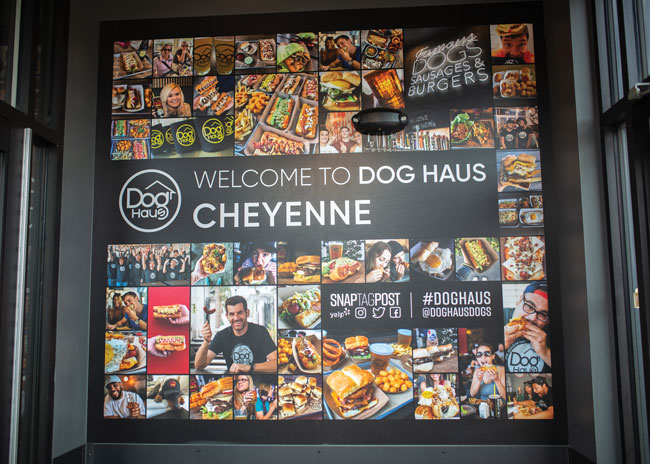 Guests entering the restaurant are greeted by a mural inviting them to share Dog Haus photos on social media.
Snapshot
Headquarters: Pasadena, Calif.
Concept owners: Hagop Giragossian, Quasim Riaz and André Vener
Concept: Fast casual focused on hot dogs, sausages, hamburgers, and craft beer and cocktails.
Unit count: 50-plus locations with 35 traditional brick and mortar and approximately 20 locations being nontraditional sites (stadium, concert venues, ghost kitchens)
Average check: $18.90
Location of new prototype: Cheyenne, Wy.
Opened: February 2020
Size: 3,314 square feet including a patio
Real estate: Freestanding
Design highlights: Custom designed
furniture and fixtures, using reclaimed wood and hot rolled steel; indoor/outdoor bar; patio that flows into dining room
Build-out time: 10 weeks
Project Team
Project lead: Bruce Olandt, Dog Haus Director of Design and Construction
Architect: Gary Wang & Associates, Inc
Kitchen supplier: Concept Services
Interior design: Dog Haus (Bruce Olandt)
Kitchen design: Dog Haus (Operations)