Influx Cafe, a family-owned neighborhood eatery, recently opened its third unit in San Diego.
The space, located within the North Parker mixed-use retail and residential development, was designed in collaboration with architectural design firm Colkitt&Co. It comprises 1,100 square feet of internal space with seating for 60 and an additional 600 square feet of exterior space with seating for 30.
Taking cues from Influx's two existing locations, the designers worked with owners Twilla and Gina Bledsoe to incorporate a similar contemporary design with pops of color, and to elevate the design concept and refine architectural details by adding symmetry and linearity throughout the cafe. The new glass-enclosed space boasts a modern, utilitarian and inviting interior with Scandinavian-inspired décor. It features a white and grey color palette accented by pops of red, succulents in glass terrariums, white architectural steel furniture frames, polished concrete floors, geometric patterned fabric draped over the seating and variegated strips of walnut wood that wrap around the kitchen.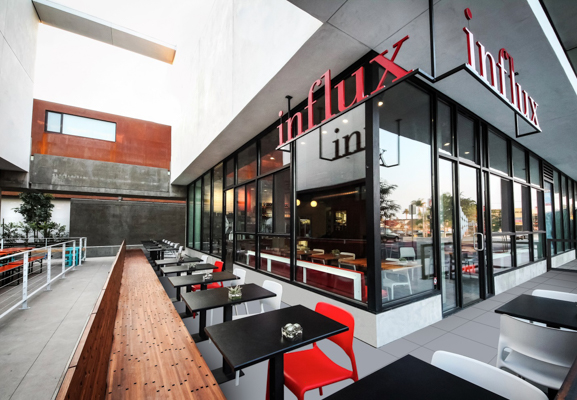 Photos by Sara Norris
Colkitt&Co collaborated with local craftsmen, Wood and Silver, on custom dining tables and a long outdoor bench made from varying strips of teak, placed adjacent to folded I-beam tables and chairs for al fresco dining. The final result is a clean and minimalistic space with personal touches from the owners including a rebuilt vintage Italian espresso machine, hand-selected plates, silverware and fabrics.
The North Park location also introduced new menu items such as kale salad, tofu sandwiches, gluten-free bowls for breakfast, cold-brewed coffee and a raw juice bar.