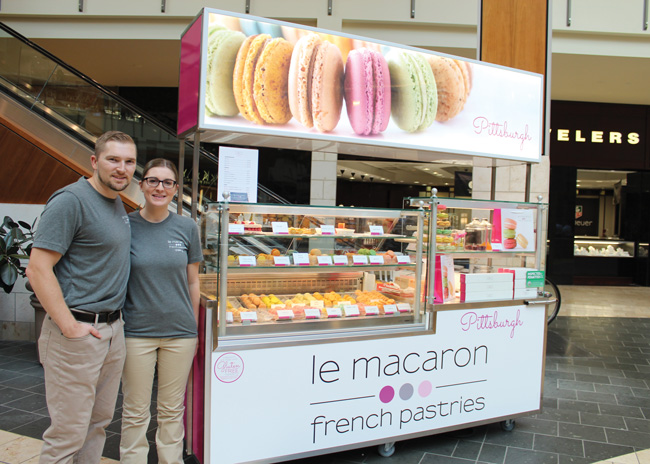 Image courtesy of Le Macaron French PastriesLe Macaron French Pastries added a mobile kiosk to capitalize on the growing quick-serve and snack trend. The chain will target captive audience spaces like airports, malls, festivals and sporting events with these kiosks.
"We wanted to create an opportunity that allows our franchise owners to work in nonconventional environments and offer guests a sweet treat when they are unable to access one of our locations," says Rosalie Guillem, CEO and co-founder of Le Macaron French Pastries. "Our products can easily be eaten on the go, so a mobile kiosk aligns perfectly with our brand."
The kiosk investment ranges between $91,000 to $127,000. Le Macaron French Pastries requires zero on-site baking from franchisees. All products are made in the chain's headquarters kitchen under the supervision of French Chef Didier Saba.
Le Macaron French Pastries was founded in 2009 by mother-daughter team Rosalie Guillem and Audrey Saba. The chain operates more than 50 cafes and two mobile kiosks, open in the company's headquarters city of Sarasota, Fla., and in Pittsburgh, Pa. The brand offers more than 20 flavors of macarons, as well as seasonal flavors, and the menu extends to include pastries, gelato, coffee, cakes, eclairs and more.