Founder Nancy Silverton cut the ribbon on the newly re-opened flagship La Brea Bakery Café in Los Angeles on January 30, just steps away from where the bakery began baking fresh artisan bread 25 years ago.
The new café melds a subtle yet sophisticated design with an artisanal feel that highlights La Brea Bakery's commitment to baking bread in the old world tradition. The 4,750-square-foot glass and brick café features casual table service and an express take-out counter, and is highlighted by an expansive 35-foot illuminated display case showcasing an array of pastries, sandwiches and other freshly prepared items.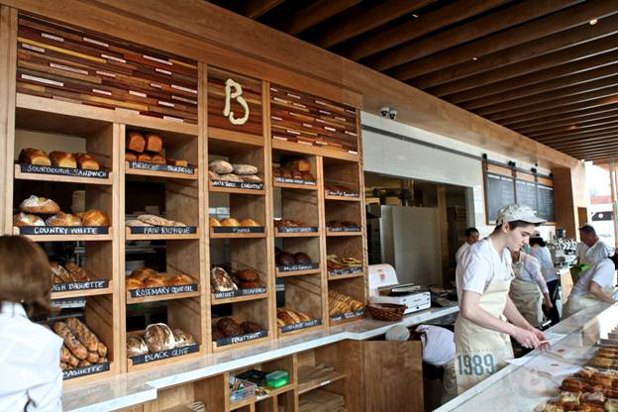 Inside La Brea Bakery's L.A. flagship location.
New to the Café is a wood-fired oven that staff use to prepare pizzas, focaccia and breakfast frittatas under the supervision of Chef Keith Silverton.
Marina del Rey-based SFJones Architects lead the redesign effort and, according to the firm's principal, Stephen Francis Jones, the cafe was designed as a "jewel case" showcasing La Brea Bakery's storied past and bright future. Seattle-based branding and design firm Hornall Anderson oversaw the new look and feel of the café including signage, packaging, employee uniforms and collateral. Patrons will notice a new lowercase "b" logo prominently displayed on exterior signage and at the entryway on the blackened steel oven hood. The new identity relaunches the brand in celebration of its 25th anniversary.