Better burgers, better pizza, better Mexican? Been there, done that. A big new buzz in the elevated fast-casual world is all around chicken, with a new flock of next-gen, chicken-centric brands taking flight.
And why not? Chicken has a lot going for it. It's more sustainable and affordable than red meats, it's often a more healthful protein choice, and it's versatile. What's more, from a landlord's perspective, fresh and fun new chicken concepts add a little something different to the tenant mix. Here's a look at three emerging brands worth clucking about.
Starbird
HQ: San Francisco
Units open: 3
Average check: $10-$11
2018 expansion plans: 5 new units
Starbird promises high-quality, transparent and tech-driven quick service. Eschewing traditional drive-thru, the brand lets customers order via app and get car-side delivery. Image courtesy of The Culinary Edge VenturesStarbird hatched in 2016 as the first restaurant concept by The Culinary Edge Ventures, a new division of San-Francisco-based consulting firm The Culinary Edge, whose principals got the itch to practice what they preach and create their own game-changing concepts. With Starbird, they set out to redefine the quick-serve chicken segment with a focus on providing a "super-premium" fast-food experience and a reimagined approach to drive-thru convenience.
With three Bay Area units currently open — in Sunnyvale, San Jose and Foster City — the brand touts "positively delicious chicken." GMO-free and locally sourced, it's served grilled or crispy in creative sandwiches served on freshly baked rolls. Cut in-house, chicken destined for the fryer is brined, hand-battered and fried in gluten-free rice bran oil.
"We felt that the fast-food chicken segment was kind of tired," says Annie Culver, marketing lead at Starbird. "Every chicken place seems to be Southern nostalgia or fried chicken, biscuits and gravy. Chicken is really the protein of our generation — better for the environment and more sustainable than beef. We saw a big opportunity to create a fresh, California-inspired fast-food chicken menu."
The brand's Starbird sandwich is its best seller. It features crispy chicken, kale-based super slaw and avocado. Other sandwich options include the Free Range Ranch, with slaw, bacon, pimento cheese and Greek yogurt ranch; the Banh Mi, with pickled carrots, cucumbers, jalapenos, cilantro and Sriracha mayo; and the new Spicy Sriracha Buffalo, with dill pickles, ranch slaw, mayo, Greek yogurt ranch and Sriracha Buffalo sauce.
Seasonally inspired sandwiches are offered, as is a soy-marinated tofu alternative. Chicken- or tofu-based tacos add diversity to the menu, along with entree salads, fries and a side option of kale-based slaw. Beverages include locally roasted hot and iced coffee as well as house-made seasonal lemonades and teas.
Starbird's Sunnyvale unit also vies for breakfast business. Opening at 8 a.m., it offers favorites such as Chicken and the Egg, a crispy chicken sandwich with egg, pimento cheese and bacon, and the Maple Bacon Breakfast Taco, featuring crispy chicken, egg, bacon and maple aioli on a corn tortilla.
If a disruptor in terms of providing "culinarily credible" fast food, Starbird is also innovating with next-gen conveniences. A hybrid of QSR and fast casual, the brand embraces customer-facing technologies and bypasses traditional drive-thru queues in favor of car-side pickup.
"We have a proprietary app that lets customers order and pay for items for dine-in, pick-up or car-side delivery," Culver says. "You can type in your license plate and type of car, and we'll bring your order out to you."
As it looks to grow, the Starbird team is weighing various real estate options. Though they initially leaned toward second-generation sites, the success of the San Jose unit has them rethinking that strategy. That restaurant, with seating for 60, is a new-build shopping center endcap. "It's really beautiful with lots of windows and is probably the best expression of our brand's target aesthetics," Culver says.
Those aesthetics center on providing a customer experience that's upbeat and transparent. "There's white and yellow everywhere. It's a clean, modern but timeless look," Culver notes. "We try to keep everything simple and well made. Our millwork is real wood; our tiles are real. Just as on our menu, we don't cut corners on design or materials."
---
The Crack Shack
HQ: San Diego
Units open: 3
Average check: $16-$20 (with alcohol)
2018 expansion plans: 2 units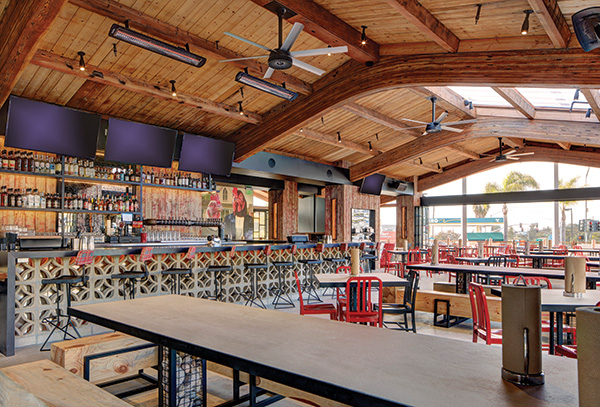 All Crack Shack units feature an open-air dining experience, full bar and playful branding and decor that pay homage to the chicken. Image courtesy of Stephen WhalenLaunched in San Diego's Little Italy in 2015 by Michael Rosen and "Top Chef All-Stars" 2010 winner Richard Blais, who together helm the casually elegant Juniper & Ivy right next door, The Crack Shack touts all-day, elevated chicken and egg fare and a brand experience that's sophisticated, fun, family-friendly and slightly irreverent.
It was, Rosen explains, literally inspired by a shack. "I had purchased the property where we opened Juniper & Ivy, our fine-dining concept, and on the corner of the property sat this 75-year-old, rustic metal shed that was iconic in the area. A couple of times a week, someone would ask to lease it for a coffee shop or some other kind of lifestyle concept. It occurred to me we could use it to create a fine-fast-casual place, so that shack became our first location."
Consumers' love for fried chicken the world over and what Rosen and Blais saw as a dearth of fried chicken-focused concepts that put high-quality ingredients into a crave-worthy, chef-driven menu led them to focus on chicken. The Crack Shack's signature chicken and eggs are fresh, organic, free-range and sourced from the same Southern California farms that supply some of the state's most iconic fine-dining establishments, Rosen says. The chicken arrives within 24 hours of the birds being butchered.
The brand's menu is Southern California-inspired, headlined by signature fried (or grilled) chicken sandwiches such as the Firebird (spicy fried thigh, cool ranch, crispy onions and pickles on a potato roll), Malibu Barbie Q (barbecue thigh, cornmeal onion ring, smoky bacon and pineapple mustard on a potato roll), Señor Croque (crispy chicken, bacon, fried egg, cheddar and miso-maple butter on brioche) and California Dip (pollo asado, schmaltz fries and pickled jalapeno on bolillo bread with posole broth on the side for dipping).
Fried chicken is also served solo, in orders of 5 or 10 pieces. Six house-made sauces are offered on tap; salad options can be upgraded with seared tuna, eggs or chicken; and a menu category called Other Cluck adds variety. Popular items here include deviled eggs, Anti-Salad Power Bowl (smoked chicken, soft-boiled egg, heritage grains, salsa, avocado, arugula), and Mexican poutine (schmaltz fries, pollo asado, jalapeno cheese wiz).
Unit sizes range from 4,500 to 6,000 square feet — much of that being outdoor patio space — and each includes a large bar that's well stocked with craft beers and cocktails. Service is counter-style, with food delivered to guests' tables and drinks and other items replenished by staff on request.
Designed to be open-air environments, each unit offers a variety of seating styles, as well as lawn games such as boccie ball and corn hole. Interiors are comfortably rustic yet sophisticated, with branding and decor elements that pay playful homage to chickens.
"We wanted to create a place where groups of friends could hang out, people could go on dates, and kids could have fun without the parents feeling cheated just to keep them happy," Rosen says. "They can get very high-quality food, cocktails and beer in a great environment. Everyone's happy."
Two additional Crack Shack units are currently under construction, one in Pasadena and one in Century City. Rosen says two to three more will likely be developed in 2019, potentially taking the brand into Northern California and eventually into Colorado and/or Texas.
---
The Chickery
HQ: Washington, D.C.
Units open: 2
Average check: $15-$16
2018 expansion plans: 25-30 new units
Designed to be fun and a step up from fast casual, The Chickery specializes in both fried and rotisserie chicken sandwiches, chicken fingers, and family-style chicken dinners. Image courtesy of The ChickeryThe Chickery promises "better chicken, better service, 100 percent of the time," says CEO Kert Gennings, who took the reins at the company last summer. An operations and franchising veteran who has helped chains including The Halal Guys, Jersey Mike's and Boardwalk Fresh Burgers & Fries grow, Gennings says The Chickery's time has come.
Gennings has launched a rebranding drive and introduced new menu items, working with Washington, D.C.-based chef Spike Mendelsohn, a former "Top Chef" contestant. The chain also recently partnered with Fransmart to kick-start a domestic and international franchise expansion drive. With corporate stores operating in Toronto, where it was founded in 2012, and Washington, D.C., near its new headquarters in Alexandria, Va., The Chickery is set to open new units in Dubai and San Jose, Calif., as well, with 25 to 30 new units expected to open by the end of this year.
"We plan to grow heavily in California but also in the D.C. metro area and North Carolina," Gennings says. "We're also looking at New York, Denver and Chicago. A good portion of our international development will be in the Middle East, and we're also looking at Asian markets."
As for The Chickery's menu, it's all about fresh, antibiotic- and hormone-free chicken served in preparations that range from healthful to indulgent. Unlike most quick-service chicken chains, where fried chicken reigns, rotisserie is a big draw here as well. The brand's signature Rotisserie Fried Chicken (RFC) is a differentiator. Cooked rotisserie chickens are flash fried, creating chicken that is crisp on the outside and juicy on the inside.
While the chain launched with a focus on chicken fingers and family-style dinners, Mendelsohn helped shift the menu focus to sandwiches. A new menu section called The Chicky Bunch debuted last summer. It features eight signature sandwiches, each with a hashtagged name. Among the best sellers: #ChickeryClassic (crispy chicken, lettuce, tomato, buttermilk herb mayo) and #TheBlueHot (hot fried chicken, lettuce, pickles, blue cheese crumbles, buttermilk ranch dressing).
Four rotisserie chicken sandwiches are also offered, as is the #CauliFire sandwich, which pairs battered and fried cauliflower with hot sauce, lettuce, tomato and buttermilk ranch dressing.
A new dip bar being tested in the Washington, D.C., unit lets guests customize their sandwiches further or simply enjoy the brand's signature sauces as dips. Positioned as a self-service area, the bar features pump containers filled with sauces such as chipotle lime cream, buttermilk ranch and Asian sesame.
Sides at The Chickery stray from the familiar cornbread, mashed potatoes and coleslaw in favor of popular selections like poutine, grilled street corn on the cob, Cajun dirty rice, braised kale and buttermilk waffles.
Along with its menu, the brand has worked to tweak its prototype. It offers three basic models: urban, suburban and freestanding with drive-thru. Its design is intended to create a casual, warm, comfortable and fun environment, with the rotisserie being a focal point of every unit's open kitchen.
"We try to be fun and a step up from the typical fast casual," Gennings says. "I'd call our aesthetic a blend of rustic and calming. We have all sorts of chicken imagery on display, funky yellow and red colors, and a mix of seating styles."
In addition to dine-in, which generates 50 percent of sales, catering has emerged as a strong revenue generator. Catering volume grew by 62 percent in 2017 over 2016. The company also recently began testing a late-night menu in D.C., remaining open until 3:30 a.m. on weekends.