"Low and slow" is the mantra for cooking delicious Texas-style barbecue. One Dallas-based barbecue concept is taking a similar approach to its expansion. Fourteen-unit chain Soulman's Bar-B-Que first opened its doors in 1974 but has only recently opened its first franchised store.
"We want to grow systematically and cautiously because we want to protect our brand, so what we've done is open up five opportunities within a 100-mile radius of Dallas," says Soulman's Chief Operating Officer Brett Randle. "We want to be able to support them the right way and we want them to benefit from the brand recognition that we've established."
This first store, located in Lewisville, Texas, opened in May of last year. To help launch its franchise system, the chain introduced a number of new design elements that it will incorporate into all future openings.
The exterior of Soulman's locations are painted barn red with white trim. Large piles of hickory stacked outside the front door and vinyl stickers of flames on the windows tells people before they enter that this restaurant offers wood-fired barbecue.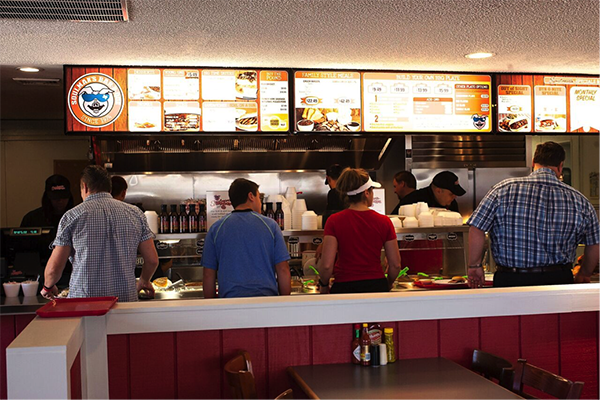 A knee wall separates the dining room from the order queue. Photos courtesy of Cameron Cobb Photography
The interior reinforces the idea with red walls and red-painted wooden elements, including a knee wall that separates the ordering line from the dining room. That particular element, notes Randle, features panels with wooden Xs, once again reminiscent of a wooden barn.
In addition to helping direct traffic, the knee wall is one of a number of elements that help create zones within the restaurant. The interior design also uses soffits "so that customers don't feel like they're walking into a box," Randle says.
While those elements can be found in many Soulman's locations, the franchised store puts a new spin on some of them. Booths line the perimeter of the dining area. Stained pine planks were added to the bottom of the soffits. They feature cutout for LED lighting that are located directly above dining tables.
According to Randle, the chain selected LEDs because of their efficiency and long life, but also because of the quality of the light they produce. "They put out a really nice, while light that spreads out over a table very nicely. Pendant lights set a dimmer atmosphere. We want it to be bright and vibrant."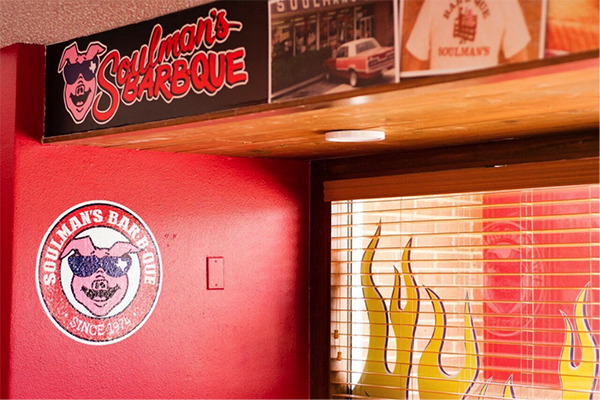 A look at both the vinyl fire graphic on the exterior and new design elements on the interior. Photo courtesy of Soulman's
Another new element showcases what Randle calls the "Soulman's story." Taking pictures of the chain from its founding to present day, the company has created a mural that showcases its history, it's authentic Texas-style barbecue and its connections to the community. The vinyl mural is attached to the sides of the soffits on three walls of the restaurant. Additional images from Soulman's history hang on the walls alongside tried-and-true barbecue decor, such as a set of horns from longhorn cattle.
Though some new features have been introduced as part of the move into franchising, Randle says that the chain's look and feel will continue to evolve. One change he's considering is a move to digital menu boards. While these are pricier than static boards, their flexibility is a huge bonus. "Being able to change pricing and change look and feel across a large company is a lot more efficient than the other way around. It would enable us to change the entire system with the push of a button. That's very attractive for a franchisee."
Another change involves flooring. One element he's considering: wood-style ceramic tile. This product, he said, is easy to clean and can be specified with a nonslip finish. It would also complement the wood finishes already found in the restaurant.
Whatever changes Soulman's makes, though, won't be taken lightly. Like it has done throughout its history, the chain's first goal as it starts franchising will be to protect its brand, says Randle.
"It's not really about growing huge fast. We want to be able to control our standards. We want franchisees that are gong to embody the same things we do. It's very important for us that we have another 42 years in business."
Photos 1-2 by Cameron Cobb Photography; Photo 3 courtesy of Soulman's