Fast-casual chain Raising Cane's opened a Post Malone-themed restaurant in Midvale, Utah. In fact, the musician, who happens to be a big fan of the brand, played a central role in designing the restaurant.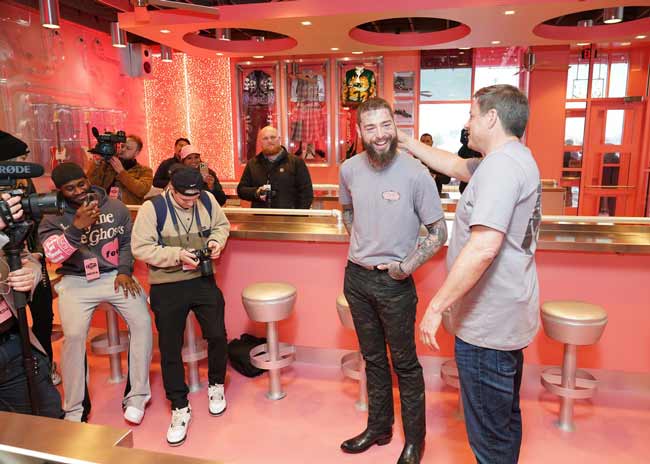 Post Malone at the newly designed Raising Canes restaurant
The design represents a "complete visual restaurant takeover," per Raising Canes. It starts with wrapping the building's exterior in solid pink with Post Malone tattoo imagery and brushed stainless steel '1' tower. The pink color of the restaurant exterior carries into the interior flooring and walls – including solid pink flooring. The restaurant's window wraps create a glow at night. The dining room features brushed stainless steel, and new stainless-steel furniture with silver booth fabric.
In addition, the restaurant includes some personal items from Post Malone, including outfits worn by the musician during some of his performances. Notably, one outfit was the one Post Malone wore on the cover of Billboard Magazine's January 2022 issue. The restaurant will also include some of Post Malone's personal guitars framed and hung from the walls.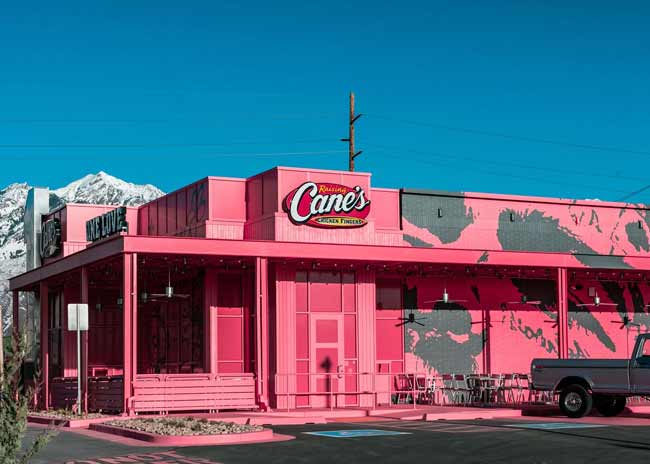 Raising Canes located in Midvale UtahTo highlight Post Malone's love of the game, ping pong balls run through a track system on a major interior wall, connecting to large shadow boxes filled with pink ping pong balls on either side and light fixtures with color-changing filters.
Raising Canes and Post Malone carry this unique design theme all the way through the restaurant's packaging and crew uniforms. Packaging options include a Post Malone napkin, to-go bag, platter liner and black clamshell box. Crew and managers will wear special attire, including Post Malone-themed hats.
Because Post Malone is a fan of medieval armor, the restroom design makes them look like the interior of a medieval castle. They even include a suit of gothic medieval armor. The store also includes a Post Malone-themed vending machine. The unit is wrapped in pink and stocked with collaborative merchandise including shirts, hats, socks, key chains and more.
This one-of-a-kind restaurant came about due, in part, to the longstanding friendship between Post Malone and Raising Cane's founder Todd Graves, who made an appearance in a 2021 music video the artist created. After moving to Utah, Post made a personal request to Graves that there be a Cane's location nearby and that Post could personally design it. The Midvale Raising Cane's recently underwent a full-scale renovation to redesign all aspects of the restaurant.