Multiconcept operator CH Projects, which has developed some of Southern California's most progressive one-off restaurants, recently opened the second iteration of its popular UnderBelly ramen bar.
The original, housed in a 900-square-foot space in San Diego's Little Italy neighborhood, is limited largely by space but that's not an issue at the new UnderBelly II. Located in a retail and residential development by architect Jonathan Segal in the city's North Park community, UnderBelly II boasts 1,800 square feet of interior space and another 1,000 square feet of prime, street-corner patio space.
Designer Paul Basile used raw materials and natural elements to create an interior that's contemporary and distinctive. Inside, unique materials span every wall, including a custom plywood panel and LED light installation that covers the majority of the internal wall structure from floor to ceiling. The wood panels mimic the gills of a fish with an intricate overlapping grid system. A similar treatment was used on the restaurant's ceilings and around the hood surrounding the restaurant's yakatori grill.
Upon entry, guests approach the order counter, which features a brass L-shaped poll running through a tiered, live-edge Blue Pine stand. It sits at one end of the 10-seat yakatori bar, creating a sleek and uniform counter. The metal, geometric bar stools used here and at the restaurant's large, U-shaped bar are the same as those used at the original UnderBelly.
Live-edge Blue Pine was also used to create oversized, branded door handles and to cover the bar.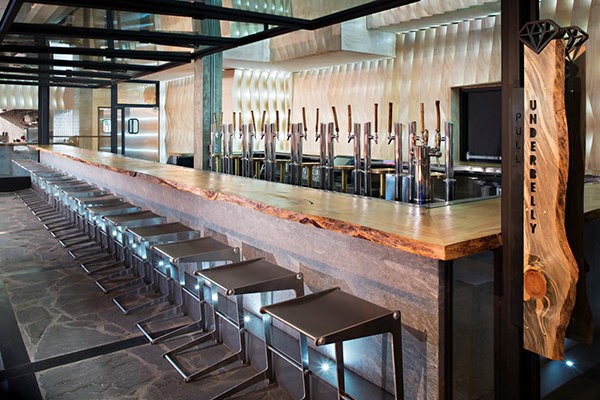 UnderBelly II's bar features a custom 5-foot vertical tap system with freestanding copper and stainless steel drip pans. The tap handles are also fashioned from Blue Pine and flooring around the bar is blue stone.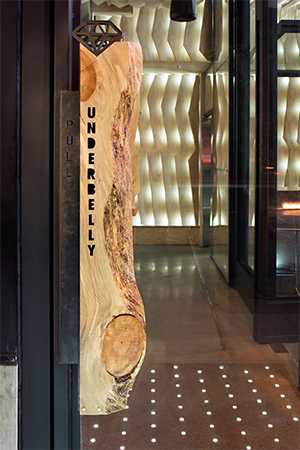 Strategic use of LEDs comes into play in the entryway flooring as well as on the walls. Dots of light are inlaid and shine up through the polished concrete.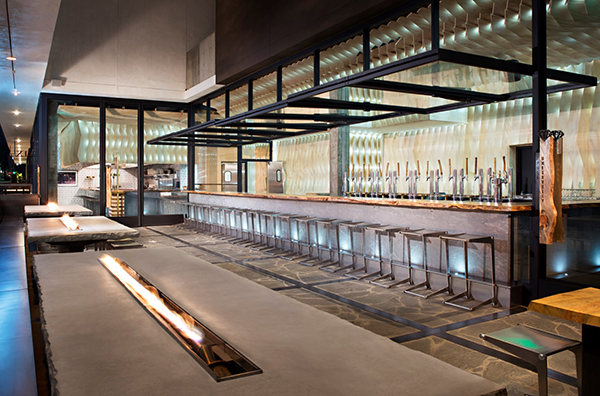 Communal indoor/outdoor seating is situated on either side of large glass and steel windows, which flip overhead and create an open and airy seating arrangement. When closed, patrons can still see inside or outside with the window acting as a divider. Additional outdoor seating options include cozy banquettes with site-poured concrete slab tabletops. Centering each of these is a fire feature that "dances" to the music overhead.