Bright, bold fluorescent colors can have a big impact on consumers, according to Canon U.S.A.'s newly released Fluorescent Color Impact Study.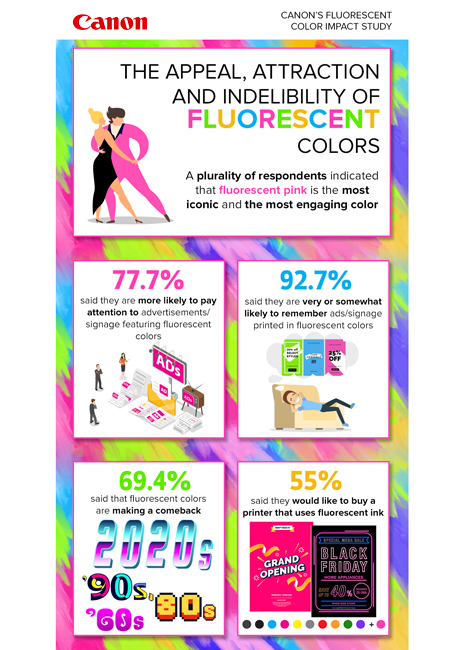 According to the totally tubular survey, three-out-of-four consumers indicated they are more likely to pay attention to posters and signage that feature fluorescent colors. More than 90% of consumers said they are very likely or somewhat likely to remember posters and signage printed in fluorescent colors.
"There's no denying those fluorescent colors that dominated in the 1980s and 1990s are resurging," says Sam Yoshida, executive vice president and general manager of Canon U.S.A., Inc. "Fluorescent seems to be everywhere now, and it's compelling businesses, designers and artists to reimagine their color palette and consider all the imaginative possibilities that come along with it." 
Survey findings include: 
A plurality of consumers (31%) believe fluorescent pink is the most iconic color in art and culture, and the most personally engaging of the fluorescent colors. 
When consumers see fluorescent colors most feel happy (64.5%) and excited (47%). 
Out of all the private sectors, including technology, retail, media, sports and travel/hospitality, the fashion domain was surprisingly usurped by the world of entertainment as the industry consumers most associate with fluorescent colors.