Peet's Coffee & Tea is one of those brands that nurture strong emotional connections with their fans — in the case of Peet's, called Peetnicks. It's quirky, quality-focused, eclectic and has always had decidedly nonchain sensibilities. 
Founded in Berkeley, Calif., in 1966 by Alfred Peet, who's widely credited with being a founding father of the specialty coffee movement in the United States, Peet's gained national recognition by selling its beans in grocery outlets and through licensing agreements in nontraditional locations. But its full retail store model has maintained a relatively small footprint, grounded mainly in core California markets.
That's about to change. Peet's is taking its store concept national, with new units and an aggressive conversion schedule of Caribou Coffee stores, which Peet's private-equity parent Joh. A. Benckiser also owns. And it's doing so with a fresh design unveiled earlier this year at a new flagship store in San Francisco's Marina district.
Replacing an existing Peet's store located roughly 300 feet away, which 29 years ago was the chain's first foray into San Francisco proper, the flagship project represents a design breakthrough, says Debbie Kristofferson, vice president of brand and creative strategy. "It's a nice embodiment of how we feel about the brand, which has such a deep commitment to the craft of specialty coffee," she says. "There's an incredible amount of attention to detail and care that goes into how a barista ultimately delivers an amazing beverage. All of that care and attention was something that our customers were giving us credit for as it related to the coffee, but with this flagship store we saw the opportunity to put that same kind of care and attention to detail into our design. It's now on par with how we think about the coffee."
Urban Archaeology at Work
Located in an 80-year-old art deco building on Chestnut Street, the 3,000-square-foot store is the result of the conversion of space previously occupied by a clothing store and a sunglass store. Seeking to uncover and honor the building's historic character, the team removed the dividing wall and gutted the space to get to its core.
"One of our design tenets is urban archaeology. In each existing local site that we occupy we try to understand what the building has to offer and work from that," says Michael Williams, vice president of store development, who led the flagship store design.
What Peet's unearthed at Chestnut Street was a site that had great potential to express the brand's more comprehensive emphasis on craftsmanship. Once exposed, the team found original features such as board-formed concrete walls, old-growth fir beams in the ceiling and a series of skylights that create an urban courtyard effect. To that shell, Williams says, the design team then began to layer in the brand's new "kit of parts."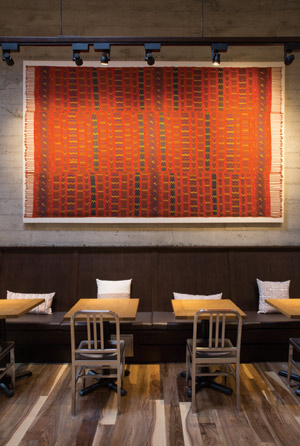 "Internally, we'd been working to develop our design kit of parts, new elements that we feel can help us define who we are as a brand and that we can have as an interchangeable language that represents the brand," he explains. "As part of that process, we looked closely at what our opportunities were. Looking back, Mr. Peet was grounded in the Craftsman design movement in California in the early 1900s, and he was heavily influenced by that when he opened his first Berkeley store in 1966. It included a lot of oak, which is a great California material, so we started with that as the core of our kit. Then, we wanted to layer materials in that provide contrast, express craft and are natural and interesting."
In addition to oak, those materials include hot-rolled steel for its visual appeal and versatility; Carrara marble for its quality, timelessness and for the simple beauty of a dark cup of coffee against the white stone; walnut floors for their natural warmth; and concrete and brick for their textural appeal and versatility. All except oak (though it's now used in a wider variety of ways) are new to the brand and together form the design foundation for new and remodeled stores.
"So we went in, did our urban archaeology and discovered the shell itself. Then we started to place this kit of parts in the appropriate dimensions, and it all came together beautifully," Williams says. "It's a nice, natural look, and it has the vein of the modern interpretation of the California Craftsman design movement, so it still feels very much on-brand."
Storytelling by Design
The team also focused on using the new store design to do a better job of telling the Peet's story. To that end, one wall toward the entrance was transformed into a "history wall" with the use of framed photos, articles and copies of old ads and logos. A large framed textile further down is from a farm in Guatemala that supplies coffee beans to Peet's. Another wall features a montage of images by a local photographer that tell the story of Peet's and its place in the San Francisco Marina and Berkeley areas in interesting, artistic ways.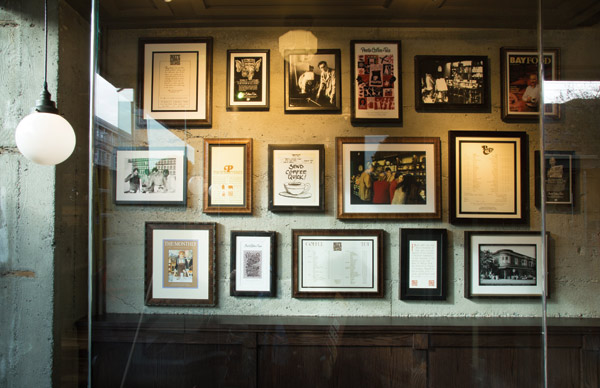 At the rear of the space, a green "living wall" made up of five different species of plants thrives under the skylights. It provides a pop of fresh, natural color but also ties thematically in to the fact that Peet's is an agriculture-based business in agriculturally rich California.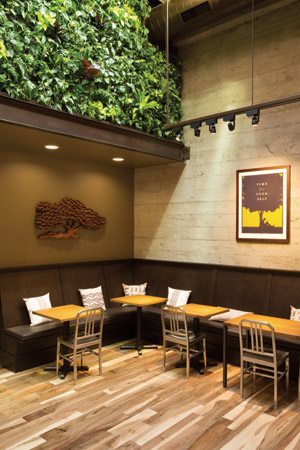 "Peet's as a brand has this very interesting, eclectic quality about it, and it's one of the things that I'm most proud of in this new design because eclectic needs to be authentically that way. You can't fake it," Kristofferson says. "It's also a brand that has heritage, so there has to be a strong connection to that. A Peetnick who's been going to the previous store on Chestnut Street for years had to be able to walk into the new flagship and feel like it's coming from the same place. So bringing those two things together — Peet's authentic, deeply rooted eclecticism and its heritage — was critical. Based on what we're hearing from customers, we achieved that."
Clean, Efficient Line
While each Peet's location varies depending on the building's layout, the San Francisco flagship store represents a cleaner, more efficient organization of the service line, Williams says. It's a setup the company will draw from as it seeks to create more consistency from store to store going forward.
"The way the line is set up is very intentional," he says. "We're about coffee, so we start out with a variety of beans displayed behind the sneeze guard — sort of the origin of how it comes in from the roasting plant. Then customers move down the line to order a beverage, either a drip coffee or, what for us is the ultimate expression, to the espresso machine and the barista."
In the new design, that barista station becomes the hero, the heartbeat of the store, Williams says. "We've created almost this secular altar to coffee, with a special, steampunk-style light fixture over the barista and almost a 360-degree view of the station — like a bar in the round," he notes. "It's the most dynamic part of the space."
The line in this unit, he adds, not only looks great and is intuitive for customers to navigate, it's also easier for team members to operate within, thus improving service.
As Peet's undertakes aggressive expansion in new markets, including Washington, D.C., Boston and Chicago, all-new store designs will draw from the same kit of parts that came together in the San Francisco flagship. Each project will respond to what the building has to offer, Williams says.
"You'll see a family resemblance, but not identical twins," he notes. "Our kit of parts is the same, and some of those things will let you know that you're in a Peet's. And the history wall will be there, because we now know we need to tell that story. With the San Francisco project, we really got together and figured out who we are and what we wanted to say. Now, we're translating our big idea from Chestnut Street out into the marketplace."
Project Team
Vice president, store development (concept/design): Michael Williams
Vice president, brand and creative strategy: Debbie Kristofferson
Director of construction: Nick Biddlecome
Creative director: Karin Bryant
Store planning and design managers: Lucie Lee and Leo Liberty
Prototype development: Sheri Sharp
Account director: Jennifer Walloch
Design associate: Rex Salazar
Production: Sandy Santo
Brand marketing: Hayden Perry
Retail marketing: Lisa Kalfus
Brand Agency: Sequence
Snapshot


Company: Peet's Coffee & Tea
HQ: Emeryville, Calif.
No. of locations: 225+ retail stores
Growth: 50 stores being added this year
New markets: Washington, D.C./Maryland/Virginia, Chicago
Flagship building: 1930s art deco
Size: 3,000 square feet
Project timing: 9 months, concept to completion
Design highlights: Original board-formed concrete walls, skylights, espresso-stained oak millwork, Carrara marble counters, showplace barista bar, history wall, local artwork, living wall, walnut floors, Guatemalan tapestry