SHED, a "modern grange hall, cafe, fermentation bar and marketplace" was named 2014 James Beard Outstanding Design Award winner in the 76 seats and over category at a ceremony held May 5 at New York's Lincoln Center.
The year-old operation, located in Sonoma County's Healdsburg, Calif., serves as a "hub to show the land, the people and the processes behind the food that is at the center of this region's values and culture," according to co-owner Cindy Daniel.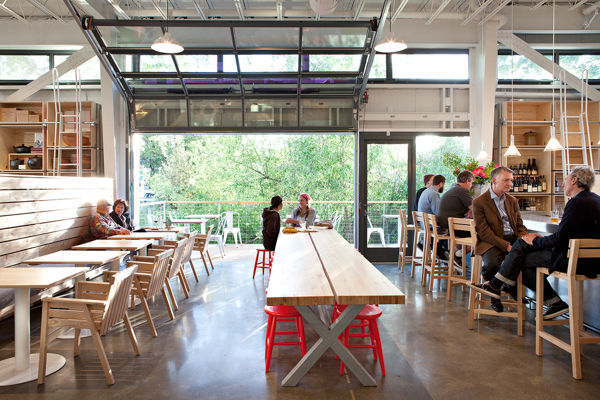 Designed by Daniel in collaboration with San Francisco-based Jensen Architects and branding company Boon Design, SHED is a refined take on Healdsburg/Sonoma's barn vernacular. The 10,000-square-foot multi-use space houses a public cafe with table service and seating inside and out. The food and drink areas include a fermentation bar, coffee bar, open kitchen with wood-burning oven, larder, pantry, produce/floral area, enclosed grain mill room and wine shop. The retail and garden spaces are integrated within. Upstairs is a public-private event space with an outdoor covered deck.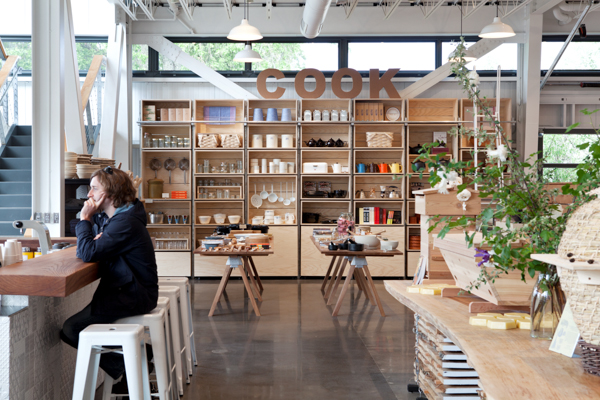 In developing SHED's branding, Boon selected and crafted typography to create an "eccentric but vital connection to a sense of place and community that defines rural and farm regions: a straightforward and resourceful way of life." Materials and fabrication methods emphasize a tactile experience. Rough chipboard and letterpress printing, and rich, vibrant colors work in concert with a warm, inviting interior palette.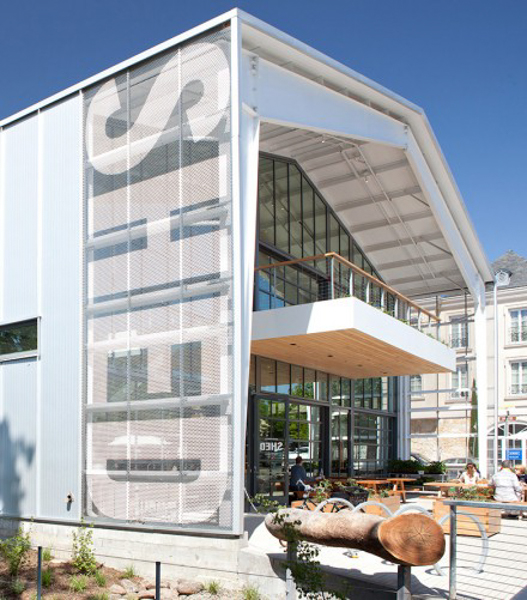 The building's primary signage, which is hand-painted on the perforated metal façade, is in keeping with the vernacular traditions of barn signage. While large in scale, its light color and openness lend subtlety, complementing the building while respecting its setting.
"Cindy and Doug (co-owner Doug Lipton) were true collaborators in the design process. Their passion for food and craft inspired us to think carefully about fabrication and materiality in construction," said lead architect Mark Jensen. "There is an authenticity and thoroughness in the completed building that is a direct result of this partnership."
SHED Photos courtesy of Mariko Reed.