There's a lot of buzz over at Dunkin' Donuts these days, and it's not just coming from the coffee. The iconic American QSR brand has plans to double its U.S. footprint to 15,000 stores and officially announced new store designs aimed at positioning the company more strongly against the likes of Starbuck's for today's sit, sip and surf coffeehouse consumer.
Original theme seating areaFounded more than 60 years ago, Dunkin' Donuts' legacy has been built on 2 primary product categories — coffee and donuts — and largely on an a.m., grab-and-go business model. Over the years, its menu has expanded to include a dizzying array of donut flavors and styles, as well as other pastries and breakfast and bakery sandwiches more targeted to afternoon and evening dayparts. The coffee menu grew alongside the food menu, today offering an array of traditional and specialty hot and iced coffee-based beverages.
Dunkin' Donuts stores, however, most of which received cosmetic upgrades within the past five years, were nonetheless deemed due for some more impactful, strategic nips and tucks. Beginning slightly more than two years ago, the company set out to develop a new prototype that ultimately achieved a couple of significant firsts. For starters, the store design was strategically enhanced to appeal to guests who might want to use the chain a little differently — to get more comfortable, hang out, plug in, use free Wi-Fi and be entertained and/or informed via flat-screen TVs.
Second, it's the first time that franchisees, who collectively own almost all of Dunkin' Donuts' roughly 10,500 stores worldwide, can choose from more than 1 design option.
Pick Your Brew
The new designs, packaged under the "Fresh Brew" umbrella, include four variations. Each carries a theme/title borrowing from the chain's coffee heritage. The company describes them as:
Original Blend.
A neutral environment with lighter and brighter tones augmented with the brand's signature pink and orange color accents. The use of versatile seating creates a more comfortable, "take five" environment intended to enhance extended daypart initiatives.
Cappuccino Blend.
A colorful environment with the use of impactful super graphics, flexible soft seating and colorful accent lighting set against a muted earth tone environment.
Dark Roast theme
Dark Roast.
A much warmer environment with darker earth tones, impactful super graphics and minimal use of vibrant colors. A slightly more sophisticated design appropriate for traditional as well as specialty/urban locations.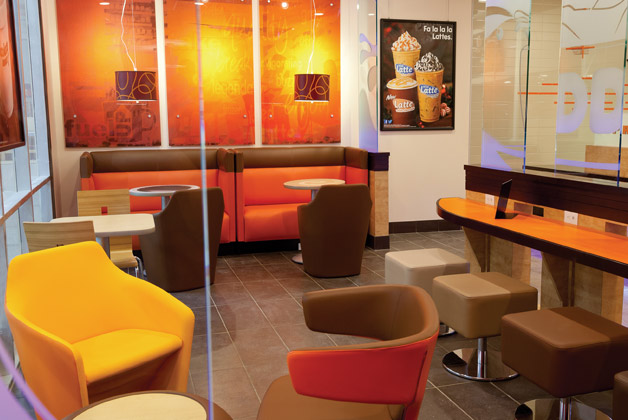 Jazz Brew design
Jazz Brew.
The chain's biggest design departure, targeted specifically toward specialty/urban locations. Upscale, warm environment featuring a strong palette of rich colors and textures, impactful super graphics, colorful soft seating and modern detailing.
"We contracted with Chute Gerdeman to do some of our initial prototype design work. They developed a new palette for us and we opened four or five of those stores at the end of 2011," says John Herth, senior director of global design and construction services for Dunkin' Brands. "But we then decided it was in the best interests of our franchisees to offer multiple color palettes. Internally, we developed three more variations on the new look as additional options before we rolled the entire initiative out this April."
Having freedom of choice, he adds, was something that Dunkin' franchisees had requested. "Prior to Fresh Brew we'd always had one image. Regardless of whether you were in Florida, the Northeast or California, we offered our franchisees one look," he says. "As long as we were re-setting our prototype, we felt it would be a good time to allow franchisees options so that they can make design decisions based on their personal preference, their demographics and their customer mix."
Beyond basic color palette, franchisees also have some design choices within that palette, including types of seating, table graphics, wall graphics and light fixtures. "It's been one of the most successful things about rolling out our new image," Herth says. "The franchisees have completely embraced the idea of being able to have those different options where they didn't have choices in the past."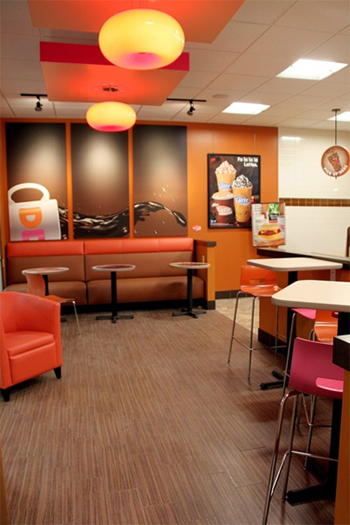 Cappuccino themeHerth notes that while each of the new Fresh Brew color palettes delivers a lighter, brighter and/or more contemporary look with earth tones and rich colors, no changes were made to the brand's "DNA colors" of pink and orange. "We didn't want to change our iconic logo colors or the sign package that goes on the exterior of the building," he says. "It has become such a recognizable logo that we didn't change any of that. We changed the colors of the exterior walls and awnings, but not the logo."
Exteriors were also updated to extend the new graphic identity to drive-thru customers. Roughly 50 percent of U.S. Dunkin' Donuts units have drive-thru service and, according to Grant Benson, vice president of franchising and business development, it's not unusual in some key markets to see the drive-thru generate 70 percent of total revenue.
"A majority of our guests may not even come inside the restaurants, so as part of Fresh Brew we wanted to enhance the drive-thru experience, as well," Herth says. "We dressed up the elements that you typically see when you drive around the back of a building with the new color palettes, some exterior wall graphics and canopies."
No Big Cost Changes
Herth adds that no significant changes were made to the basic layout of the units, kitchen size or real estate model as part of the Fresh Brew rollout and that opening costs were not significantly impacted. Existing suppliers were able to provide all necessary materials, which helps keep costs down and simplifies implementation.
"Our goal was to be cost-neutral," Herth says. "We're constantly looking at ways to lower our development costs and offset rising construction and materials prices. We work very closely with our franchisees and our vendor partners on how to lower our costs. It's an ongoing discussion. A benefit of our Fresh Brew design is we had all of our national account vendors and materials suppliers already in place and didn't have to make changes."
He notes that so far, of the four Fresh Brew designs, adoption has been essentially even among the Original Blend, Cappuccino Blend and Dark Roast variations. As expected, a smaller number of franchisees are embracing the more upscale — and more expensive — Jazz Brew. "It's really for more specialty locations, a high-end offering that delivers a sit-down type of environment with a more trendy, coffeehouse type of feel," Herth explains. "It's more expensive because of some of the higher-end materials and not every location warrants that additional up-front cost."
Field Team, New App Aid Franchisees
With multiple design options now being made available to its franchisees, Dunkin' Donuts sought to simplify the decision making process, minimize confusion and streamline management of new builds and remodels. It's doing so with a combination of existing field-level support and new technology.
Dunkin' Brands' team of about 40 construction managers and directors of construction, who work with franchisees in the field across the country, step in once a site has been identified. They help move the franchisee through the process of getting their stores designed, built and opened.
A new online app, developed in conjunction with the Fresh Brew platform, makes the design aspect of that process more manageable. As the four different design palettes were finalized, mock-up stores were built and photos were taken of the various palettes and furniture, fixture and finish options for use in the app. "Our construction managers can go through the various options with the franchisees when they're at the point of making their design decisions," Herth says. "On any tablet or computer they can scroll through and explain each of the options and the franchisees can build virtual stores online and see exactly what the various choices they're making will look like in a real store. They can also use it to build their order form, which then goes directly to the architect who will put their construction document together."
Corporate also handles the job of training and certifying architects and general contractors from which franchisees must choose.
Continuous Development March
Dunkin' Brands' established infrastructure and deep franchisee support systems will serve it well as it sets out to take its reimaged Dunkin' Donuts to new markets. While a dominant global chain and a 60-year-old brand, Dunkin' Donuts has limited domestic geographic penetration. The vast majority of its nearly 7,500 U.S. units are located east of the Mississippi River.
"It's an interesting situation. Most of our penetration is in the eastern half of the country. You could even argue that we're largely East Coast-based, as our strongest presence runs from Florida up through Maine, with just a few pockets of significant development — Chicago, for instance — outside of that," Benson says. "Sure, we have stores sprinkled all over and some markets that have maybe 40 or 50 stores, but when you talk about really heavy penetration the East Coast has historically been our footprint."
Over the past five or six years, however, Dunkin' has undertaken what Benson calls a continuous development march. "We've looked at selling franchises to a much deeper level of penetration in market waves that increasingly move West," he says. "A couple of years ago we released a number of markets that border the Mississippi — Iowa down through New Orleans. The following year, we moved a little farther West into Texas, Oklahoma, Colorado and New Mexico. We're now starting to franchise in Southern California, taking us coast to coast."
Benson emphasizes that while Dunkin's unit-growth plan is very aggressive — some 360 new stores are planned for U.S. markets this year alone — it's also very strategic and built on significant shifts in its franchising model.
"We're going into new markets with the intent to penetrate them and create a strong presence," Benson says. "In the past, if a franchisee came to us and wanted to do one store somewhere, we'd say o.k. and they'd be a little island out there. Now, as opposed to just saying no to such requests, we're working with those individuals and groups who can commit to developing maybe five to eight stores within a market and we're signing on folks to develop multiple stores in contiguous markets, as well. So you don't just have that one guy out there. They're part of a bigger plan, a bigger vision. That's been our approach for the past few years and it's leading to strong performance and strong execution in new markets."
All new stores, with the exception of some that have already been contracted but not yet built, will carry the brand's latest look and feel. The chain also has plans throughout its system to complete 450 to 500 remodels this year, the majority of which will also be in the new Fresh Brew designs.
"We continually remain fresh," Benson notes. "Franchisees commit to refresh their stores every 5 years and remodel every 10. We've done some 1,800 remodels in just the past 4 years. But, occasionally we come out with bigger design changes, such as Fresh Brew, that speak more strongly to changing consumer needs and to the competitive environment. Staying fresh, relevant and contemporary is very important and that's what this does for us."
Fresh Brew Design Highlights
Inviting, soft-seating areas
Multiple flooring materials/colors to delineate seating areas
Varied seating styles — high tables, low tables, banquettes, club chairs, bar stools
Bold use of super graphics
Earth-tone backgrounds
Contemporary furniture and lighting
Convenient electrical outlets for smartphones, computers
Free Wi-Fi in most units; flat-panel TVs, satellite music in some
Interactive digital menu boards
Redesigned drive-thru signage, canopies
Optional glass bakery display case at front counter
Optional refrigerated grab-and-go cooler
More sustainable options — LED lights, no-VOC paints, wall tile with 35 percent pre-consumer recycled materials