New casual dining chain brings the art of modern Mediterranean cuisine and ambiance to life.
Carmel Café and Wine Bar, which opened in November 2010, just a few months after ideation, pairs fresh, modern Mediterranean cuisine with a strong focus on wine, iPad-based technology and an inviting-yet-sophisticated atmosphere touched with its own artistic Mediterranean influences. The Tampa-based chain, the latest creation of Chris Sullivan (Outback Steakhouse/OSI Restaurant Ventures) and Terry Ryan (formerly of Oceanaire Seafood Room), with partners Nancy Schneid and Alex Sullivan, opened its fifth unit in Winter Park, Fla., in May. The emerging chain's docket calls for another unit to open in the Orlando area this year and two units in the Philadelphia market in 2014.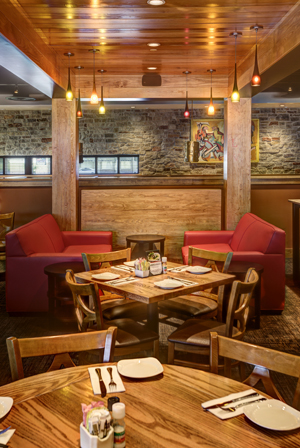 Carmel Cafe interiorWhile Ryan calls the first units "R&D" restaurants, the fourth, which opened last August in South Tampa, is the company's first freestanding, ground-up build-out project. After converting two inline units and one endcap space, for the first time the team had a blank canvas on which to tweak and refine the design and layout to optimize both ambiance and operational efficiency. At slightly more than 4,000 square feet, the South Tampa unit presents the ideal expressions of Carmel Café's primary design features — a distinctive bar, soft seating, community tables and dramatic original artwork.
"From day one, we were looking for an opportunity to do a freestanding unit," Ryan notes. "Ultimately, we found a couple of rundown little buildings — one had been a cat clinic and one an old motel that had been converted to offices — in a residential neighborhood in South Tampa. We scraped the ground and did a complete rebuild, starting at the end of April and opening up in August. We were lucky that the contractor we used was very, very good and Chris and I both have a lot of experience building restaurants, so it came together quickly."
The unit's modern, inviting exterior sets the stage for what's to come inside. Simple California-style architecture is complemented by Mediterranean cypress trees set against a side wall. A large, weathered, rust-colored steel box is positioned at the building's front corner, topped with the Carmel Café and Wine Bar sign and logo. A small outdoor patio, about 35 feet long by 10 feet wide, sits near the front of the building, furnished with Parisian-style café tables and rattan chairs.
Tampa-based architect Albert Alfonso, president of Alfonso Architects, has worked with Ryan and Sullivan on all of the Carmel Café units. He says the inspiration for the restaurants' design, as with its menu, comes from the Mediterranean.
"We started thinking about a color palette that would reflect the menu concept of Mediterranean cuisine, which is broadly interpreted here and applied with modern twists. We looked at a lot of photos from France, Italy, Spain and California. We're all pretty well traveled. Chris has a home in California and spends a lot of time in Carmel, and I have a home in Italy, so I could draw on my own experiences there."
The logo sports sundrenched orange and yellow tones, while the interior features mostly neutral colors — lots of warm wood tones, natural stone accents on walls, and carpet in seating areas that features a subtle pattern of black, brown and tan. "The colors and materials are warm and timeless and subdued," Alfonso says. "But that's what they need to be. People are comfortable in the space."
Splashes of color come into play, however, in the vivid blue Venetian plaster back bar. "We do a lot of work with that plaster. It's real blue Venetian plaster. It really carries the vibe of the room and gives it some pop, but at the same time it's a very soothing blue," Alfonso says.
Each unit's signature art element is an original 20- to 30-foot wall mural painted by Alfonso, who is an accomplished artist as well as an architect. Vibrant original paintings and photographs also add splashes of color. "The mural is positioned on the wall across from [the bar], so those two strong color pieces really anchor the room."
Together, these design elements work to give Carmel Café its signature look and feel — inviting and relaxed, but with an energetic, urban vibe.
Carmel Cafe exterior
One Space, Many Layers
The design of the open and uncomplicated inside space features a variety of focal points and seating areas. Three high-top community tables, with the same light-colored polished granite that tops the 20-foot bar, provide a sense of separation between the bar and dining room. Arranged perpendicular to the bar, each table seats eight guests. The full-service bar, which seats 12 to 15 guests, also stands out for its strategically lit wooden cubbies, which show off the bottles and colorful art glass.
Also adding color and functional diversity to the room is the soft seating area, where small red leather couches with wooden side tables sit beneath a hardwood-paneled ceiling canopy.
"It helps to give the room scale, with the ceiling dropped a bit and put on wooden columns, and with the accent lighting there," Alfonso says. "It feels like a room within a room and is a comfortable place to relax with a cocktail and an appetizer. Everything is still open, but just by dropping that ceiling in that area and putting it under a canopy, it is set apart."
Private dining area
Still another distinct seating area accommodates up to 16 guests at 2 large tables positioned in front of Carmel Café's wine wall. The area can be loosely curtained off for semi-private dining and group functions.
The wine wall itself is a signature element and important branding tool in each unit. "It's pretty straightforward, but it's another way to add great ambiance to the room," Alfonso says. "Wine plays a big role on the menu, so we wanted to visually send a strong message about its importance to the concept."
Operational efficiency was also a goal, Ryan adds. "We knew we had limited space, and we had to store a lot of wine," he says. "So the idea was to try to be efficient and use cavities in the walls for wine storage, tapping all of the vertical space that we can. In the South Tampa unit, it's a corner feature that takes up about 18 to 20 feet of one wall and 10 or 12 feet of the adjoining wall. The cavity is about 24 inches deep and is fronted by 6 glass-paneled doors. Refrigeration is built in, so all of the wines are held at optimum temperatures."
The dining area proper comprises the balance of the roughly 3,000-square-foot front of the house. Tables and chairs feature simple, oak-toned wood construction. Lightly padded booths in neutral colors line the walls beneath the mural, other paintings and rows of slot windows. Lighting includes a mixture of recessed ceiling lights, industrial-track lighting, colored glass pendants and artistic bronze pendants and wall sconces.
Mural behind dining area
Technology Boosts Efficiency, Front and Back
Ryan notes that with few exceptions, the South Tampa location uses the same colors, materials and finishes as the first three restaurants.
"We were happy with the look and feel of the design from the beginning," he says. "What we really gained here, in being able to build from the ground up, was a little more freedom to work with a perfect rectangle and to lay things out a bit differently to gain efficiencies."
Minimizing the kitchen footprint was one mission accomplished. At just 22 percent of the unit's total space, the kitchen leaves more room for revenue-generation in the front of house.
On a typical busy night, the kitchen has four stations operating — a cold station for salads, a flatbreads station, a sauté station and a grill. "It's simple and efficient," Ryan says. "I've been in the business for a long time, and we can probably make anything in the world that you can think of with this kitchen."
Key pieces of equipment include a versatile hydro convection oven, an AXP impingement oven, a ventless dish machine that captures steam and humidity for reuse, and a tankless hot water heater.
Flooring in the kitchen is rubber, a material chosen both for comfort and practicality. "It's easier on your back when you're working for 14 hours, and it results in a lot less breakage," Ryan notes.
Also contributing to kitchen efficiency — and overall operational efficiency — is Carmel Café's iPad-based menu application. It's used extensively in the front of the house by guests, who can peruse menus, view photos of all items, get wine and food pairing recommendations and place their orders on the tablets.
And iPad use isn't limited to the front of the house; staff also use them extensively in the kitchen. Working with a local software developer, the Carmel Café team has created a "fusion prep" technology solution that allows for
virtually paperless kitchen operation.
"All of our 160 or so recipes are on iPads, and we can film how to make a particular dish and put it on the iPad," Ryan says. "So any of our line cooks and sous chefs can see how a dish is made, sauced and plated. They see it from raw materials to finished picture. If they want to change a recipe or size it up for larger volume, they can do so with the touch of a button right at their station."
Ryan says the combination of iPad-based POS technology and kitchen technology makes for ultra-efficient operations. Despite offering an extensive and diverse menu of freshly prepared foods, the kitchen gets dishes out quickly, which accommodates the concept's emphasis on small plates, small pours and sharing. While service times are fast, he adds, the restaurant's ambiance encourages lingering.
Table turns average an hour and a half — twice that of typical casual dining operations, he estimates. "Even though we can be extremely efficient with getting food out, when you introduce a good bottle of wine and a comfortable, inviting atmosphere, things move at a more relaxed pace. And that's exactly what we were after."
Project Team
Founders: Chris Sullivan, Terry Ryan, Nancy Schneid, Alex Sullivan
Design/architecture: Albert Alfonso, Alfonso Architects (Read our interview with him here.)
Murals/original paintings: Albert Alfonso
Original photographic works:  Al Hurley
Construction: TWT Restaurant Design and Construction
Snapshot
HQ: Tampa
Menu: Modern Mediterranean, small plates, wine focused
Segment: Casual dining
Check average: $10 to $12, lunch; $18 to $22, dinner (excluding bottled wine)
No. of Locations: 5, all in Florida
Expansion plans: One additional Orlando-area unit planned for 2013; two Philadelphia units planned for 2014
South Tampa unit build-out: 90 days
Project cost: $2 million
Unit size: 4,000 square feet
Hours: Weekday lunch and dinner; weekend brunch and dinner
Website: www.carmelcafe.com