March 14, 2019
---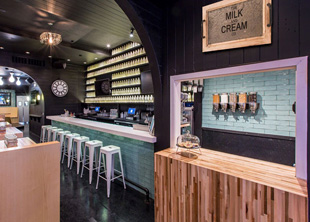 JoJo's Milk Bar Promises Fun with Photo-Friendly Design
Owned by Castle Hospitality Group, JoJo's Milk Bar in Chicago is a diner-inspired concept offering elevated comfort food and a full bar as well as over-the-top desserts. Matching this over-the-top approach is its design, which includes several eye-popping, social-media-friendly elements.
Form + Function: Open Kitchens in Restaurant Design
Depending on who you ask, an open kitchen can range from providing a view to the back of the house through a large counter-height window to positioning cooking stations next to dining tables so that customers can freely interact with chefs. Check out some of these best practices for every situation.
Supermarket Kiosks Prove Successful for Saladworks
A year ago, Saladworks opened its first in-store kiosk at a grocery store in Philadelphia. It's set to open two more in March. In this Q&A with Patrick Sugrue, CEO of the West Conshohocken, Pa.-based chain, he reveals the logic behind these nontraditional locations.
Neiman Marcus Opens Multilevel Retail and Dining Experience in NYC
Neiman Marcus opened its first Manhattan location in New York City. The 188,000-square-foot store features luxury clothing, three dining options and a focus on technology and customer service that spans levels 5, 6 and 7 of The Shops & Restaurants at Hudson Yards.
James Beard Foundation Names Canlis Its 2019 Design Icon
The James Beard Foundation named Canlis in Seattle, Wash., as its 2019 Design Icon Award winner. The landmark restaurant, which opened in 1950, epitomizes the period's Northwest Modern movement as interpreted by architect Roland Terry.
The Hummus & Pita Co. Expands Southeast Footprint
Mediterranean fast-casual The Hummus & Pita Co. signed a multi-unit deal to expand in the Southeast. Franchisees Jay Gill and Patrick Sidhu will bring five locations to the Atlanta area over the next two years.
You received this e-mail as a subscriber to restaurant development + design or one of its e-newsletters.

Please direct advertising questions to:
Maureen Slocum, Publisher.

Rebecca Kilbreath, Editor in Chief.

Subscription Support:
630-739-0900 (ext. 53) or e-mail Julie Pesek